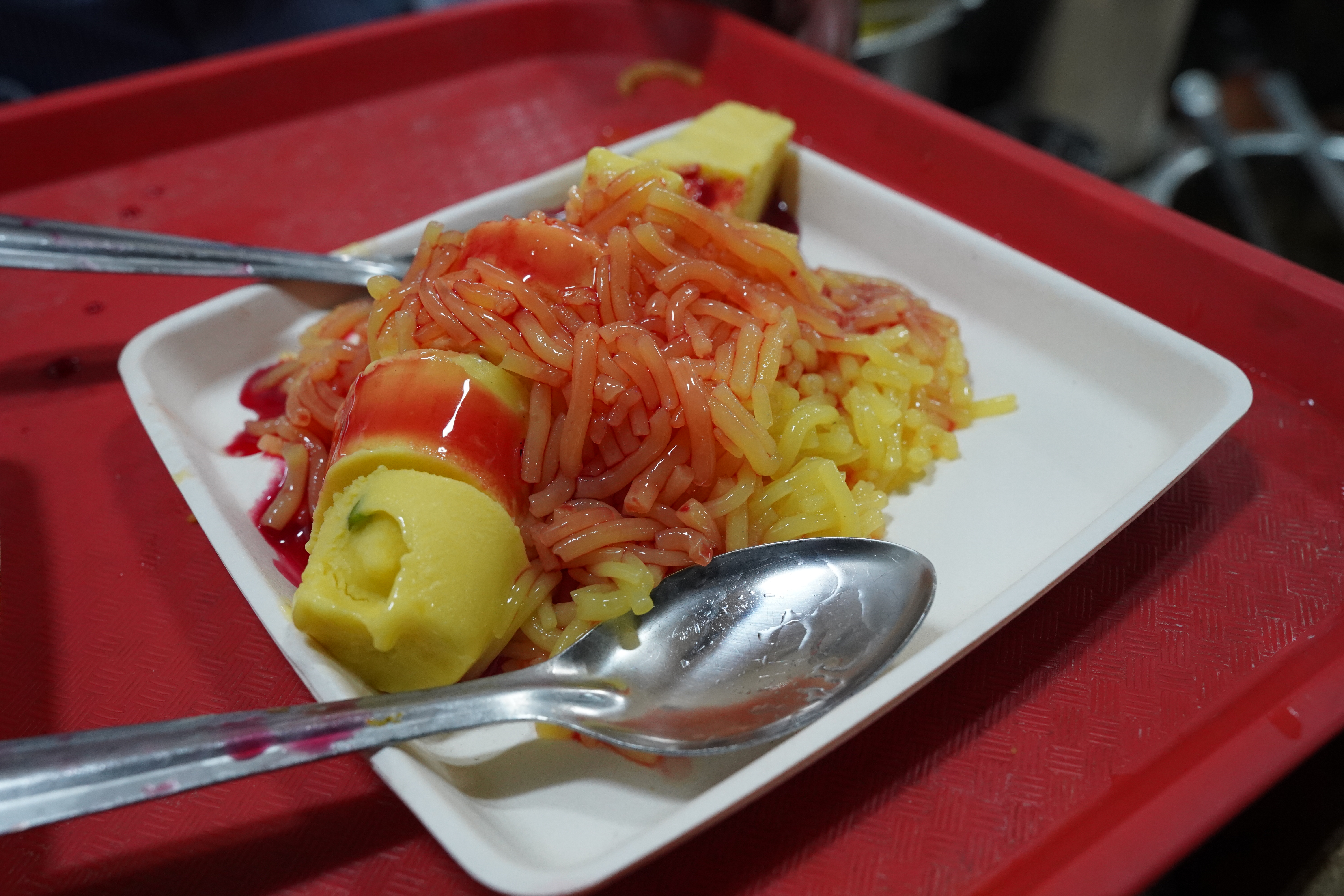 The neighbourhood of Burrabazar is a prominent trading hub of Kolkata. We were there for a quick food walk during our Kolkata visit. On reaching here we were greeted by narrow lanes lined with old old, unkempt buildings and filled with a jostling crowd consisting of porters, traders, businessmen, shoppers etc. The place has countless wholesale shops, selling everything from textile to pharmaceuticals. Despite all this commotion, this famous shopping destination, has evolved into a popular street food destination as well. The food available in and around here is mostly native to the Sindhi and Marwari community that settled here in late nineteenth centuries after a section of them migrated to Kolkata. So come let's see what all dishes did we try during this evening food tour across this stretch
We began with Kandoi Sweets, an old establishment that sells a wide array of authentic Gujarati snacks and sweets that is less available in other parts of the city. Here we tried the Gulaab Pak, a rose flavoured burfi and Urad dal ladoo, a wintertime special sweet whose base ingredient is Urad dal. The former one had a strong taste of rose that came from the rose petals used in the preparation of the burfi.
While moving to our next destination Jain Bros, we stopped by a roadside vendor to bite into some juicy pieces of Jicama which is known as Shank Aloo in Bengali. The fruit was very refreshing.
At Jain Bros we tried some green peas kachori with a thick and spicy potato curry. The sweetness of the peas infused a delightful flavour to the combo. The place is so popular that it is frequented by generations that too from different corners of the city.
After that quick grab we tasted some luscious carrot halwa from the adjacent shop named Panditji Halwa Wale. The unique thing about this halwa was the slight burnt flavour that came from the halwa that had stuck to the sides of the kadhai while being cooked. It is available only during the winters.
The next destination was another popular snacks shop named Ambika Bhujiyawala. They had a huge range of snacks and sweets. We decided to try their crisp and flaky onion kachori that had a spicy onion and besan (chickpea flour) filling. Along with three kinds of chutneys it was a treat.
After that spicy stuff it was time to try some sweet treats. Hence we stopped by Gopal Kulfiwala for some traditional kulfi. It is not the regular brick and mortar eatery but a makeshift stand on which Gopal bhai had set up all his containers and bottles. This kulfi was quite decent.
Continuing with the sweet trail, we reached Kaligodam, an old sweet shop famous for it's boondis and ladoos. The sight of the freshly made golden orange boondis made us salivate. We grabbed a small helping of this traditional sweet and tried it with savoury sev. The boodis were yummy.
Next destination was Yadav Milk Supply shop that is known for their pure milk and malai based products. Our pick was a classic unsweetened malai roll that was definitely a treat for a dairy product enthusiasts like us.
The stroll down this lane led to Badri Kachori wala, a favourite joint for all kachori lovers over here. Their's one was a spicy yet hearty combination of khasta kachori topped with besan potato curry and sev.
From there we went to try the Mihidana ladoos from Tiwari Sweets. The desi ghee ladoos were fresh, soft, greasy and luscious. Furthermore we couldn't resist ourselves from trying a plateful of kulfi falooda. The drizzle of rose syrup on the top just elevated the lusciousness to the next level.
A few steps ahead we beheld a snacks seller who was doling out bhujiya mix to the shopkeepers and traders over there. We tried some of this mixture and realised how light and zesty it was. This inexpensive munchies was fun.
From there we headed on to check out the regular meal thali at a old Gujarati Basa. Basa is like a mess that serves no onion garlic, home style meals to many locals who don't have the luxury to savour a home cooked meal. The food here was very basic but quite wholesome.
We wrapped up the tour with a glass of hot milk from Bansilaal Sharma. It's consumed for health benefits. Since we had it quite late in the evening, the milk that we got to drink was the portion that had thoroughly reduced due to continuous boiling. As a result it had become dense and sweet.
It was a hectic yet gratifying food tour.