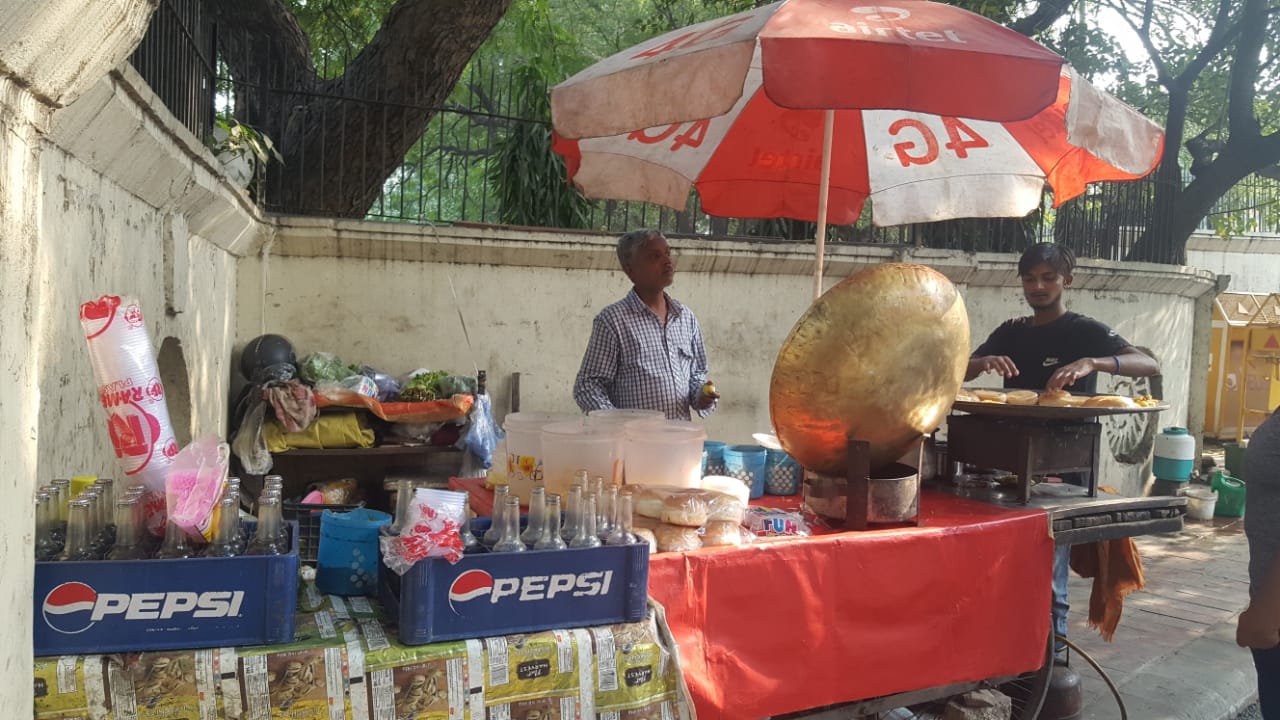 Indraprastha College for Women in one of the oldest college of Delhi University situated in the North Campus near the Civil Lines metro station. With  quite a beautiful campus and very welcoming ambience, there is another thing about this college which is the usual ' talk of the town ' that is the 'Bun Tikki' stall that resides just outside the college gate in a small corner with the most concentration of people. The traces of this stall goes back to  the post independence era around the 1950's . The current owner of this stall Mr. Ram Dev  proudly claims this stall to be even older than half a century and how this tradition is carried on from his father to him and how it will be carried on to to the next generation very soon.
The stall opens early in the morning around 9:00 am  and serves its delicacies till 4 in the evening. The menu is not very vast but it shows perfectly what this eatery specializes in. The menu includes the most talked about 'Bun Tikki' along with other tidbits such as aloo chaat , chole kulche , bhel puri , papdi chaat and kulcha roll which is perfectly complimented by a popular go-to of each and every Dilliwala known as Bunta which is perfect to quench your thirst along with the sweet and spicy bites this small eatery serves.
This place experiences the most rush during the break time in the afternoon when all the hungry peeps including the students of the college and even the teacher staff are in a search for something delicious to fulfil their hungry tummies and the rush is sometimes even more than that of the college canteen itself . The hot piping tikki  sandwiched between the perfectly buttered buns along with the tangy sweet chutney and a perfect seasoning of various spices makes it just irresistible as it sounds. Another most loved dish here is the aaloo chaat which is made from perfectly shallow fried potato cubes seasoned with the spice mix and topped with the spicy green chutney which we can customize according to our preferences by consulting our very own taste buds.
Mr. Ram Dev is very particular about the hygiene of the stall and keeps it as clean as possible, he particularly mentions about how he uses the fresh ingredients  to make these mouth watering snacks. What makes this eatery even better is the price of the items, none of them are above a range of Rupees 30 . Such flavoursome and zestful snacks at such low costs with maintained hygiene ! What else do we need ?
Address : Beside the main gate of IPCW, Civil Lines
Owner's Name : Ram Dev
Contact no. : 9319533687