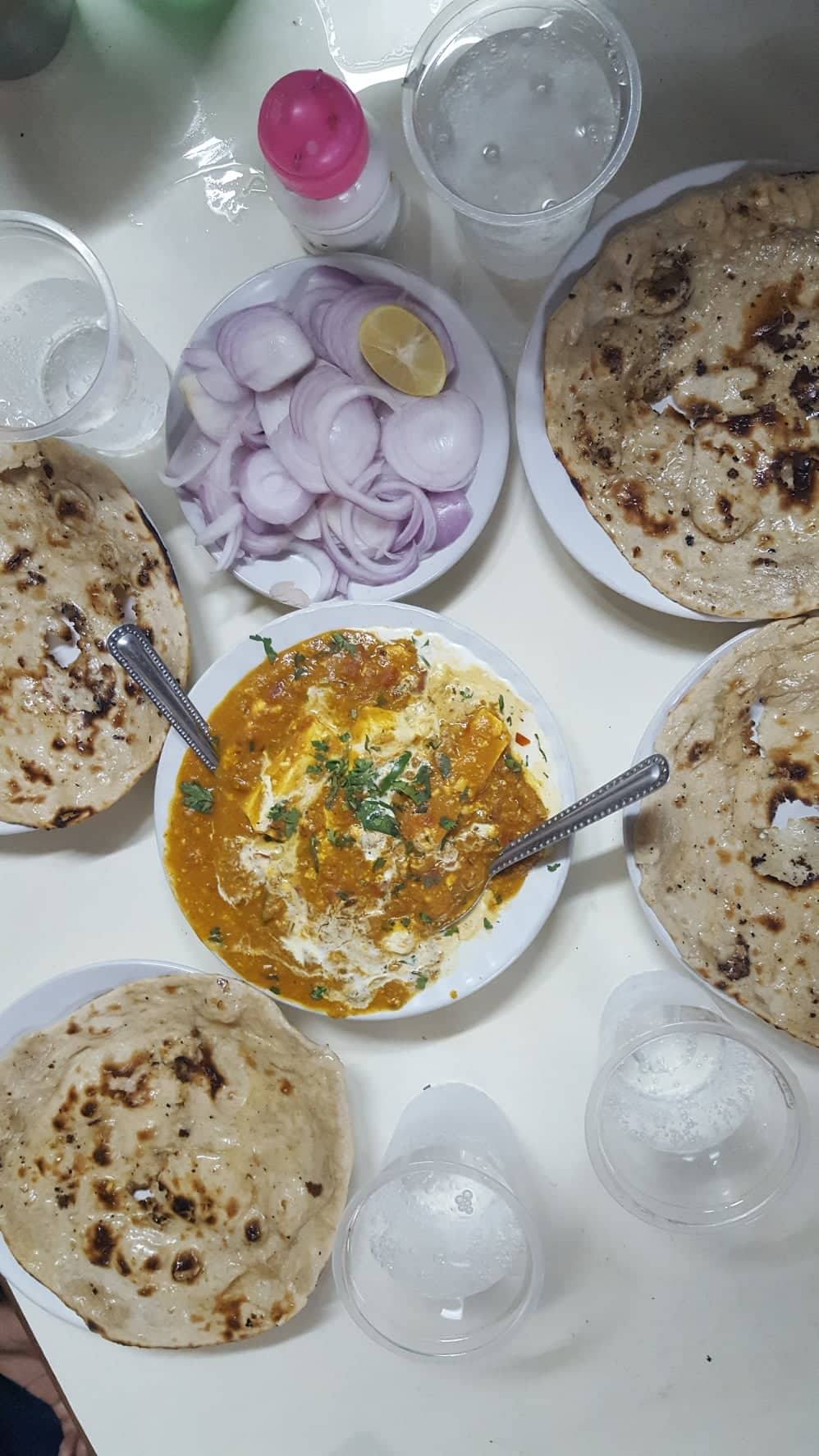 A wise man once said "Street food is the ultimate salvation for the human race" which indeed is very true, why to spend on fancy restaurants when you can perfectly satiate your taste buds with the wonders on the street? One such wonder exists in a street in Kamla Nagar which goes by the name Ved Dhabha , which offers a wide variety of north Indian food cooked with pure love and dedication. Well, what makes this place so special? This Dhaba is almost 30 years old as well as it offers the best north Indian food at prices as low as possible. This place has a vast menu which includes numerous varieties of sweets. This isn't only my opinion but every person in that area, from fellow university students to even the rickshaw drivers do not leave a stone upturned when it comes to praising this place for its legendary and authentic taste.
My visit to this place was very unplanned which was the result of the  usual 'not so good hostel food' day. It turned out to be a life saver weapon against hunger that day and surprisingly it is still the best weapon I can use to save myself from such days. At first this place appeared like a sweet shop which slowly transformed into a very retro vibe dhaba with wooden seating as I walked into it. To my surprise, each and every table  was occupied majorly by the university students , families etc. But due to the quick service of the very welcoming staff members of that place, we were offered our seat as soon as possible. Further , the universal truth of college students always being broke was what bothered us next, which turned into a sigh of relief as we looked at the prices on the menu. We ordered a smoking hot plate of  butter paneer and couple of butter tandoori rotis , which hardly took a while to arrive.
'You first eat with your eyes' turned out be the just right saying at the first glance. The butter paneer was perfectly topped with some extra butter and the tandoori  rotis  were so glazed as if they were dipped in rivers of butter . And lastly, as I took a bite of the buttery roti wrapped around the piping hot curry the 'title' of this article was justified. It was such a heavenly and toothsome experience to have such delicious food at such a legendary place in this walled city. I left that place with nothing but a satisfactory grin and a  great experience regarding the food, hospitality and service and of course the low bill.
So, if you are a hungry individual with a lot of north Indian cuisine fandom, make sure you visit this place without fail and have a heavenly experience from the very first bite till the end.
Name: Ved Dhaba
Address: 5307, Chandrawal Road,Kamla Nagar ,New Delhi
Phone Number: 011 23850931