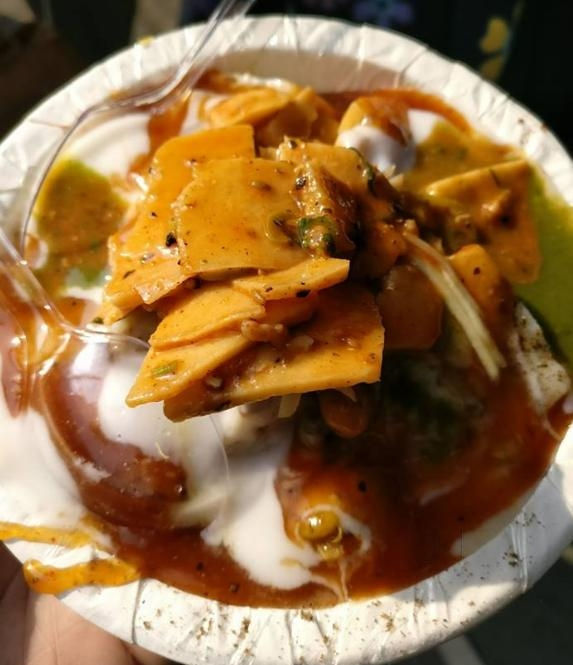 While wandering around the streets of Kamal Nagar ask any person to point the direction for the best chaat place around and every one will surely mention one place that is 'Vaishnav Chaat Bhandar'. This incredibly famous chaat bhandar is the go-to for every person in Kamla Nagar who develop cravings for some sweet and tangy chaat. According to this place's humble owner this place is around six decades old and has a very constant trend of satisfying their customers throughout.
As soon as you enter the lane which carries this amazing wonder you will see a swarm of people mushrooming around this joint  from quite a distance. Even the name board of this place screams how old this place must be as the alphabets are carved on a sandstone rather than using modern day techniques. As we believe that with every change in region in India , the flavours of the chaat has twists and turns of its own. As you proceed into this place you will see the barbecue  grills with seekhs of very delightful marinated paneer and soya chaap which tells you that this place is much more than just chaats and golgappas .
Their vast menu includes pav bhaji ,paneer tikka and various types of soya chaap. The owner of the shop recommended us to try their famous 'Bhalla Papdi'. It was basically a dish in which bhalla and few papdis are soaked in dahi which is then topped with chickpeas and potatoes along with some boondi, to add some more flavour to it , tamarind chutney and more dahi is added, then to give a final touch different combination of spices is sprinkled on to it. One particular thing that can be observed is that the chaats here are prepares in a Old-Delhi-style as it is topped with kachalu which is a trend that Old-Delhi chaat vendors follow a lot. This dish was delicious as it kicked the taste buds at all right places with perfect temperature of dahi. All the combination of the chutneys and spices worked perfectly for us. Next in we dug into to the classic pav bhaji , it was served with loads of butter on the bhaji and as well as on the buns too, it was served along with some onions and lemon slice. The flavour of the pav bhaji was amazing with bhaji being slight different in good way from the usual ones.
Even though there is no such concept as ' seating arrangements' at this place , but the flavours and varieties of the tidbits that this place offers are worth a try.
Name : Vaishnav Chaat Bhandar
Address: 66-67/E, Near Chota Gol Chakkar, Kamla Nagar
Contact info : +91 9810195762