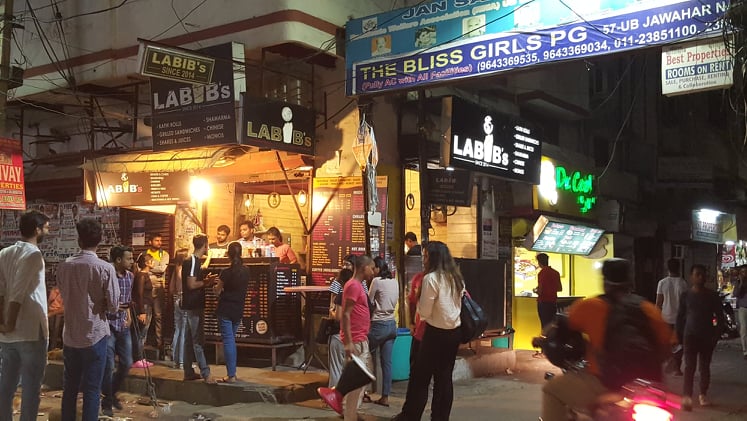 Roaming around north campus with a hungry tummy and confused state of mind ?  In this situation enter the very famous   " Chatori lane" which is a small street in Kamla Nagar beside Mc Donald's in which you will capture the sight of food in every direction you look at. This street ends with a very famous nukkad food joint  known as " Labib's", it can be seen from quite a distance that this place is very crowded all the time. The first thing any person who visits this place observes is a very long menu with numerous options ranging from various kinds of shakes, rolls and sandwiches etc. This place serves both vegetarian and non vegetarian delicacies.
It is very famous among the college students due to the pocket friendly menu, who can be seen mushrooming on the stairs nearby this joint with the amazing food this place serves. This place is famous for its shakes, black forest shake is a must try and even they serve the best ice mocha. You can even have the rolls including the shawarma roll and the double egg roll. They also  have a best seller called the "chicken chatkara sandwich" which is as delicious as it sounds. This shop generally opens around 12 pm and closes late around 10 pm with its rush hour being mainly in the evening.
They offer their food accompanied with great dips such as the cheesy dip and if you are new to this place they offer your first mayonnaise dip for free. Even the service is quick and the owner is very friendly too. So, if you are looking for somewhere great to eat with numerous options and pocket friendly budget, this place is exactly what you are searching for. So, don't forget to  visit this place and grab a lip smacking  snack along with a gulp of thick and cold shake and have a very happy meal and leave this place with a satisfactory grin and eagerness to visit it again.
Name: Labib's
Address : UB-101, Chatori Lane , Kamla Nagar
Contact number : +91999432924