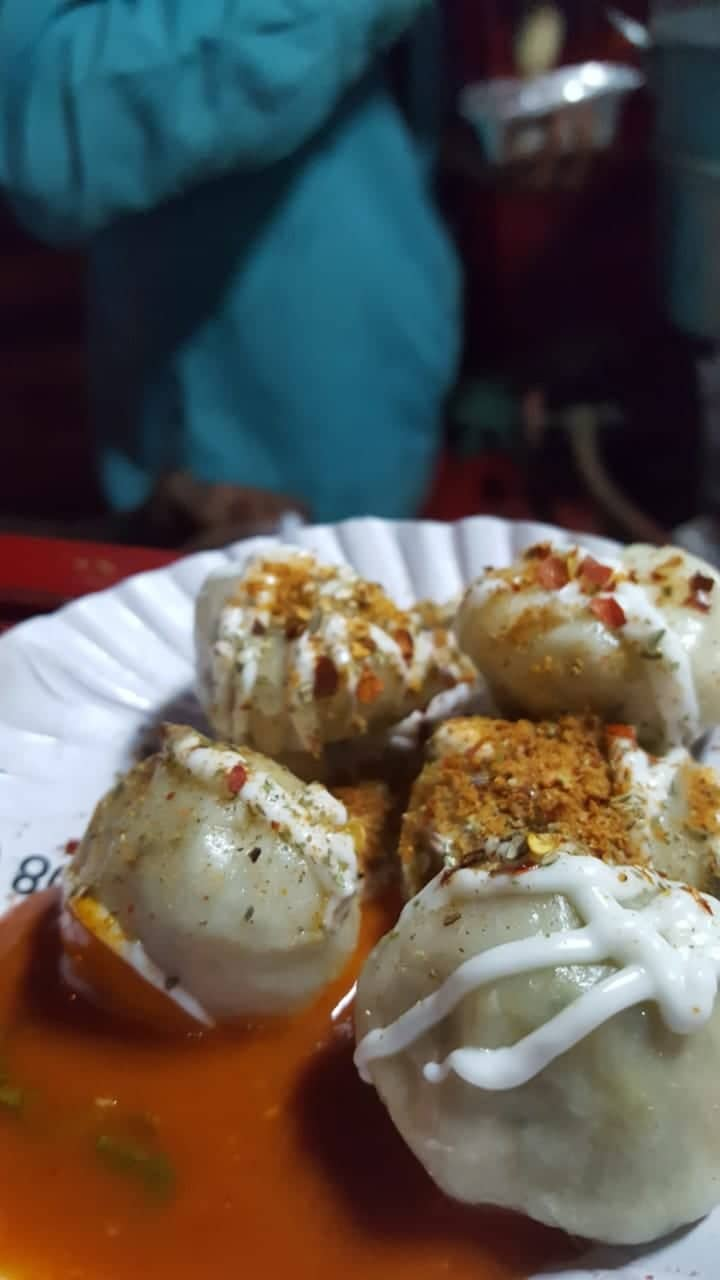 Momo vendors in Delhi are boundlessly populated at every crooks and nooks of the city. Let it be any type , whether it be steamed , fried , tandoori or gravy the people of this city never leave a chance when their taste buds call for this yummy snack. Moreover we being true foodies can never ever resist such simple yet so flavorful dish. However the traces of momos go back to a long time ago originated in Nepal, it still has a big trace on the hearts of every Delhi people.
So, we can find a small momo vendor called the 'Vinod Kumar Momos' near the bada gol chakkar i.e. the Spark mall at our very own Kamla Nagar giving out hot and steamy momos straight out of the steamer which results out in a two minute struggle to initially even hold the plate. After seeing such a sight we can do nothing to hold us back but  order a steaming plate of momos which is served in three different types which varies in nothing but the stuffing of these fluffy balls of flavor, the three different types of variants are veg ( a mixture of cabbage etc. ) , paneer (cottage cheese) and chicken.
All the three variants are served with spicy red chutney on the side and the momos themselves are topped with creamy mayonnaise  and sprinkled with various spices such as oregano and chilli flakes. The side served chutney hads a very fiery flavor which compliments the tangy taste of mayonnaise. As you take your first bite of this delicacy dipped in perfect amount of chutney  your taste buds experience the perfect mix of flavours that is the subtle flavour momo along with a gulp of tanginess of mayonnaise  along with hot flavour of the red chutney .
After hogging all the different momo variants you will definitely drop by this place frequently as it is located in a very convenient location so that you have no excuse to miss this particular food joint out. The prices too were very attractive with a good quantity with lots and lots of flavour which comes out of a very hygenic stall, this stall should be on your must try list for sure.
Name : Vinod Kumar Momos
Find it here : Near bada gol chakkar , Kamla Nagar.
Contact it through: 9643371308