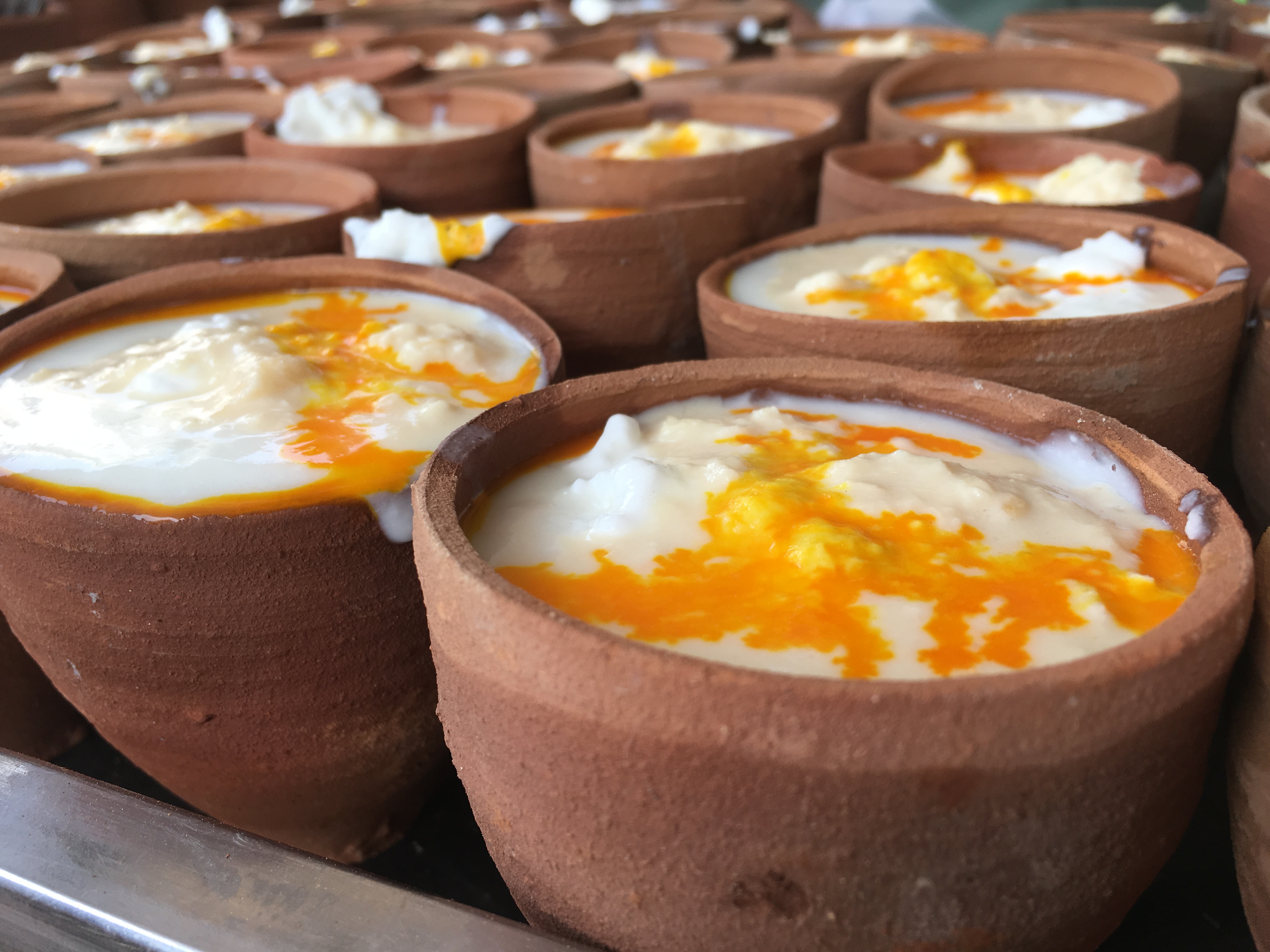 Ajmer food tour
By Anubhav Sapra
 It is always fun to interact and explore the city with a local food enthusiast. In Ajmer I met Shikha, a dentist by profession and food instagrammer by passion. She runs an instagram account Ajmerfoodie. Together we explored the lanes of the city, with her being an excellent guide.
We started with Dhanna ki Kachori in Vaishali Nagar– a super spicy dal kachori with kadi. She remarks that this unique combination of Kadi and Kachori was invented in Ajmer and spread to other towns slowly. But the kadi is made in a different style without buttermilk or curd. Having been in existence for 20 years, the shop is run by two brothers Durgesh and Kanahiya. The kachoris are topped with mashed potatoes and coriander. To add a tangy flavour to the kachori, lemon wedges are served along with it.
From here we reached Akbari Museum. Next to the Akbari museum in Ajmer are two shops facing each other – Shankar chaat and Anant Jain lassi shop. Shankar shop is famous for kachori and saakhe. As we already had the kachori at Dhanna, we ordered saakhe with kadi. Saakhe is just fried maida dough with ajwain. Curly in shape, saakhe is also known as namkeen or matar in different cities of India. I had always enjoyed it with a cup of sweet tea. This was the first time I tried it with kadi and chutney. A great combination indeed- the crispy saakhe went well with the smooth and spicy kadi. Next, we tried lassi at Anant jain lassi shop. The thick and creamy lassi is served in a clay glass topped with malai, rabri and saffron water. In the heat of Ajmer, it was a perfect refreshing drink.
Ajmer is known for Sohan Halwa and karanchi halwa. I am sure there would be some historical relevance to the sweets in Delhi and Ajmer. In Old Delhi, sohan halwa is available in selected sweet shops like Chainaram and kanwarji. I simply love this caramalised crunchy chewy sweet biscuit. It is made up of wheat, ghee, sugar and nuts. One small bite of halwa and the mouth is literally filled with ghee. Slowly you get the flavours of nuts. Moolchand Buddhamal in Purani Mandi is the oldest sweet maker of ajmer. Established in 1870, the shop has the best sohan halwa in the old city of ajmer. The sweet is also available in dargah market at all the sweet shops.
The story of bhutia halwayi (ghost sweet maker) is interesting. One story is that the ghosts used to make sweets whole night and when the owner used to open up the shop next day in the morning, all the sweets were made. Second story is that the sweet shop was in an isolated lane on Alwar gate road. No one used to visit that lane at night because of the rumour of ghosts living in Alwar gate road. But lala ji used to open the shop inspite of rumours of ghosts in that area. That's why the locals started calling it Bhutiya halwai shop. Whatever the real story, the sweets are really good specially doodh jalebi and gond ke laddu. We tried doodh jalebi. The sweet and sugary jalebi is crushed in a steel jug and then half a glass of thick milk is added. Both of them are mixed properly and served in a clay glass with cream on the top. The mix of soft and crunchy jalebis makes it special.
It is not easy to find authentic homestyle Rajasthani delicacies in restaurants. Mahadev dhaba is one of the local eateries in Ajmer where some of the Rajasthani dishes like gatte ki sabzi, ker sangri, sew tamatar, papad sabzi are on the menu. The dhaba is at Nasirabad road in Ajmer.The owner specially cooked sew tamatar and papad ki sabzi for us and allowed us to oversee the preparations in the kitchen. The recipe of both of the dishes was similar- first, in hot oil, onion is sautéed and garlic water is added to it, then curry gravy, some garam masala and finally sew or roasted papad are added. In my opinion, what makes it special are the two ingredients – garlic water and the curry gravy made up of malai. The malai in the gravy leaves a smooth creamy texture to the sabzi. A bit spicy for me, but It went well with the fresh tandoori roti.
O
n the way to our last stop for faluda, near madar gate, we spotted probably India's biggest kachori weighing 650 gms.
In the end we decided to stop for some dessert.  Kesar pista kulfi with kesar pista ice cream, rabri, dry fruits and rose syrup were layered and served in a glass bowl. It was the perfect sweet way to end the Ajmer street food journey.
The evening was spent in the Dargah of Khwaja Moinuddin Chisthi. Hazrat Khwaja Moinuddin Chishti, popularly known as Garib Nawaz (helper of the poor), is a giant figure on the Sufi map of the sub-continent. Situated in the city of Ajmer in Rajasthan, the shrine is open to all faiths. It is an old saying that people who visit Ajmer Sharif and pray with pure faith and loyalty at this Dargah, are granted their heart's wishes.
In the Dargah there are two huge degs i.e., cauldrons – for cooking Niaz (purely vegetarian food); cooked with rice, ghee, nuts, saffron & sugar. The system of cooking food in cauldron was first introduced by Emperor Akbar. And Ajmer sharif has the world's largest cauldron with the capacity to cook 4800 kgs of food in it.
I participated in the langar with the locals and the devotees. In a big plate, fresh and delicious biryani and sweet rice were served. People kept sharing the food from the same plate. It was truly an experience of a lifetime!