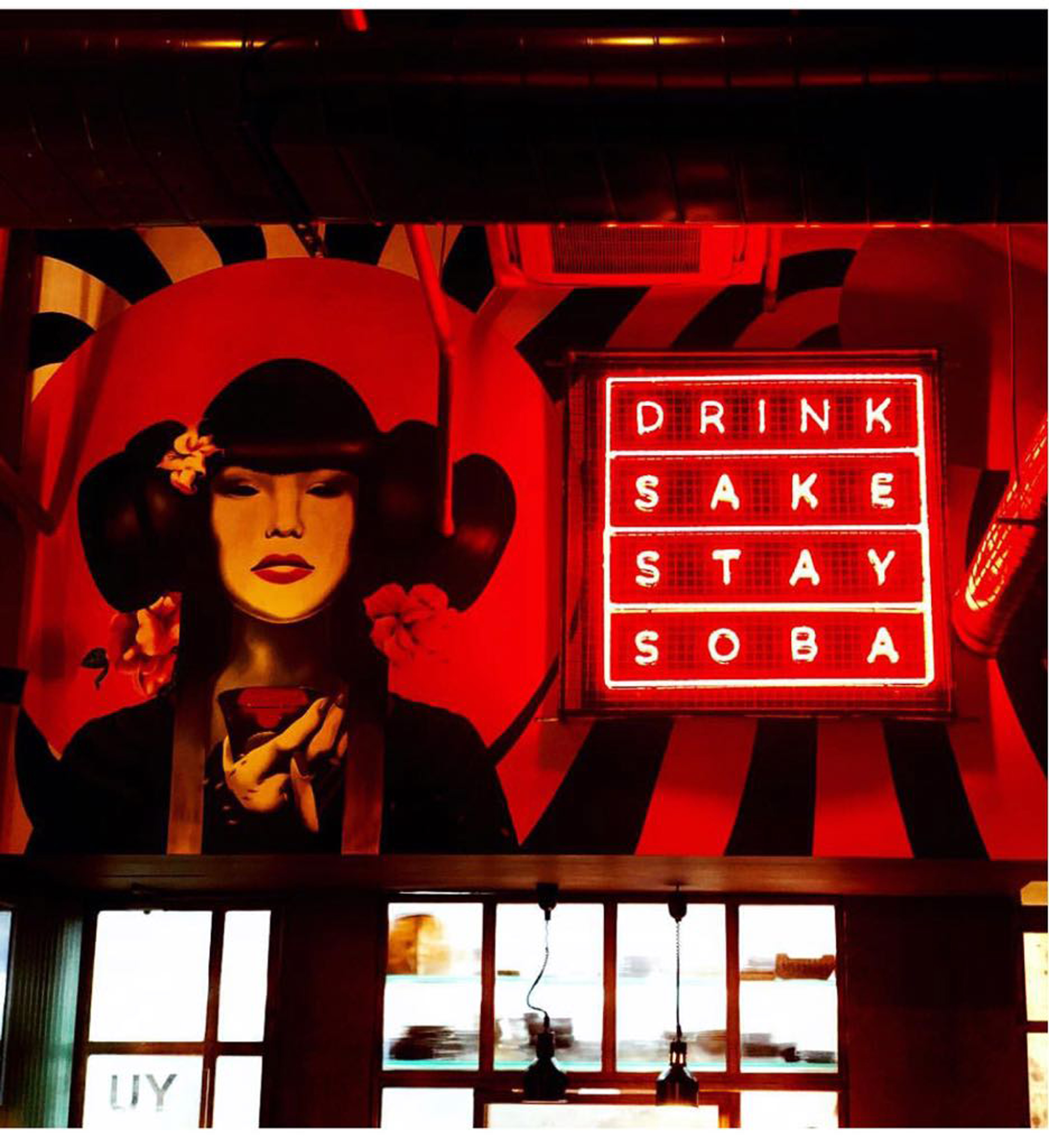 'Drink Sake Stay Soba' says the neon red sign board as we hurriedly enter YUZU restaurant after having spent a significant portion of our evening in Delhi's infamous traffic. YUZU is a new Japanese and Pan Asian establishment in the thriving Epicuria Mall at Nehru Place. It is a dimly lit joint brightened up by the aforementioned neon signs and pretty faux cherry blossoms which liberally drape the walls and ceiling. We made a beeline for a table next to the window.
Inspired by the words on the wall, we started rifling through the endless range of sake options and found refuge in Sake cocktails alongside a Steamed Spinach Salad and the 'Stay Soba' Sizzling Chicken. The #SakeBar would definitely be worth exploring further.
YUZU has introduced a new menu called – 'Hey Sexy Fish' complete with its own neon signage on the wall, so we decided to head towards the sexier options. We were introduced to the Pink Lady Sushi. Staying true to its name, it was decidedly pink comprising of shrimp tempura, minced crab meat and avocado. The portion sizes were large and it came with two varieties of wasabi – the normal kind and the extra strong kind. A minuscule speck of the extra strong version can instantly bring you to tears, so consume at your own risk.
We followed up our sushi with Chicken Gyoza and a Quinoa Basil Chicken Bowl. I have never been healthy enough in the past to replace rice with quinoa in a Pan Asian dish (or any dish) and probably won't in the future as well, but it is worth a try. We were suggested an ice cream for dessert but we were far too full and cold by then to continue. We will be back to discover new favourites and tick off more Sakes' from the list.
Location: Epicuria Mall, Nehru Place
Price for Two: Rs. 1600