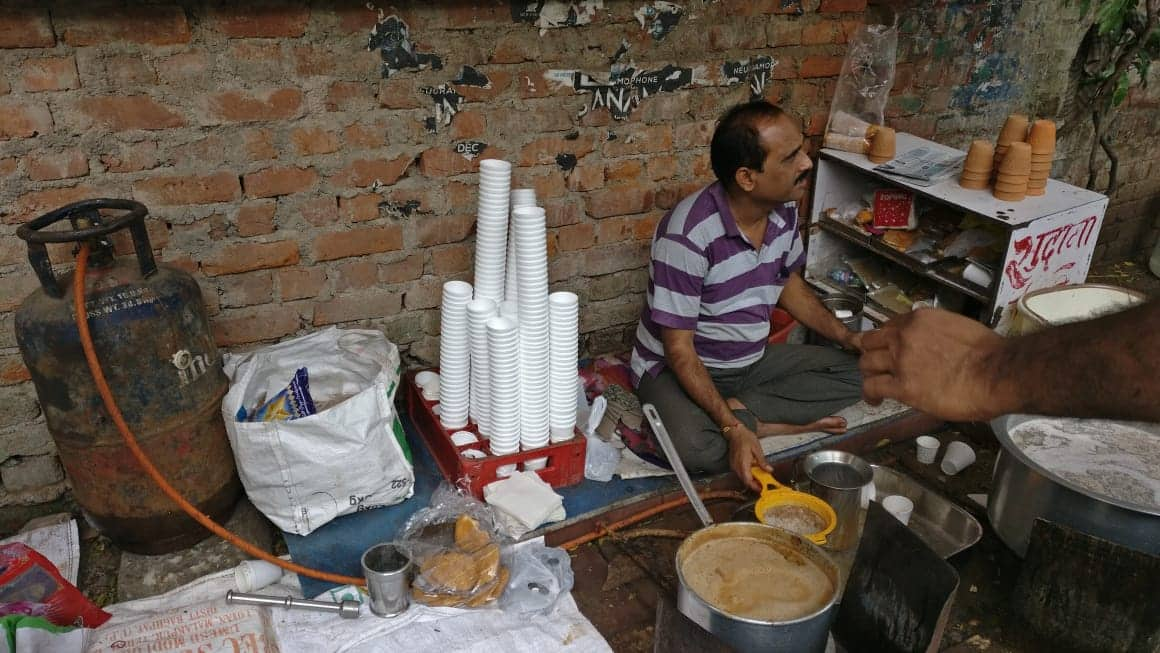 Feeling cold ? have chai (tea) . Want to have a important conversation ? Meet up at chai. After all , who says chai cannot be the solution to your every problem. Chai is the most loved beverage among India and the love indeed doubles when it comes to Delhiites. One such place which was established around 30 years ago by a very humble man popularly known as 'Sudama ji ' by his fellow customers , is "Sudama ji ki Tea Stall" which is located right on the main road from Kirori Mal College to Ramjas College. At any mentioned time of the day you will see people flooded on this tea stall, there doesn't exist a single person in the North Campus who doesn't know about this stall. Once you name it and people will tell you the exact spot where it is located at. Sudama ji serves his special tea at as low as Rupees 10. You can taste the flavor of ginger, cinnamon and cardamom in the masala chai  he offers.
The best time to visit this place is the late evening hours especially during the winter nights, you will see every person including the cops patrolling around the area  to the students living in the campus to the staff and even the fellow rickshaw and auto drivers breeding around the stall waiting for their chance to get a glass full of the 'most talked about ' chai  of the campus. This stall stays open until late night with never ending rush for chai which can always be seen boiling down in big vessels by Sudama ji with a lot of passion to make his chai perfect for his customers.
You can also have some rusks , biscuits to accompany the perfect cup of tea even to make it more perfect. While crossing through the university you will always listen people mentioning this tea stall and especially students quoting it very often. So, if you are on a search of a perfect cup of 'garma garam chai'  along with a swarm of people who are equally passionate and  in love with chai as you are or else need a perfect kick start to your day or want a much needed break then surely this is the place you are searching for.
Name : Sudama ji ki tea stall
Owner's name : Sudama ji
Address: On the main road between KMC and Ramjas