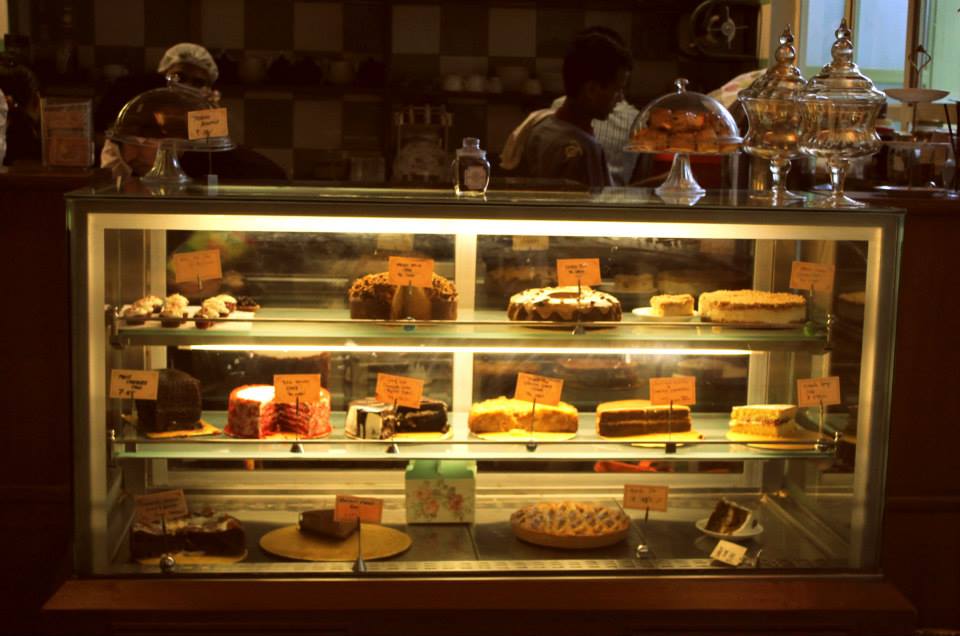 A Fine Taste
English. Exquisite. Elegant .Exclusive. Expensive.Combining all of that, you get Elma's cafe, a cosy cafe in the streets of Hauz Khas Village. So here I was with two other friends, out to review the place that is very popular among the food joints in HKV.
Entering the place, you notice the beautiful and delicate ambience, made complete with floral prints on the drapes and curtains, cupboards with old cups and plates, a piano and a quiet view of the deer park. The bakery items on display are so amazing to look at, that customers sometimes sit for long durations of time, just gazing at the display! Cooks working in the open kitchen constitute another view that is enjoyed by visitors. However the seating is very limited , since it's a small cafe.
Talking to the owner, we got to know that her son started TLR cafe, another food joint in HKV. Since the quality of the outsourced breads was not satisfactory, she decided to open a bakery of her own that would provide good quality bread. This and the fact that coffee could be found everywhere but different types of teas were difficult to find, she being a tea person, established Elma's.Here's a fun fact for those of you who didn't know: Elma is the name of the family dog and Edward is the family cat! Edward's is on the ground floor and Elma's is on the 1st. They share the same menu.
The famous desserts of the place such as the Red Velvet Cake and Moist Chocolate Cake are absolutely fabulous but we wanted to try new items, so here they are. Let's begin with Nilgiri Frost, a favourite of the owner too. It's a  lighter colour than Earl's Grey, the taste is just right, neither too strong nor too mild. The cup is very aromatic and it goes well with heavy   cakes. It tastes best without milk. The next tea we tasted was Earl's Grey, which was again very aromatic but was a darker colour. It was stronger than Nilgiri Frost. Both of them were very typical teas and must be tried by tea lovers for sure. Apart from this, the Belgian Chocolate shake was amazing too, rich in chocolate and pleasure!

The freshly-made scones with the great texture, accompanied by pure fruit jam and cream were a delight to our taste buds.The apple pie was perfectly made, with a very crisp outer layer and the handmade pattern on top. The taste of apple was very subtle. Mac and Cheese was beautifully baked. The three neat, distinct layers were as follows: a crisp layer of bread crumbs on top, followed by a delicious cheese layer and then the macaroni. It was quite filling. Lastly, we had the healthy 'lean and green sandwich', which had Elma's slow roasted tomatoes on a bed of lettuce and rocket leaves drizzled with extra virgin olive oil. It is very apt for a light breakfast, the taste is not overpowering.
| | | | |
| --- | --- | --- | --- |
|               Taste |            Ambience |            Service |     Value for Money |
|                9/10 |                 8.5/10 |                8.5/10 |               8.5/10 |
Indulging in the quaint atmosphere of the place, one understands how this place attracts people who prefer boutiques over malls, who are not mere customers but are food enthusiasts, who are willing to pay a bit extra for something special. So if you enjoy the finer things in life, try out this place for sure!
Cost for 2 people: Rs 1000 approximately
Name: Elma's Bakery, Cakes and Tea Room
Location: 24/1, Hauz Khas Village, New Delhi-110016
Contact:
Phone: (011)26521020; 9711117516
Email: elmas@tlrcafe.com
Owner and Head Chef: Shelly Sahay, of Le Cordon Bleu
Foodie Correspondent: Gopal Seth
Foodie  Photographers: Saumya Gupta & Shreya Chowdhury