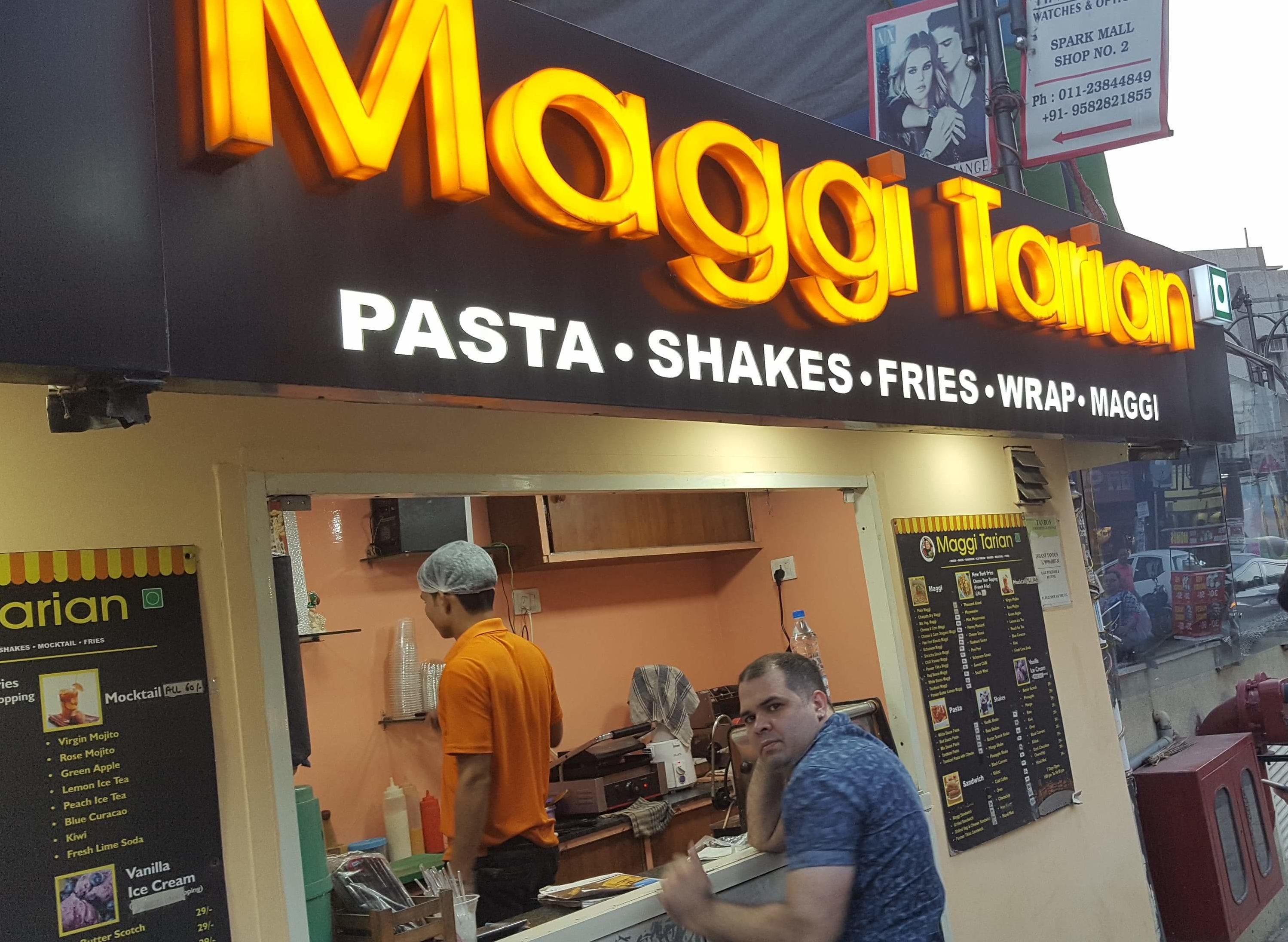 Kamla Nagar can be referred as a big treasure box with lots of treasures and gems, I can assure that no hungry person can walk out empty stomached from this place which is full of food . If you take walk down the main market in kamla nagar you're bound to quickly come across a small pop shop which goes by the name 'Maggi Tarian'. It is located in front of Spark Mall or else the bada gol chakkar as the local people address it.  This tiny shop almost resembles a food truck where  you place your order and can also see the food being prepared, having the food on high tables or you can also have your seat on the stairs of the mall as people usually do here.
The menu at this place is much more than what its name suggests. It serves pasta, shakes, wraps, fries, sandwiches and of course maggi. It has a versatile variety when it comes to pasta and maggi  and also various types of shakes. According to me the most recommended dish here is the all time classic white sauce pasta and tandoori cheese pasta. I would also suggest the fries which are the classic salted ones , but the good thing is that you can choose your own dip out of a huge variety of the tangiest and mouth watering dips.
Although this place does not provide any seating but I strongly feel that everyone should try having their delicious gulps of the snacks while sitting on the low boundary of the mall and observing one of the busiest market of Delhi.  This place opens at One O'clock in the afternoon and serves their delightful snacks till 10 o'clock in the night. The most busiest hour is notably the evening hours and between 2 to 3 in the afternoon when the north campus colleges have their lunch timings.
Maggi Tarian is the best option one can go for if he or she is in a mood of having good food in a reasonable price.
Name : Maggi tarian
Address: Bada gol chakkar, Kamla Nagar
Contact Number: +91 9899667083
Owner's name: Mr. Ishaan