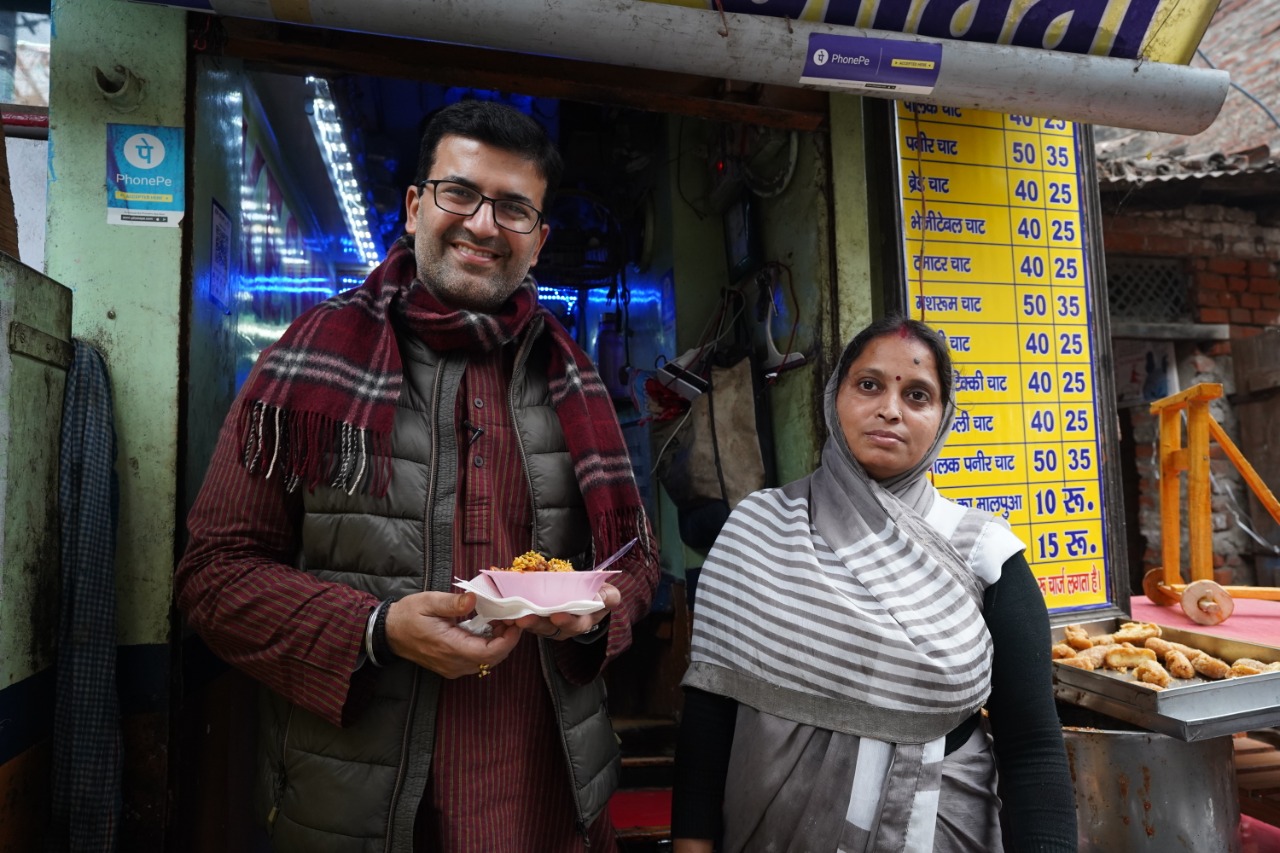 The ancient holy city of Gaya in Bihar, referred to as the land of enlightenment and salvation, is a sacred place for Hindu, Buddhist and Jain devotees alike. Mostly frequented by a large number of tourists and pilgrims, Bihar's second largest city, boasts of a vibrant street food scenario dominated by traditional fares that are loved by the locals too. So let's take you on an immersive food tour of Gaya. 
Before starting with our eating spree we first visited the Mahabodhi Temple at Bodh Gaya, one of the major Buddhist worship sites in the world. This UNESCO World Heritage site is the place where Lord Buddha had attained Enlightenment. The sprawling premises were full of monks and devotees from different parts of the world who have arrived here to seek divine blessings.
On emerging from the temple complex, we noticed a few food stalls and vendors, primarily selling Tibetan fares. Here we bought some fresh phaley bread from one of the numerous ladies selling it on the roadside, headed to Three Dolma Noodles Shop and ordered some hearty rice noodles. It was fun eating the noodles in the company of a group of monks visiting from Southern India. The phaley bread went well with tea and as well as the rice noodles soup broth. 
Soon we then set out for Gaya and on reaching there we first offered our prayers at the famous Vishnupada temple and then began our food tour. The first stop was Rajasthani Bhojnalaya on South Church Road. As the name suggests their menu was a mix of popular Rajasthani and Bihari fares. Their no onion garlic Bihari thali containing rice, karela aloo fry, aloo rajma, dal, kadhi pakoda, spinach moong, dahi, matar paneer, makhuni etc. impressed us with its homely taste and affordability. Of these, the ghee smeared makhuni i.e sattu stuffed baked flatbread was brilliant. 
The second destination was Kesari Chaat, a family run chat centre at Dr. Haridas Chatterjee Road, Durga Bari. Their spicy, tangy and flavourful palak paneer chaat is the talk of the town. It is a well balanced pot pourri of paneer pakoda, palak sooji pakoda, chole, curd and chutneys, sev etc. This was followed by an equally brilliant aloo malpua, a syrup lagen dessert made with potatoes. 
While heading to the next stop, we stopped by an open tea stall at Tower Chowk and energized ourselves with a cup of spiced lemon tea. 
Next was the turn of a humongous imarti from Sri Ganinnath Imarti Bhandar, KP Road, Chowk which is probably the best imarti shop in the city. The deliciously crisp, syrup laden ornate orangish loop is made with urad dal based batter. They make them of different weights. Ours one weighed half a kilo in weight which is equivalent to seventeen smaller imartis. The combined aroma of ghee, urad dal and sugar syrup was just divine. 
We then took a paan break at Mathura Paan shop at KP Chowk Road. The classic Maghai Paan cleansed our palate and primed it for more food. Here we got a crash course on different varieties of suparis like the dry ones, soaked ones, nirmali, processed and roasted ones. 
Finally was the turn of Gaya's most renowned, winter special sweet called Tilkut which is made with just sugar and sesame seeds. The preparation entails a lot of muscle work and is quite elaborate. At Jauhar Ji's shop Ramna road we got the opportunity to witness the complex and laborious process of making these Tilkuts. It is fascinating to see so many people engaged in this elaborate task. We loved the pleasantly sweet and nutty taste of this firm Tilkuts. They were so amazing that we even got some of them packed. 
As the food tour kept extending with local inputs, we took another tea break at Mahasay tea stall at Tekari Road to energise ourselves for the upcoming stops. The amusing thing we noted here was the measuring cup that was used to measure out the tea. Locally called napna, it was essentially a bigger measuring cup that was dented from different sides in order to hold the stipulated amount of tea. 
This was followed by a lip smacking serving of aloo kachalu from Bablu Ji aloo Kachalu wale. It was a spicy and tangy mix of boiled potatoes that has been mixed with some spices that served in a leaf plate. It is one of those quick and pocket friendly snacks that Anubhav grew up eating. Bablu Ji's wisdom with spices and the other ingredients he deals with is so strong that when Anubhav found the thing spicy, he whipped up a solution with some spices and tamarind flavoured water and added it to the mixture and it's spiciness vanished. While walking ahead we came across nimkis being fried fresh, hence we pop some to see how it tasted. 
Our penultimate stop was Jai Shree Ram Tilkut Bhandaar, near Panch Mukhi Mahadev Mandir. We were there to try a very special Bihari sweet called Anarsa. These ghee fried rice flour based deep fried dough balls fresh out of the kadhai were so delicious. Their kala jamun and samosas caught our attention so we tried them as well. The former is a dark brown coloured deep fried sweet made of khoya whole the later one is the ubiquitous potato stuffed pastry. 
The final destination of this immersive food tour, that spanned for the whole day was Srimani Prasad Chaat Wale in Dhamitola. Both the dish and the vendor selling it were quite fascinating. The robust aloo dum chaat was a potpourri of nearly 4 to 5 curries, chutneys and small snacks. Srimani ji was super amusing too. 
We wrapped up this surfeit food tour that acquainted us with so many wonderful flavours contained in the lanes of Gaya.