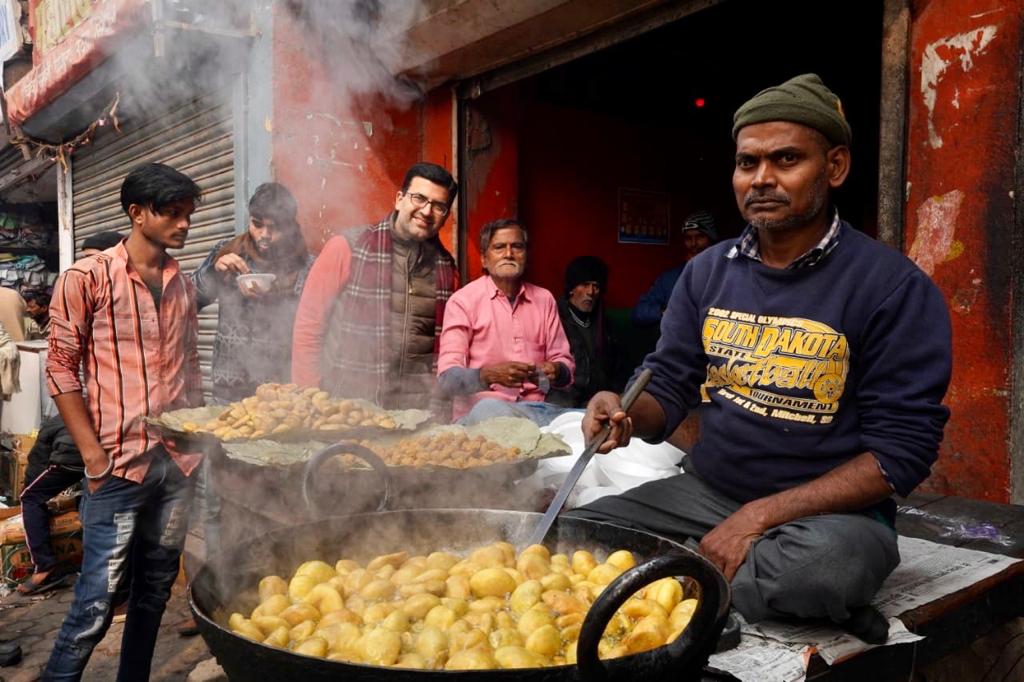 Patna City is a small neighbourhood in the capital that is full of stories from the past. It is the birthplace of Guru Gobind Singh Ji, the tenth guru of the Sikhs. Moreover it is home to one of the most sacred gurudwaras in the country named Patna Sahib Gurudwara or Takht Harmandir Sahib and so it is of great significance to the Sikh community. During our Bihar Food Journey, we had stopped by at this place for a brief food exploration to discover it's prominent and popular flavours. Let's tell you what all did we tried.
Before starting our food tour, we visited the holy and peaceful precinct of Patna Sahib gurudwara to seek the divine blessing. After offering our prayers we headed to the langar hall where preparation for the daily community meal was underway. A team of assigned cooks and volunteers who are devotees themselves were engrossed in different tasks like cutting of vegetables, making rotis, washing and arranging the utensils etc. This voluntary service carried out in any sphere, with deep devotion for the guru and love for the brethren is called seva. Here we first partook the kada prasad and then relished the humble yet delicious meal of dal and roti at the langar hall. This eating service is open to all irrespective of religion, caste or any background. The common rule is that one needs to sit down on the floor in rows with all other devotees and eat the meal. It was quite a surreal experience.
We hit the street to try the stuffs that defines the food scene of this place. First we got some kachori and ghugni from Nandu Lal kachori shop in Sabzi Bazar Chowk. The combination of crisp, small-sized sattu stuffed kachoris with an equally amazing kala chana sabzi, locally called ghugni was brilliant. This shop has been around for 100 years. No wonder their deep fried treats is phenomenal. Apart from the taste what's laudable is the pricing which is quite reasonable. We also tried some crisp fritters made with khesari dal. The kick of garlic and chilli made them a fun treat.  
While heading to our next destination we took a short tea break. The tea at this tiny makeshift stall was very impressive. 
After that energy shot we arrived at Manish Kumar Aloo Puri wale opposite the Marwari school to have aloo puri with aloo dum. Yes this again is a much loved street food in the locality. The sight of the crisp and puffy aloo stuffed puris served with a ladle of aloo dum made us restless. As we got our plate, from the very first morsel we realised why this place is such a hit with the locals especially for breakfast.
This thumbs up combo was followed by a crisp and juicy Imarti from Vinod ji Imarti wale at Gulzari Bagh. This traditional sweet is an ornate loop of deep fried urad dal batter that is filled with thick sugar syrup. Urad dal adds more a body to the taste and texture of these Imartis. If you ever feel like trying it, always go for the fresh and hot Imartis. 
As we walked ahead we came across a Lathkto seller in Sabzi Bazar. These are jaggery coated deep fried sweet treats made with maida. They were firm yet somewhat addictive because you can never go wrong with stuffs that is fried, sweet and has maida. The cart also had few other traditional treats made with jaggery and puffed or flattened rice. 
We then tried some ubiquitous samosa from the renowned Tandon Ji Ke Samose shop in Sabzi bazar. The taste was much familiar to the ones that are available in Bengal. Along with a great crust it had a humble yet lip smacking potato filling, it had a distinct charm of its own due to the Panch Phoran or five spice mix based flavouring. 
Our penultimate eating destination was  Suraj and Mahadev Gupta Sweets in Kachori Gali. It is an old sweet shop that is known for its pure milk and ghee based sweets. Our pick from the wide variety of traditional sweets included dahi, khurchan, peda and gajar burfi. Among them the khurchan was a simply a piece of art. It was a stack of pure malai layers that were lined with bhura and cardamom powder. The sweet and rich taste elated the milk lover in us. The peda and gajar burfi too were quite good. 
Finally we ended the food tour with some ber which is a highly nutritious tropical fruit native to this state. The food journey in these sleepy and holy lanes of Patna city stirred up some divine emotions that we carried back with us.