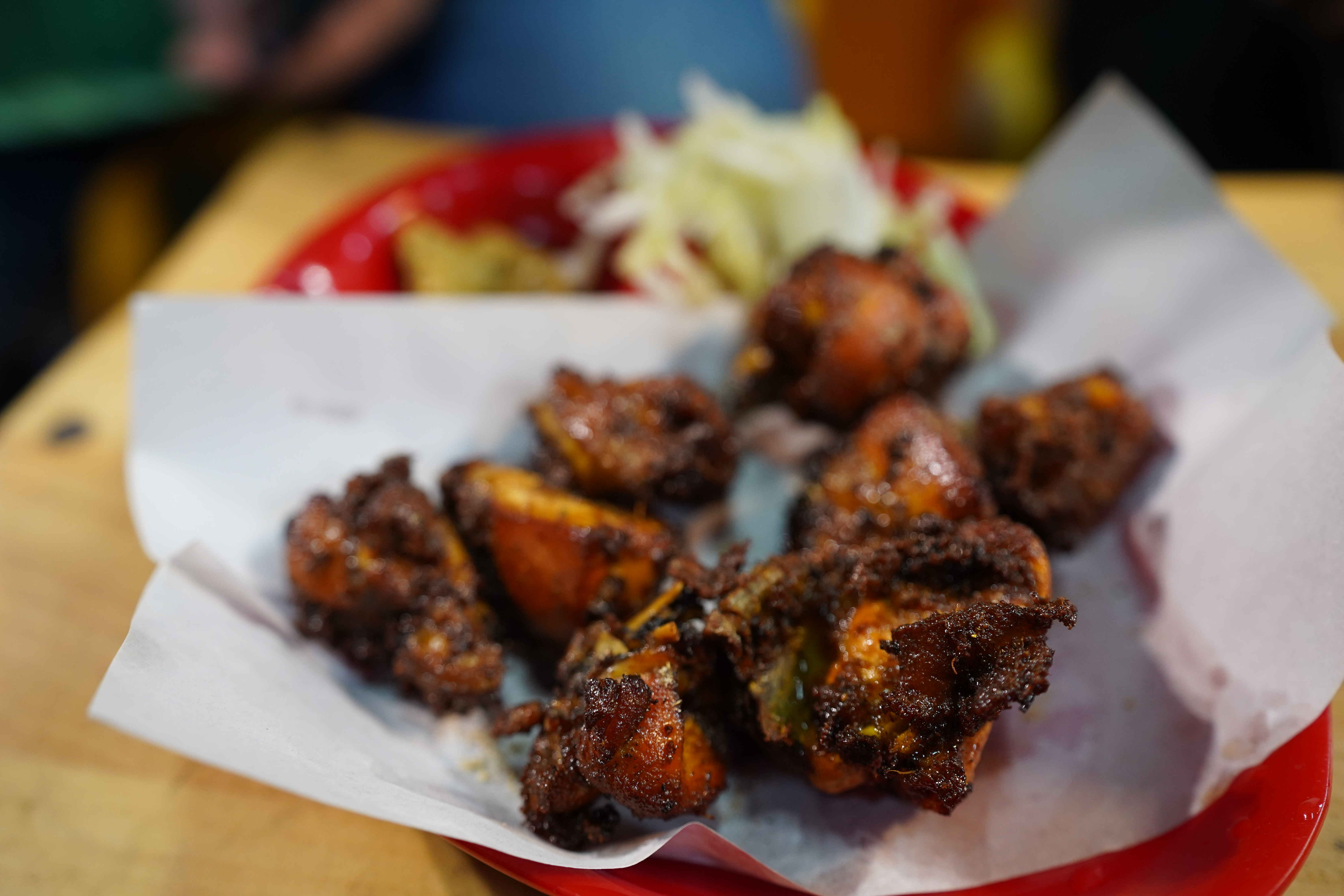 Chitpur is one of the oldest localities of Kolkata. And nestled here, near the Nakhoda Masjid, is one of the famous food destinations in the city named Zakaria Street. During Ramzan this place is abuzz with various foods prepared for Iftar. On regular days too it's a haven for biryanis, kebabs, haleem, halwa etc. We had visited this stretch during December last year along with our gracious host Pamela Das. Let's take you on a walking tour of the place and acquaint you with some of the popular flavours.
Our first destination over here was the Bombay Hotel. As we reached this old eatery, we were welcomed by a crowd of happy customers and enticing aromas of different curries and breads. We tried their spicy yet wholesome Dal Gosht with Khamiri roti. It was quite rich, high on chilli, flavourful meal that was easy on the pocket.
The second stop was Dilli 6, an eatery specialising in delicacies from Old Delhi. The cook here was very well informed about the eating scene at Delhi. After a quick and hearty chat with him, we went on to try their famous Chicken Afghani. This creamy and buttery grilled chicken based dish was pure indulgence. It was smooth, comforting and had a clear note of sweetness.
From there we went to the third destination named Taskeen. It is an institution when it comes to fried chicken at this part of the city. Their Murg Changezi which is essentially a double fried chicken based appetizer was phenomenal. The genial owner informed us how it was different from the Changezi that we Delhiites are familiar with and also how the marinade for the dish is made using 51 different ingredients. It was a mind blowing revelation indeed. We finished it off with some Kesariya falooda which was rich and distinctly luscious.
Our fourth stop was a cart selling Anarsa or deep fried sweet rice flour dumpling. It is quite a popular snack with the daily workers from Bihar, who reside in this area. These super economical snacks gave then a quick respite from intermittent hunger pangs that they experience between meals.
Next we checked in to our fifth destination, Baba tea stall, for a quick tea break. It was super crowded and the smell of the boiling beverage was so reassuring. People were joyfully chatting over copious amount of tea that was being served in bhars or clay cups. The tea was quite good.
After that invigorating sip we headed on to try the fabled Suta kebab from Adams kebab. But in between we tried a small helping of freshly made kalakand and patti samosa from two different places that we visited impulsively. The Kalakand was quite delicious while the potato filled tiny samosas were average. On reaching Adams, we were deeply fascinated to oversee the preparation of the suta kebab. Putting the soft kebab mixture on the skewer with the help of a cotton thread or suta was such a skillful task. The grilled mutton kebabs had a granular appearance and texture while the taste was phenomenal.
The final destination of this gastronomic tour was the century old Haji Allauddin sweet shop. Their sweets, especially halwas, are well renowned. It was a joyful opportunity to listen to the young owner Hamd who zealously acquainted us with some of their hot selling fares. Their signature Batissa halwa just blew our mind with its unusually luscious taste and textures. We also finished off some mava ladoo, akhrot halwa and dahi balushahi. The mava ladoos are one of the oldest sweets of this shop and were delicious. We thoroughly enjoyed the non veg food walk across this bustling stretch.