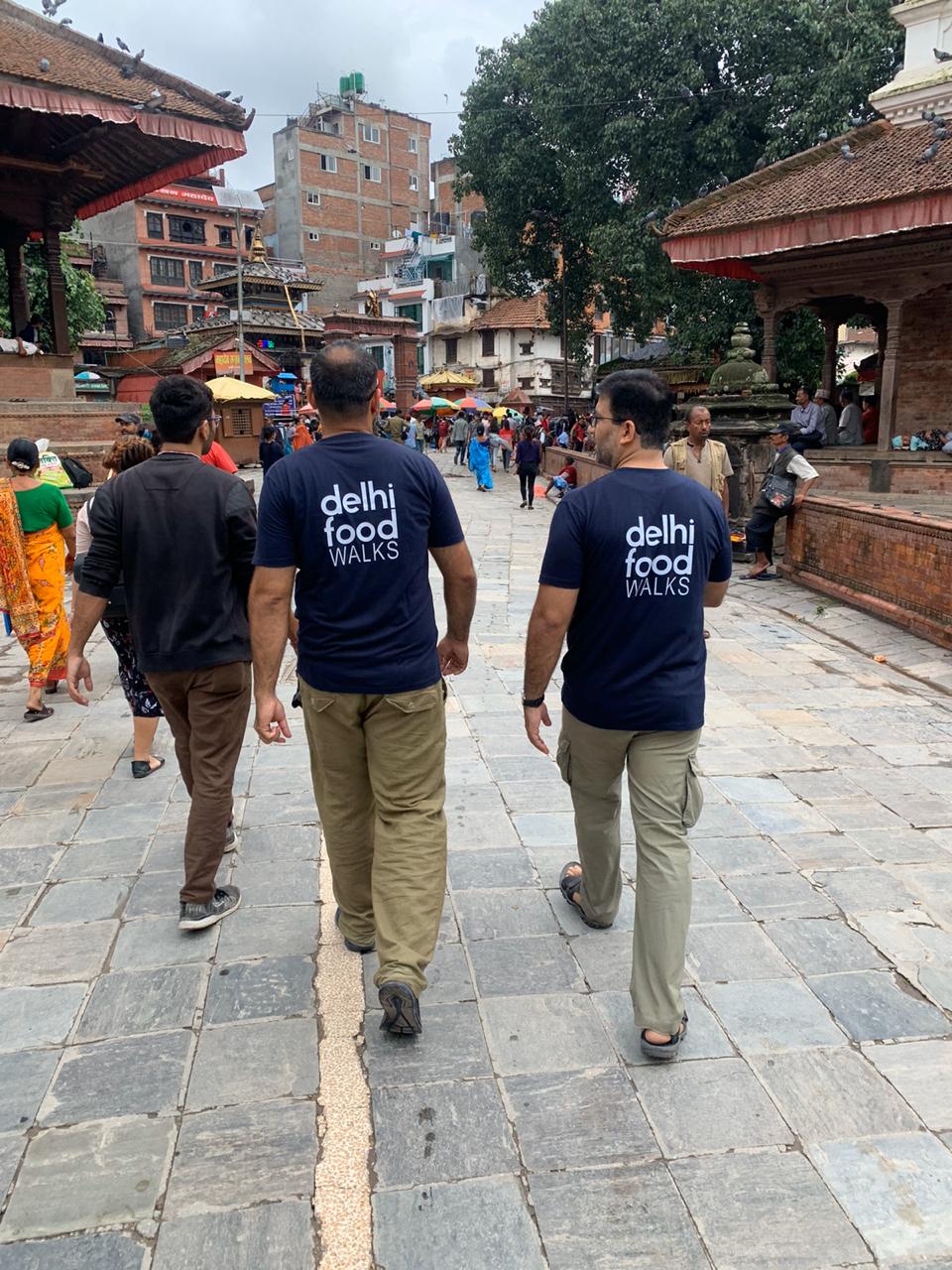 As the part of our maiden international food exploration, we have arrived at Nepal, a small yet ravishingly beautiful country with rich cultural heritage, incredibly friendly and fun loving populace and fascinating food traditions. The country combining magnificent views of the Himalayas, temples, quaint hill villages and flourishing wildlife and many more is undoubtedly one of the world's great travel destinations. Our first culinary destination here is the capital city of Kathmandu. We are on a gastronomic tour of this endearing city with our gracious host Kamal Bhatta. Kamal is a filmmaker and a food enthusiast. He shares a deep bond-which reflects in his suggestions of places for food and the stories he shared- with this quaint city and its culinary traditions. We are immensely grateful for his inputs and guidance.
Our first food stop was a roadside stall in the marketplace at Kathmandu's Durbar Square, serving a basic breakfast fare of dry potato sabzi, fried eggs and dry black chana preparation. This wholesome combination is the preferred food of the working class masses who look out for food that's wholesome, filling, energy giving and affordable. And it clearly fits the bill. We enjoyed this humble thing sitting on low stools amidst the busy marketplace.
From their we went to have the famous Thakali Thali at Thakali Bhanchha Ghar. It is a set menu from the Thak Khola region of Mustang, Nepal. This quintessential platter consists of 7-8 items like rice, black daal, dhedo(cooked buckwheat dough), lightly spiced meat, aloo bhujuri, saag (spinach), chicken gravy, gundruk and an assortment of pickles. The notable dishes among these are the Dhedo which is a soft cooked dough made of buckwheat flour and water, Aloo bhujuri or crisp fried thin potato julienne and Gundruk that is fermented and dehydrated Spinach cooked with soyabean and tomatoes. Rich in carbohydrate, Dhedo is bland and it acquires the flavours of the curry that it is served with. Gundruk on the other hand is spicy and tangy and hence is a perfect accompaniment to the Dal and rice platter. This balanced Thali is a favourite with the office goers mostly those who can't don't have the time and opportunity to partake home cooked food.
Next Kamal took us to the Boudha area around the huge Boudhanath Stupa. Being a Tibetan settlement, the dominant food culture here is the Tibetan food. So we went to Khawa Karpo Tasty Noodles factory for plate of hot and delicious in house noodles. Here we first saw the preparation of the noodles from scratch and then tried a plate of freshly made noodles with shredded omelette. The noodles were made in machines from a dough prepared with all purpose flour, eggs and salt. It's then rolled into sheets and cut into thin strips which are hanged on wooden sticks to dry. Once ready they are boiled and mixed with garlic, soy sauce, spring onions, chilli sauce, shredded omelette or mince. It was simply one of the best noodles we have ever tasted. the freshness was so stark.
Next was the turn of Zomsa restaurant for the popular breakfast dish called Ponche which is a well made, soft bao filled with cooked minced meat. People prefer it for its fluffy texture and savoury flavour. From there we went to CD Laphing center which reportedly serves the best Laphing in the city. This Tibetan delicacy made with Mung beans starch or all purpose flour is loved for its warm, spicy and comforting taste. The yellow coloured Ala were more delicious than the plain Laphing. Both resemble a thin, silky, smooth and gelatinous savoury pancake and are served with soya sauce, chilli oil etc
We then headed on to have another Tibetan delicacy Ashabhaley. It was a variation of the Shabaley which is mostly fried pastry stuffed with meat mince. But this one is pan roasted dough pastry stuffed with a mildly flavoured minced meat mixture was quite yummy. The fun part was the juices from the meat that had drenched the cooked mince.
Our final destination for the day was a very popular place named the Yangtaru Sekuwa corner. The kitchen was huge barbecue hub where marinated pieces of chicken, mutton and pork were being grilled on trays stacked inside closed wood fire ovens. The indigenous grilling technique results in the most toothsome barbecue meat. Our co host Sanam informed us that this oven technique is native to the Limbu community of Nepal. The succulent and smoky pieces of meat with the optimum marination is a must try for all meat lovers. We thoroughly enjoyed a plateful of chicken sekuwa and chicken wings with puffed rice mixture. What a gratifying food tour it was at Kathmandu.