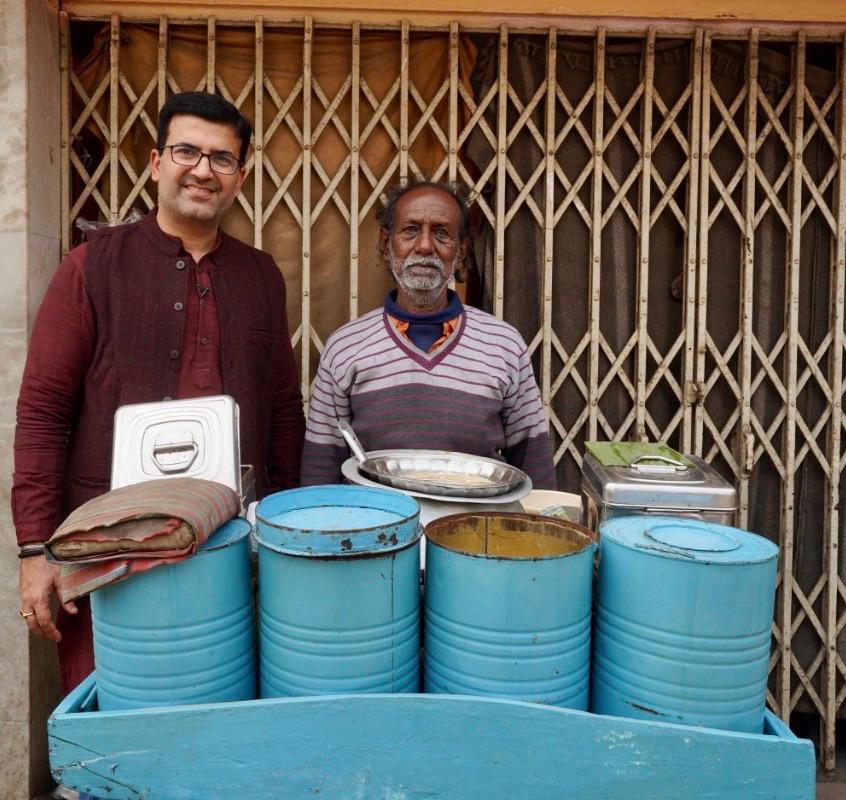 In this special blog we bring you heartwarming accounts of a nostalgic gastronomic journey from the bustling lanes of Anubhav's hometown Muzaffarpur in Bihar. Apart from being an important trade center of the state, Muzaffarpur is referred to as the 'Land Of Shahi Litchi' as it is the country's leading producer of this deliciously succulent fruit. So brace yourself for an amazing lineup of street foods from some old and famous eateries that Anubhav had grown up eating. It was an utterly emotional experience for him to reconnect with his favourite vendors and dishes. So let's get started. 
We began with a simple and filling nashta platter from Makhan Shah Halwai at Sonarpatti. It consisted of hot, fluffy puris, a no onion garlic aloo ki sabzi, malpua and jalebis. The highlight of this platter was the freshly made malpuas. Made with a batter of maida and sugar these disc shaped sweets were pure bliss. 
The next destination i.e Ram Bharan Aloo Kachalu Wale near Devi Mandir, was one of Anubhav's childhood favourite stops that he frequented while returning from school. It was a ritual to relish the ghugni muri and aloo kachalu from this place along with the classmates. The former was a combination of puffed rice and black chick pea curry and the later was a zesty mix of boiled potatoes and spices. So during this visit, he went for these two dishes to refresh those memories. Everything, from the taste to the arrangement of things on the cart and the passionate warmth of Ram Bharan uncle was the same as it was years back. Anubhav was grateful to get this opportunity to express his thanks to him for the good times. 
After that super nostalgic encounter we relished some sev buniya and lavang lata from Hotel Bahadur at Kalyani Chowk. The lavanga lata is a khoya stuffed, deep fried pastry whose loose ends are sealed with a clove. The sticky coating of sugar syrup on the crisp exterior adds more fun to the sweet's taste profile.
The next dish that impressed us was a well assembled Dahi puri from Chintu Dahi puri wale at Kalyani Chowk flyover. For all chaat lovers like us, these curd filled crisp puris are a perennial source of joy. 
We then came across a popular pav bhaji wale at Safi Saudi market. Along with the usual assortment of veggies, their version of this iconic street side dish from Mumbai had spinach and a distinct handmade spice mix in it that lent a unique flavour to the thick, buttery curry. 
From there we headed to Hari Ji Kachori Ghugni Stall at Suttapati. It was a delightful place full of yummy fried snacks. Our pick was a plate of choti kachori that was a combination of sattu stuffed kachori and ghugni. It was so delicious, especially the flavour of besan fried in mustard oil was a treat for the taste buds. Hari Ji's eclectic range of fritters attracts a huge crowd. 
It was soon time for another round of sweet indulgence at two consecutive places Bharat Jalpan and Maharaj Dugdh Bhandar at Choti Sariyaganj Sutapatti. At the former place we tried rasmadhuri, balushahi and chena khajoor while at the later one we tried rasgulla, lal mohan and raskadam. In terms of great taste, the second place garners an extra admiration for serving optimally sweet treats in comparison to the first one. Anubhav has lots of yummy memories at Bharat Jalpan which he frequented with his parents during family shopping sprees. 
It was soon time to punctuate the gluttony with a paan and some jamun flavoured drink both of which are known to speed up the digestive process and cleanse the palate. We need to make room for a few more popular delicacies.
The next destination was Sundar Maharaj Pede wala at Suttapatti.This Rajasthani sweet and snack shop is popular for its pedas and different varieties of namkeens like dalmoth, mixture etc. We tried some dalmoth and peda. The soft and rich pedas made from freshly made khoya bearing a sweet fragrance of cardamom were quite irresistible. Their Dalmoth i.e., spicy and tangy fried channa dal mixed was a decent snack.
This was followed by a playful helping of aloo tikki ghugni chaat from Ma Bhawani Chaat Bhandar. This mix of crisp aloo tikki, ghugni, chutneys and spices was fun. 
Our penultimate destination was a Bindeswar Ji ki dukan at Purani Bazar Chowk. This humble pakoda and chup stall was situated close to the locality where Anubhav stayed with his family. It was an overwhelming experience for him to meet Bindeswar ji as it led to a flood of memories. He recounted some heartwarming recollections of the fried treats that he used to bing on from this place. A morsel of the crisp beguni stirred up more memories. 
The final destination of this close to heart food tour was Sindhi Sweet Shop. Here we tried the topi khaja which is a delicious multi layered, firm and glazed sweet treat. 
Thus comes to and end the walk down the memory lanes that is bustling with tales of tastes and flavours that had satiated Anubhav's quest for food right from his childhood. Hope you enjoyed this recollection.