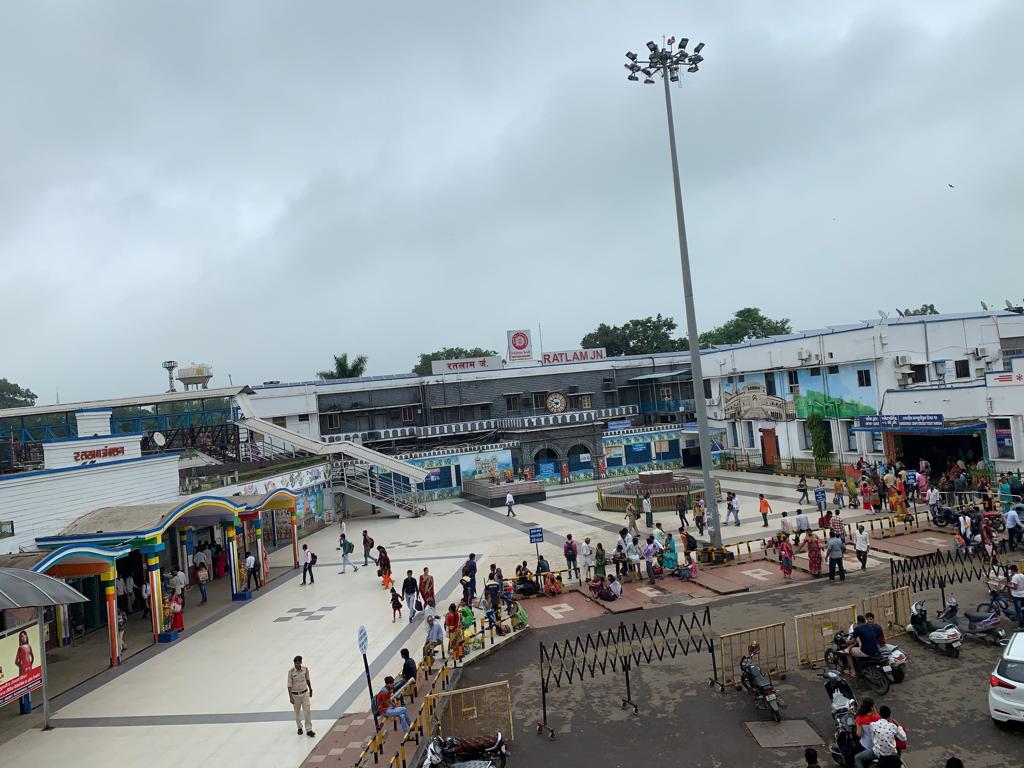 Historically known as Ratnapiri which translates to the City Of Gems', Ratlam is a city situated in the northwestern part of the Malwa region of Madhya Pradesh. This commercial city is synonymous with three S i.e Sev, Sari and Sona(gold). Moreover, it is also a significant railway junction of the Indian Railway's western division. The place also boasts of some amazing snacks and street foods which the locals love to binge on. So we have arrived at this small yet commercially significant city of Madhya Pradesh to explore its street food scene that is a matter of joy and pride for the locals. In this gastronomic journey we are joined our amazing hosts Ratlam Wale and Chirag Rai who would be taking us to the most frequented eateries. Due to its proximity with the neighbouring states of Rajasthan and Gujarat, Ratlam's street food is deeply influenced by the culinary traditions of these regions. 
We started our food exploration with Central India's traditional breakfast dish Poha from a popular Poha joint Saklecha Nashta point. It was fluffy and light on spices. But the toppings of sev, fresh coriander, pomegranate seeds and chopped onions made it a tasty affair. The wholesomeness of this humble dish makes it a popular breakfast choice.
With the rains making a sudden appearance, we rushed to the nearby tea stall named Bajrangi Tea stall to satiate our tea cravings. Tea is the favourite beverage across Madhya Pradesh and the enthusiastic crowd at this stall and elsewhere too, was a tell tale sign of the fact that just like Bhopal and most other cities of central India, Ratlam too is a tea loving city. The tea here was indeed very energising and addictive but their saffron coffee was just decent enough. They stand out in their service as they use undiluted milk and good quality tea leaves for their brew.
Our next destination was Gordhanlal Sev Wala, a fifty year old establishment that specialises in the famous Ratlami sev. These gram flour based, tiny deep fried spicy snacks were truly appetising and fun. Here in Ratlam it is eaten anytime and with most of the dishes. According to the owner, the climate and the water of Ratlam gives the sev its distinct character. The use of the warming spices like cloves, black pepper, asafoetida etc., makes it a bit spicier for our palette.  
Next was the turn of a wholesome Dal Bati and Bafla Thali from the popular Vyas Dal Bati. It comprised of crushed Bati and Bafla along with sweet and sour dal, papad and chutney. The platter was delicious and value for money. We spotted many daily workers having it for breakfast because this heavy protein and carbohydrate rich meal easily provides them with a continuous supply of energy for a long period. 
After that we tasted the simple and light Sabudana khichdi from Sabudana Bhandar. Like the Poha this too is a go to breakfast dish across Central India. Its light, sweet and sour taste that was quite satisfying. In the morning time locals prefer these healthy snacks.
From there we reached Karu Mama Samosa shop. Their bestsellers includes the corn samosa, raw banana samosa and mirchi vadas. All of them were distinctly flavoursome. We were quite surprised with the taste of the raw banana samosas that we had for the first time. It had a sweet and sour taste. This snacks was created out of the necessity to cater to the Jain population who refrain from consuming the vegetables that grows under the soil. The place is a hot favorite so don't miss it if you are visiting Ratlam.
While ambling down the street we came to a very interesting shop with the name Madhya Bharat Bar. On inquiring we realised that it used to be a thriving place long back and its origin dates back to post Independence era. The bar was no more functional. Here we tasted their fruit beer which okay but not much impressive.
Our next stop was Satish chaat wala whose chaats are a craze among the locals. Here we tried their three popular dishes- one was the aloo tikki chaat, the other was raw banana chaat and finally aloo tikki biscuit. Everything was delectable. No wonder people keep coming back to this place again again not only due to the lip smacking fares and also for the passionate young chap behind the counter who serves them with such joy and zeal. It's another must try place in Ratlam.
From there we went to their relative's pani puri shop for some delightful panipuris. The owner was such a generous host that he made us taste all the different flavours of pani puris available in his shop with such pride and honour. Though each of them were simply brilliant, but it were the Ratlami sev flavour, the mixed flavour and the Gatagat flavour that just blew our mind. Gatagat is a zesty, sweet and sour, playful tiny edible balls that we used to have during our childhood days. We also had the palak chaat here which was super crisp and moreish. We highly recommend this place to all the Pani puri lovers.
After binge eating those unforgettable pani puris we went to taste another famous hot beverage, the kesariya doodh that the city swears by. The thick and luscious milk is was quite pleasing. The locals love to have it after dinner. 
We ended our food tour in Ratlam with a tasty paan from Govind paan shop. The day super gratifying and we could cover most of the popular eateries. We are extremely grateful to Chirag and Ratlam Wale for taking us around and helping us in our exploration. We truly appreciate their passion towards their hometown.