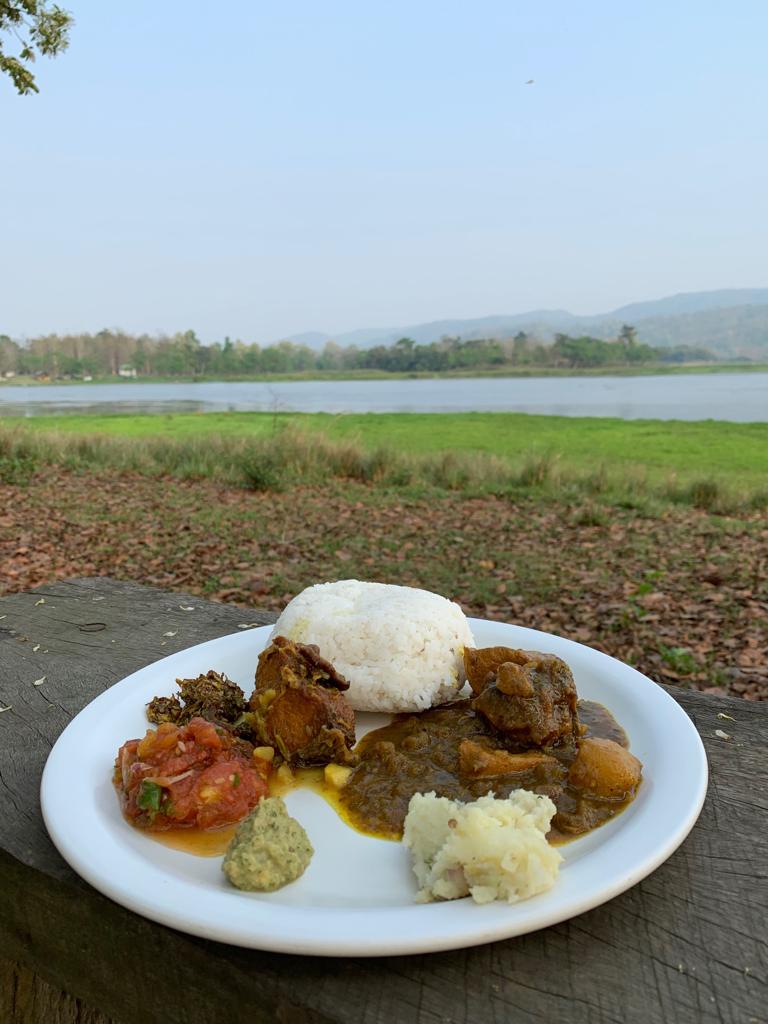 This time our gastronomic pursuits have brought us to the largest of the North Indian states, Assam. Well known for its sprawling tea gardens, national parks, paddy fields, the mighty river Brahmaputra and an artistic heritage, Assam has emerged as a popular tourist destination. Its vibrant cuisine makes it an important food destination for foodie travelers.
Stretching 600km along the Brahmaputra River Valley, the archetypal Assamese landscape comprises of golden green rice fields and manicured tea estates. In the north, there are the mountains of Arunachal Pradesh and to the south there are the highlands of Meghalaya and Nagaland.
Once known as the Light of the East, the name Guwahati comes from the Assamese words "Guwa" meaning areca nut and "Haat" meaning village market. The largest and most cosmopolitan city in the region,  Guwahati serves as the starting point for many journeys to different parts of the North Eastern belt.
Our food explorations in Assam began from the scenic place called the Chandubi lake situated around 64 km away from the capital city of Guwahati. Surrounded by forests, tea estates and small villages, this calm and picturesque area is a popular tourist spot.
This beautiful lake was formed as a result of the submergence of a part of the forest area during the devastating earthquake that had hit Assam in 1897.  The glistening waters of Chandubi Lake is a rich habitat for different flora and fauna. Visitors can go for fishing and rowing. Taking a ride on a country boat is the best means to discover the pleasing waters of Chandubi.
At Chandubi we visited the Chandubi Jungle Camp along with our hosts Chayanika, Sisir and Risha to savour a traditional rustic meal prepared with local ingredients.
The scrumptious lunch spread at the retreat camp included the Tupula Bhat, Omita Khar, Assamese style chicken curry, Tangy fish curry, Aloo pitika, Koldil Bhaja, Bilahi Pora and dal. It was a simple and gratifying meal that introduced us to some new ingredients like Khar and thekera.
Khar is an integral part of Assamese cuisine and it is consumed at the beginning of the meal especially lunch. This indigenous thing is alkaline in nature. Assamese people cannot do without it and it is generally consumed once a week. It is prepared from the banana peel as well as the trunk of the banana plant.
In the evening we all gathered together to prepare bamboo chicken, bamboo pork and barbecued pork. Chicken or pork cooked in hollow bamboo stem is a popular delicacy in this region that has caught the fancy of the gourmet crowd from near and far. Although initially it appeared easy with the minimalist marinades and all but it wasn't, as it needs practice to master this style. The outcome was delicious. We particularly loved the bamboo chicken and bamboo pork. We are super grateful to our amazing hosts for making us familiar with the wonderful local cuisine with so much warmth and patience.