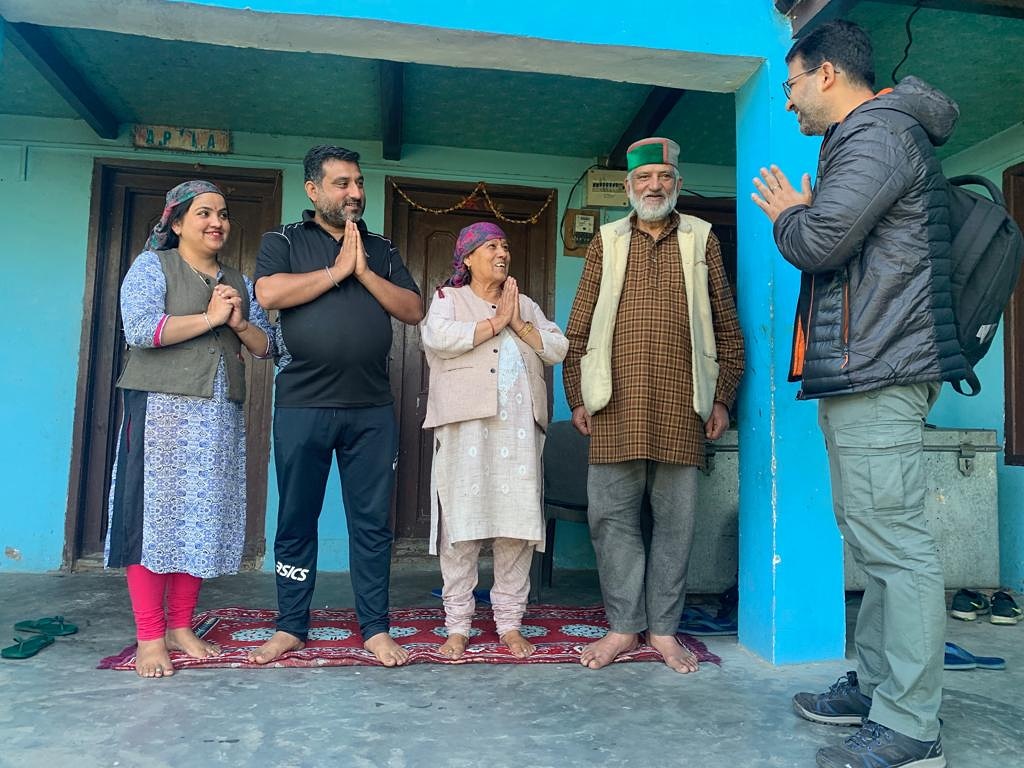 In our remarkable journey across the captivating landscapes of Himachal Pradesh, we were fortunate enough to discover the beautiful village named Jalori situated in the Kullu district. Here we were visiting our gracious host Sanjay ji and his lovely family at their home stay namely the Apple Village Homestay, where we were spending the day.
This place is famous for its lush green rugged terrain dotted with fruit orchards, especially apples and dense pine tree stretches. After a long drive through the winding highway, we were now up for some thrill so we tried offroading. The drive through these less frequented uneven mountain trails was bumpy yet fun.
Next was the turn to scramble up the green trails of the elevated landscape. Sanjay ji lead us through bushy pathways up to his apple orchards that surrounded his home, which doubles up as a lovely homestay for discerning travelers. We were glad to witness such a bounty of organically grown apples all around us. We were also inspired to discover how ecologically aware people like Sanjay are growing apples and other fruits sustainably without the use of harsh fertilizers and sprays. This is a laudable effort in times when the world is slowly waking up to the harmful effects of fertilizers.
On reaching our destination, we were warmly received by his genial and enthusiastic family. We were excited to spend the day exploring the native food traditions with them. We started this culinary sojourn overseeing the meal preparations at the kitchen. Some local delicacies were being prepared by Sanjay ji's mother and wife. The feast included Siddu, Indra, Sigdu, Vada, Rajma, Lingad ki Sabzi, labode ki chutney and steamed local rice named Nawari Nut. Of these, we were truly impressed by the Siddu, the Rajma which was just scrumptious and Indra or steamed horse gram pulse cake. Siddu is a staple delicacy of this region that is best relished with ghee.
As we sat down to eat, Sanjay ji and rest of the family members eagerly introduced us to each and every dish and its components. Knowing about the ingredients, in a little more depth, enhanced the whole eating experience. Not only were we contented and grateful for the delicious meal but could clearly feel the distinct bliss of eating naturally grown local produce. No wonder, the health benefits derived from these cogent food traditions intrinsic to the local communities makes them stay rooted to such wisdom.
After the food we went for a stroll across the property and landed up at a mud house or old structures built of natural stuffs like wood, mud etc. Such structure were common in this area though they were largely used by earlier generation. The interiors of these indigenous rooms stayed warm in winter and cool in summer.
In the evening we tried the Namkeen Chai prepared by Sanjay's mother. It's essentially a health giving beverage that is prepared by boiling pieces of bark from a local tree along with milk, carom seeds, butter and salt. There was no tea leaves in it. The next morning we had a comforting breakfast of fresh Rotis with Atte ka Halwa. This humble yet surreal breakfast was no less than a magical outcome of the convergence of fresh and natural ingredients, masterly hands and keen awareness of traditional wisdom about food. For the first time we had a Halwa that was tempered with carom seeds that was used to make it easily digestible.
Soon it was time to bid adieu to the gracious family whose simplicity, enthusiasm, hospitality and warmth will always be etched in our memories. We bid them goodbye with the silent promise to be back again. Heartfelt gratitude to Sanjay for such wonderful hospitality.