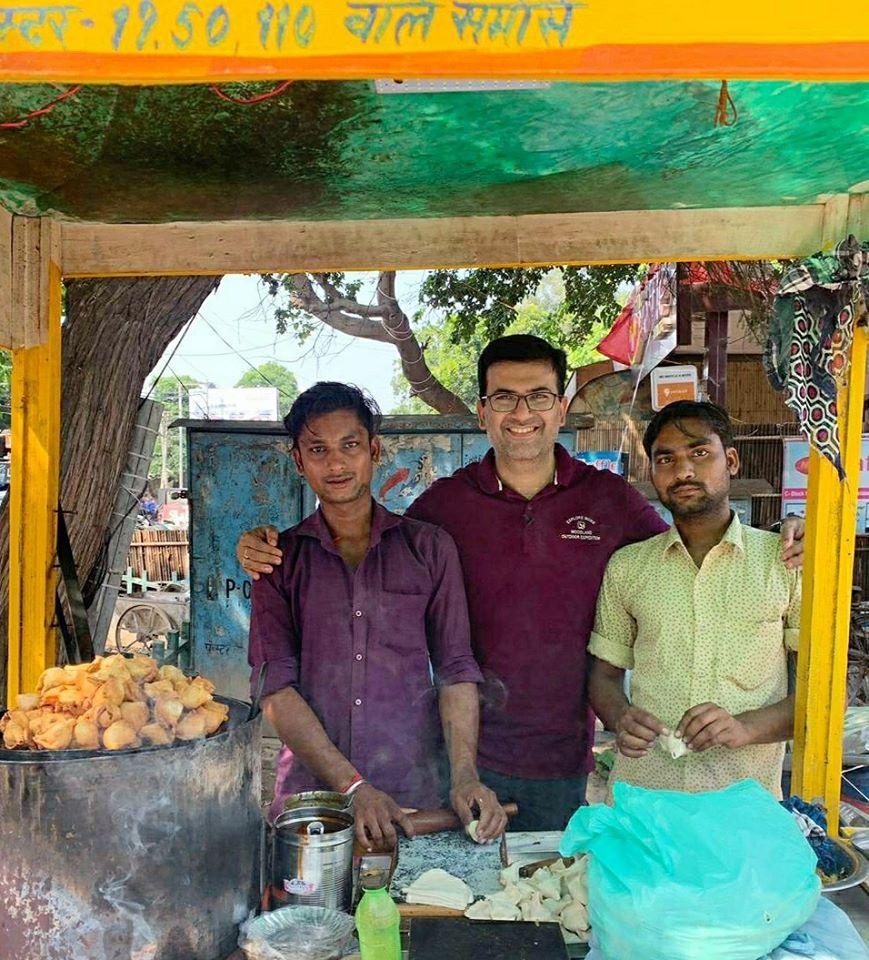 Ghaziabad is a populous city in the Indian state of Uttar Pradesh. Situated at a distance of nearly 42 km away from Delhi, it is an old industrial city that is now the part of the National Capital Region of Delhi. The insatiable hunger pangs inside drew us to its loud and busy precincts. We were pleasantly surprised by the eclectic gastronomic scenario in here. As you negotiate through the bustling thorough fares of the marketplace at old Ghaziabad, you discover that this busy trade center is a foodie's haven too. The street food here is mix of traditional and contemporary favourites. Many of the traditional shops are as old as over sixty-five years or more and they gave us a semblance of Old Delhi. Inspite of the heavy influx of modern and international influences, majority of the population still loves to gorge on the zesty traditional street food fares like Chaats, Moonglet, Dahi bhalle etc. There are truly some good eateries whose foods and stories will make you fall in love with them. After visiting the city on three different occasions, we have come up with a basic list of the the go-to places that you can explore.  The food scene is so diverse and widespread that we need multiple visits to actually come up with a comprehensive list of the same.
1. MOONGLET WALA(GHANTA GHAR)
Moonglet is the most preferred street food of Ghaziabad. These toothsome, savoury, lentil based pancakes are a craze with the crowd here. It's resemblance to an omelette has earned it the name Moonglet i.e. moong dal based omelette. It's is must-try delicacy in this part of the city. Try it for the buttery mouthfeel leaves you happy.
2. DEEPAK KANJI VADA(AGRASEN BAZAAR) 
Check out this neat cart selling Kanji Vadas for the past 35 years to the discerning masses. This light and healthy snacks comprises of lentil dumplings dunked in mustard flavoured fermented water. Try it for its refreshing, filling and healthy  goodness. It is a traditional summertime snack from the states of UP and Rajasthan.
3. LOKNATH SWEETS(GALI LOKNATH, CHAUPLA MANDIR)
One of the oldest sweet shop in the locality this place is famous for its luscious Rabri and Rasmalai. Their sweets are so popular that they even to travel far off places. We had tried the above two desserts along with Chenar Kheer. The well-made classics won't disappoint us at all. The sweets are fresh, pure and most importantly, optimally sweet. Another popular stuff is their Lassi which the visitors and the traders swear by to beat their exhaustion.
4. HATHRAS CHAAT BHANDAR
Here you will get to taste the Hathras famed Aloo Tikkiya. Hahthras is a town in western Uttar Pradesh that is known for its Rabri and these zesty sweet and savoury Tikkis and Chaats. This one is a simple snack of plain deep-fried Aloo patties that is served with chutneys and curd. It is not that outstanding but not disappointing as well.
5. RAKESH EGG POINT
Rakesh egg point is a paradise for egg lovers. They serve a delightful and scrumptious range of egg preparation among which the bestsellers are the Egg Lolo Popo and Egg Curry. As evening sets in people throng this stall to relish the hot and fresh egg dishes that includes old classics and fusion or contemporary stuffs.
6. YADAV JI KE DAHI BHALLE
This mobile cart circling the bustling marketplace serves a luscious and yummy Dahi Bhalle to the Chaat lovers. The Dahi Bhallas or lentil-based fried dumplings are served with smooth and sweet beaten curd, crushed papdis, chutneys and roasted cumin powder. This chilled, lip-smacking dish is a thing of joy.
7. GOYAL PAAN SHOP(NAVYUG MARKET)
Paan enthusiasts can check this place for their craving.
8. SAIYA JI POORI WALA(MALIWARA ROAD, NEHRU NAGAR)
Yearning for some traditional breakfast platter, then head to this joint for their breakfast platter consisting of fresh hot Pooris, sweet and sour pumpkin sabzi, spicy potato curry, coriander chutney and a savoury raita. Best part of this unpretentious meal is the leaf plate that enhances the eating experience.  Finish it off with a Mohan Bhog, a sweet that resembles a milk cake in taste and texture.
9. LALMAN LASSI WALA(OPP. PURANA BUS ADDA)
A glass of their lusciously chilled lassi will dispel your fatigue and refresh you effectively. The unique thing behind its sweet, smooth and refreshing taste is the pleasant earthy overtone that came from the earthenware in which the curd is set and also the one in which it is served.
10. PANDIT HOTEL(NEHRU NAGAR)
It is a typical North Indian styled Dhaba whose menu was quite elaborate. We had settled for their Navratri thali that has been introduced during festivity. It included two buckwheat and water chestnut flour based Pooris, a thin potato curry, curd, kheer and potato wafers. Everything was quite satisfying but it was the Shama or Millet Kheer that stood out in the group. Due to its appropriate location, it is a popular stop for the heavy vehicles passing through the nearby highway.
11. LALAJI CHAAT CORNER( TURAB NAGAR)
Turab Nagar is a popular cloth market and when the hunger pangs strikes you in the midst of your pursuits then you can consider this joint  that is swarmed with a eager crowd impatiently waiting for the zesty Aloo tikkis. the shoppers love it this ubiquitous and lip smacking snack.
12. MUSKAN BURGER(KAVI NAGAR)
When in Kavi Nagar, try the spicy Hot Dogs from this counter that is a huge hit with the young crowd. Over a few years, the hot dog has evolved into a go to snacks that has caught the fancy of the masses. The masala hot dog is a zesty filling of a well cooked vegetable mash. Its filling and irresistible.
13. PORWAL JI KA NANO SAMOSA(KAVI NAGAR)
This small yet busy cart with a super exciting name-Porwal Ji Ka Nano Samosa serves small sized samosas, a perfect accompaniment to any conversation. The word nano refers to the small sized samosas sold in here. These mildly spiced samosas are super fun to have. Do try them if you are looking for some easy thing to pop in.
14. PAHALWAN DHABA(CHOTTI BAJARIA)
This 65 plus years old Dhaba serves great North Indian food in the area. Their super popular  dish is Dhaba Style Chicken curry. Its is rich, robust, greasy, spicy yet very delicious. The right quantity and taste makes it as a value for money dish.
15. PANDIT JI KA SP. MATRA CHAAT(LOHIA NAGAR)
This place is a household name in the locality. Panditji's unique fruit and yellow peas chaat has made him a celebrity. It is a zesty mixture of fruits and boiled lentils like Moong and Matra or yellow peas that is flavoured with spice mix, chutneys and lime juice. True to its glory, the taste is refreshingly addictive; a riot inside the mouth. Don't forget to try it if you like the components that builds it.
16. GANDHI OMELETTE WALA(NAVYUG MARKET).
People throng this joint for the comforting bread and egg dish named egg roll. Unlike the regular roll which we are familiar with, it is made from a frothy, beaten egg mixture. Its appeal lies in the soft, fluffy and buttery texture. The crowd loves it and so did we.
17. MOHAN'S ICE CREAM STALL(GHANTAGHAR)
They serve special mixed fruit ice cream garnished with cherry compote.  This humble chilled treat has a very homely taste that will stay with you and consequently turn you into an admirer.
18. GOYAL PAAN CORNER
This place deserves a special mention not just for their Paan but also for refreshingly yummy range of homemade, seasonal fruit juices.
With this we come to the end of this list. There are so many more eateries to explore which we will eventually discover for you. Till then keep walking and keep exploring. And for more details check out the links below: