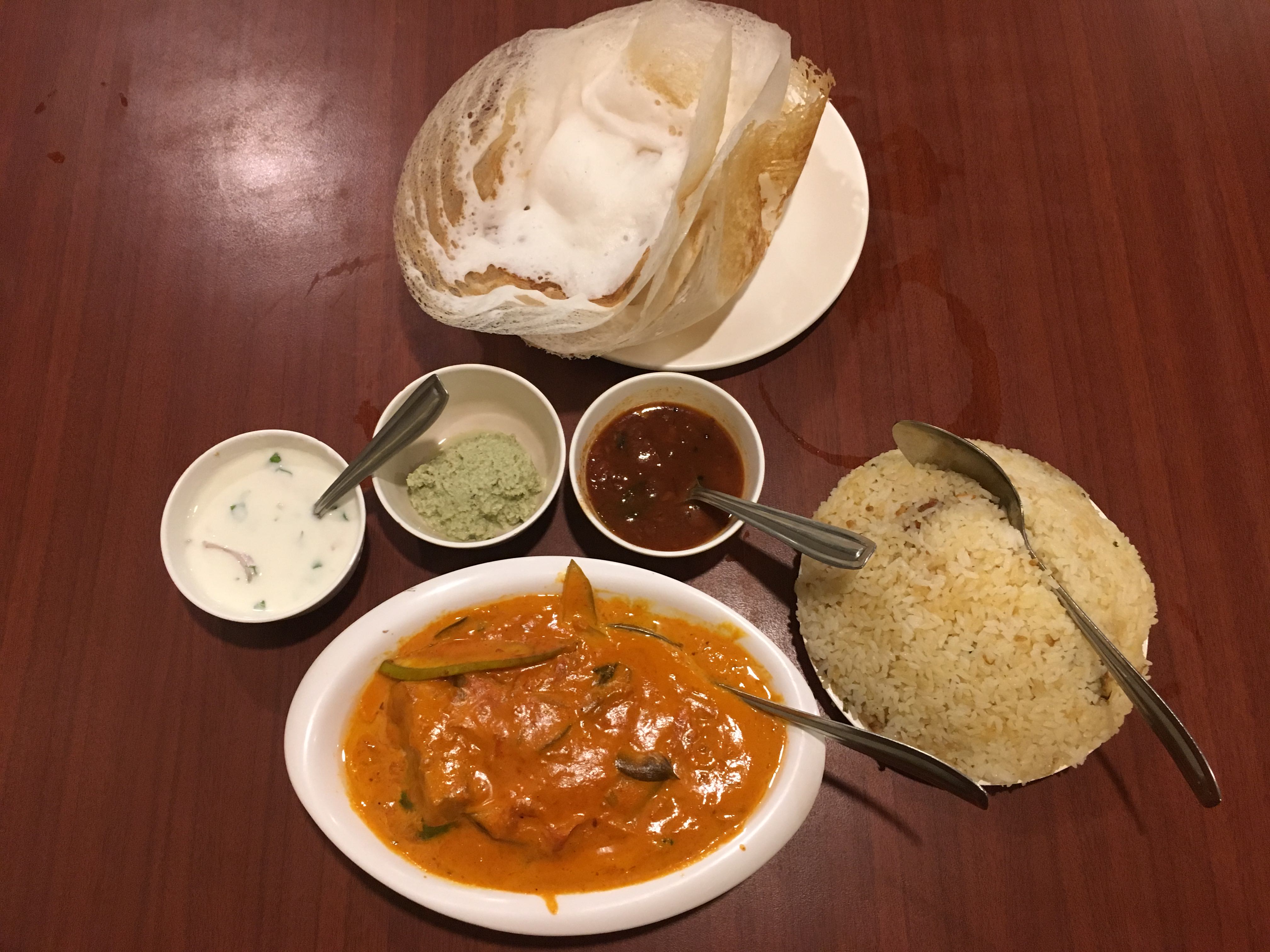 Kozhikode/Calicut
By Anubhav Sapra
Marco Polo described Calicut as the greatest province in Malabar. Portuguese explorer Vasco Da Gama first landed on Indian shores in 1498, in Calicut, paving the way for the spice trade between Europe and Malabar. Calicut emerged as the Centre of spice trade, that brought the Arabs, the Portuguese, the English, the Dutch and the French closer to the Indian subcontinent.
Hence, not surprisingly, the food of Calicut is heavily influenced by the Arabs. The intermingling of Arabian food with the local spices and cooking techniques came to be known as Moplah cuisine. Moplahs are the Malayali speaking Muslim community in Malabar.
Calicut or Kozhikode is one of the most foodie friendly cities of Kerala. Interestingly, almost all of the food joints are right next to each other and can be easily covered in a day's time. We stayed there for 24 hours and managed to taste the food at all the iconic places.
The journey started with Hotel Paragon beneath U.H. Flyover on Kannur road. The iconic restaurant is in existence since 1939 with branches in Calicut and Dubai. The restaurant is known for its yummilicious Dum Biryani, Fish Mango Curry and Vellappam. Fun fact, in Malabar region, the quality of rice is completely different compared to other parts on India. They use a special variety of rice called Jeeraksala rice- a small grained rice known for its delicious aroma and taste. The Biryani was lightly flavored, cooked using Jeerakshala. The accompaniments that are served with Biryani are Raita, coconut mint chutney and lemon pickle. There is no concept of salan in Kerala. To our surprise, the fish mango curry was creamish in texture and quite similar to a Delhi styled Butter Chicken gravy. The only addition was the raw mango slices. The smooth creamish fish curry complimented the Vellappam quite well.
Most of the restaurants in Kerala serve tea with all the meals. The tea glasses and the style of making the beverage are uniform all across the state. At hotel Paragon, I tried the 'dancing tea' aka biryani tea. The tea was layered in style – tea, with milk and foam on the top. The layers were easily noticeable and the movement of different layers added a twisty surprise to the flavours of the beverage. When stirred with a spoon, it becomes a normal milk chai.
Opposite to Hotel Paragon is Kerali Chips Corner, famous for fresh banana chips. The assembly line production and processing of banana chips are interesting to observe. The bananas are peeled – cut into pieces, washed, and fried in coconut oil. The fresh and crispy banana chips are a must-have snack at this place.
Next to Hotel Paragon is Bhaskarettante Kada or milk sharbath shop. This shop, although only half a decade old, is the most popular joint in Kerala. They have a pre mix of sugar syrup and essence of Nadan Nannari plant which is added to milk along with crushed ice. The same syrup is used for making other sharbaths. In lemon soda they also add a tablespoon of mint chutney in the sharbath.
As the day wore on, we were fortunate to get a home cooked meal at Mrs Ameera Shafi's home. A housewife with great interest in cooking, she cooked for us to taste some of the most traditional and authentic dishes of Malabar. At her wonderful home, we got the chance to savour dry Mutta Mala, Pancharpatta, Chicken Stew, Ari Pathiri, Buff Fry and other dishes. But the highlight was Mutta Mala and Pancharpatta; a traditional dessert in Malabar not easily available in the shops and streets. It is said that this dish, entirely made up of eggs, was brought to Malabar by the Portugese. In Portuguese they call it Fios De Ovos. The Malayalee word 'Mutta' is used for eggs hence can be called 'egg garlands'. The egg white and yolk are separated before cooking and boiled in sugar syrup. The other dish, Pancharapatta is different layers of eggs cooked in hot oil, on a slow fire, to be devoured with mashed bananas and powdered sugar. It is rightly said that there is no food close to home cooked food.
The next morning we started our food exploration in Calicut with Hotel Sagar located at Mavoor road, near KSRTC bus stand. For brunch, we had Ghee rice with Meen curry. The Meen curry was sour and tangy, flavoured with tamarind. It complemented the ghee flavoured Jeerkasala rice perfectly.
Next we headed to Hotel Rehmath on A.G. Road. Established in 1961, the restaurant was started by Kunjahammad. It is said that Hotel Rehmath was famous for its beef biryani, popular in Calicut. We reached the hotel around 1:00 pm and within few seconds there was a long queue even before the hotel opened its doors for us hungry souls. The restaurant has mutton, chicken, fish and Kada (quail) Biryani. The biryani, prepared with raisins, was a bit greasy compared to other biryani joints we visited in Calicut.
Located at a walking distance from Hotel Rehmath is SM Street known for Top Form Fish Biryani and numerous Calicut halwa shops. A food pilgrimage to Calicut is incomplete without getting the halwas packed for home. The different flavours of halwa range from a myriad of fruits to a variety of vegetables. Some of the common ones are coconut, banana, jaggery, mango, and tender coconut. The main ingredients of this delicacy are refined flour, sugar and coconut oil. We got our loot for home from Sankaran Bakery, recommended by a fellow foodie friend on Instagram.
Adam Chaikada or Adam's teashop is a new entrant to the food scenario of Calicut. Hardly a year old, this restaurant has now become a popular eatery in the city. Modeled on a Portuguese heritage property, the place retains its old school architecture. It is no less that any upscale restaurant in any of the big cities in India. The walls are adorned with paintings of localites cooking Malabari delicacies, with a few cooking utensils in display. The menu has been curated keeping in mind the younger generation, adding the perfect twist to the Malabari dishes. They currently serve more than 100 varieties of fried chicken. We tried a small platter and were blown by the creativity of the chef. We also tried a mocktail made up of green mangoes and green chilies. The concoction may give you hiccups but it is really a refreshing drink.
Across the main junction of Adam Chaikada is Zains Hotel known for Malabari snacks. The restaurant is located at Convent Cross Road behind the beach fire station and the bright red colour of the building makes it look like a cottage. The restaurant was started by a lovely lady Zainabi Noor, 30 years back. In Malayali, she beautifully narrated the story of how her restaurant started. She only speaks Malayali, hence one of the servers from UP helped us in the translation. Noor's husband, from Afghan, was working in Gulf for 15 years. Both of them decided to open up a restaurant in Calicut so that they can stay together. Her exceptional culinary skills helped in curating the menu and training the staff members. The kitchen at the restaurant is clean and well maintained. The walls of the restaurant are decorated with press cuttings and pictures of Noor Mohamads's sporting days, from when he played Football for Kerala. Some of the Malabari snacks which are difficult to find at other places are available here like, Mutta mala (described above), Unnakaya (mashed boil bananas stuffed with grated coconut, raisins, cardamom), different varieties of stuffed breads known as Pathiri, which could be beef, chicken or fish.
The last stop in Calicut was another iconic restaurant established in 1949- Hotel Bombay located at Silk Street, started by Kunjahamad. This two floored restaurant still has an old world charm attached to it. A restaurant synonymous with Moplah biryani and Malabari snacks, people in Calicut still vow to their Biryani. The Biryani that is served with Date-chutney and Raita has a distinctive flavor in comparison to all the other places we tried. Tasting a bit artificial, this one didn't please our palette as much as we would have hoped.
Some of the Malabar snacks on offer at Hotel Bombay are Kozhi Porichathu, Mutton Cutlet, Elanchi, Unnakaya and cakes. One of the most revered dishes here is the Ela ada. The main ingredients of Ela ada are rice powder, jaggery and coconut. With no usage of oil, the mixture is then wrapped in a banana leaf or plantain, and steamed. This is another place where one can try the Biryani tea. As it takes lot of time to make biryani tea, they only serve it before 3 pm and after 8 pm. Another kind of tea popular in Malabar region is Sulaimani chai- a black tea preparation with cardamom, ginger and lemon.
Of all the cities we have been to in Kerala, this was one city that had a long affair with its Biryani. All the restaurants have their specialty as Biryani – be it hotel Rehmath, Zains, Paragon, Bombay or Top form. In fact, it was more of a kind of Biryani trail for us; our favorite being the Hotel Paragon. The lightly flavoured, non greasy Biryani served with Raita and chutney was delectable. Calicut is, and should be rightly called as the food city of Malabar.