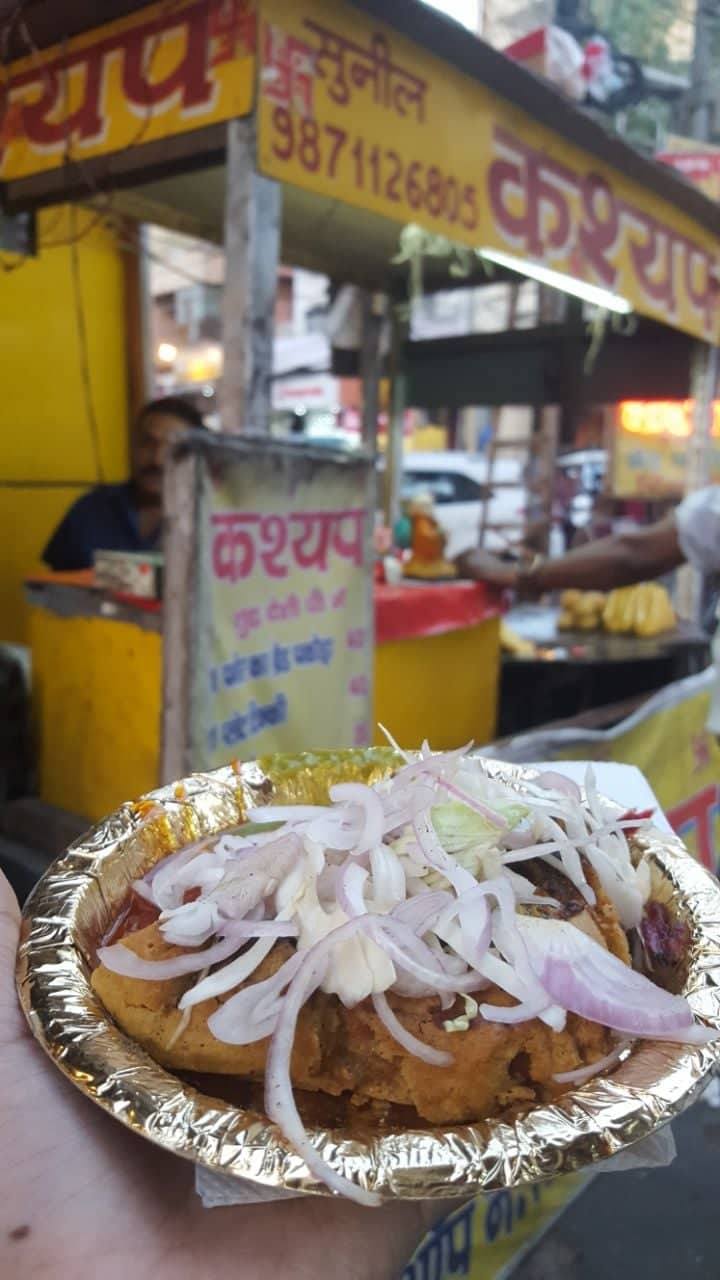 Have you ever been stuck in a situation when you feel hungry but don't feel like eating much ? That is when you need just a little but tasty snack to munch on. Well, for the people living in Kamla Nagar or nearby areas are lucky enough to have the perfect solution for this problem. "Mr. Sunil Kashyap" has been serving the best snacks to the foodie Dilli wale since 1986.His limited yet so perfect menu includes the drool worthy paneer (cottage cheese) bread pakoda. This dish is made by a slice of paneer along with spiced mashed potato sandwiched between two slices of bread which then is dipped in  batter of besan and deep fried till perfection. This is the most common way in which a bread pakoda is prepared but at this famous food joint this is just the basic step, after this Mr. Sunil Kashyap just adds the right twist to make it more awesome. He adds some tangy spices and tops it with some shredded onion and cabbage and serves this delicacy with two types of chutneys.
Other items on his menu includes Aaloo tikki which is also served with the same twist as  the bread pakoda. This stall is in a small lane in Kamla nagar, which is well known for some famous street food joints including the legendary Chache di hatti. During a small chit chat with Mr. Kashyap he told me about how he never compromises in the taste of the snacks and always serves the dishes quick and warm which proved to be just right as I ordered a plate of bread pakoda  which was served to me in few minutes and as I took a bite of the delicacy, every taste bud in my mouth felt so satiated and delightful.
The thing which adds up to the flawless food to make the place more perfect is the old school FM Radio that plays the evergreens which adds more joy to the environment . Besides everything , in today's era where street food has so many varieties  and twists, this simple and yet so tantalizing dish stands out to be the perfect solution for our little hunger.
Shop Name : Kashyap
Address : Shop number 17 E , Kamla nagar
Open hours : 3:00 PM – 9:00 PM
Owner Name : Mr. Sunil Kashyap
Mobile number : 9871126805