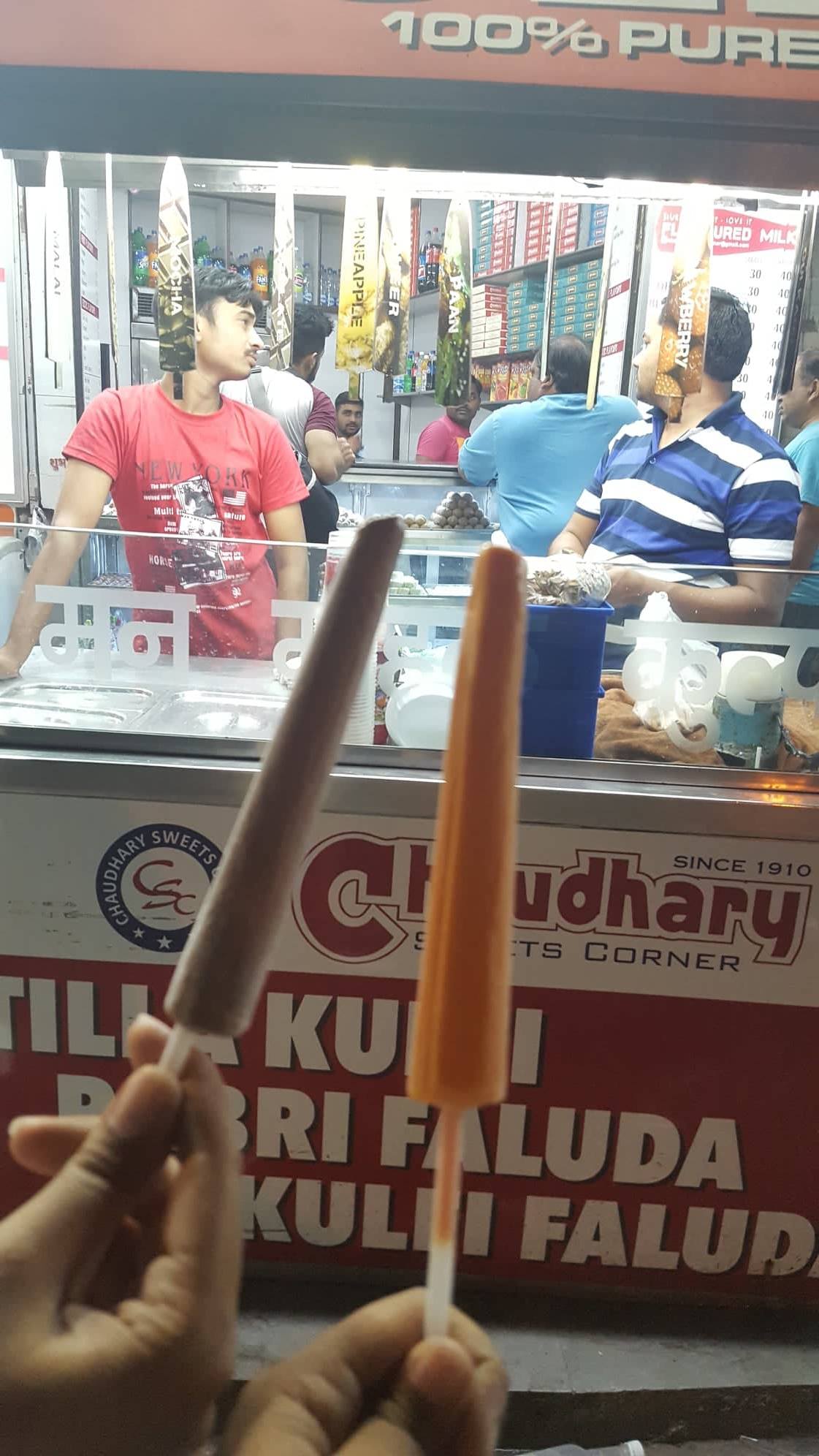 According to you what can match the satisfaction of ending your meal with a mouth watering and flavorsome dessert ?  This shop in the nukkad of one of the streets in Shakti Nagar which goes by the name 'Chaudhary Sweets Corner' is just the right solution for your after meal sugar craving. This place has been satisfying the sweet tooth of Delhi peeps since 1910.   I visit there very often, usually after dinner time which is when this place witnesses the most crowd. Out of all the desserts the most popular position is bagged by our all time favorite Kulfi (a popular frozen dairy dessert from the Indian subcontinent). Although this place never lags behind when it comes to the versatility of the desserts, ranging from rabri falooda to kalakand to firni. The owner proudly claims kalakand and rabri falooda to be his most sold dishes.
Whenever you visit this place never fail to notice the satisfaction which people hold on their faces after tasting the yum-yum desserts. The rates of the kulfis start from as low as rupees 10 and ranges maximum to rupees 30. There are a numerous flavors of kulfi which includes classic flavors like kesar badaam, kaju pista and even some unique flavors like caramel which they claim to be their signature flavor, other unique flavors include mocha , paan,  rewari , anjeer etc. You can even have the flavored milk which is served in disposable bottles with handsome quantity of milk and wide range of flavors at very reasonable prices.
This place is actually much more than just  desserts as you can see an extension of this shop selling delicious smelling savory items such as pav bhaji , aloo tikki , paneer tikka and kathi kebab. Moreover it even offers some quick bites such as samosa and bread pakoda which is perfect to cure your not so hungry hunger. What makes this place extra special is the swift service and very sweet behaving staff that stand as the pillars of this legendary joint and the unforgettable cleanliness and hygiene which this place maintains is remarkable.
The journey that started almost a century ago still never fails to surprise us with its consistent and toothsome dishes. We are beyond blessed to have such places in our Dilli.
Name: Chaudhary Sweets Corner
Address: 10/18, near Roshanara Club, Kamla Nagar , New Delhi
Contact number: +91 9871311188
Owners name: Devraj Chaudhary