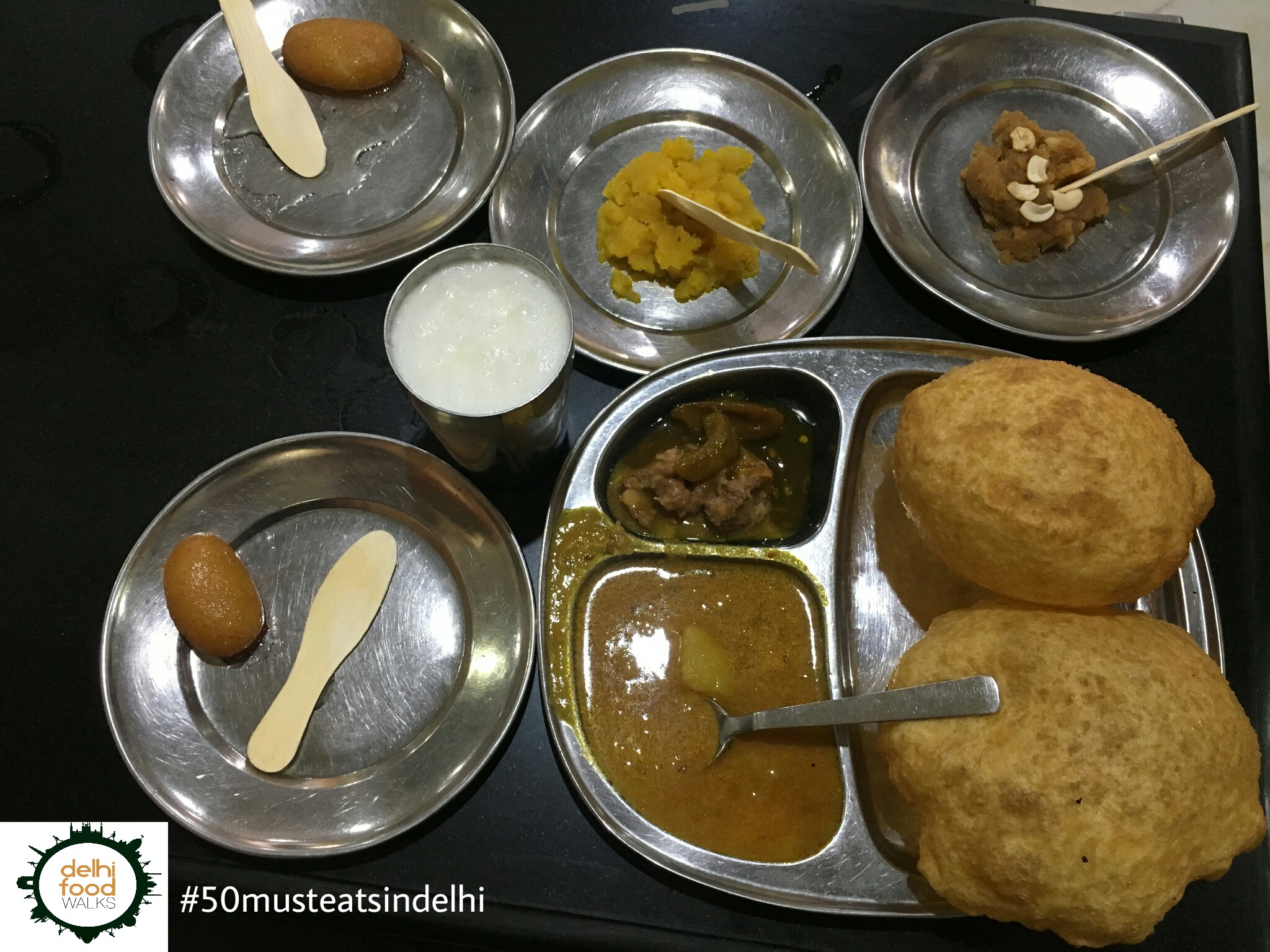 Madan Lal Halwai
By Anubhav Sapra
DFW is doing a series on 50 must-eats  to find out those real hidden gems on the streets of Delhi. The third in the series is Madan Lal Halwai in Sadar Thana Road, Sadar Bazar. One of the oldest halwai shops in Old Delhi, the eatery was started in 1948 by Late Madan Lal. Currently run by Chaman Lal and his son Manish Sethi, the family migrated to Delhi after partition and started the halwai shop in Sadar Bazar. Chaman lal ji has a pleasant personality and he fed me generously, the day I visited the place.
As you enter the shop, on the left hand side is the cooking area where fresh pooris and other snacks are cooked. The menu changes from morning to evening. The day starts with poori and sabzi while the afternoons are filled with the regular servings of snacks like samosa, Moong Dal Ladoo etc.
The eatery is more popular for breakfast dishes that includes Poori stuffed with dal pitthi, served with Aloo and Chhole ki sabzi and the highlight is the seasonal pickle you get with the poori sabzi plate. I was fortunate to try Lounji ka achar – sweet mango pickles with fennel seeds and Kachalu ka Achar. I loved the combination of sweet mango pickles and savoury Kachalu ka Achar. The preparation is completely prepared in Desi ghee. Although a winter speciality, I guess, this is the only place in Delhi where you can savour Dal ka Halwa round the year. The Ghee in the halwa was not overflowing and the sugar was just perfect. As I reached there in the afternoon, I got a chance to try fresh Samosas.
The style of making samosas in Old Delhi is completely different from other parts of Delhi.  The big-size pieces of potatoes are deep fried and then mixed with spices to be stuffed in the dough. At other places, it is mostly boiled potatoes- mashed up and mixed with spices. I quite like the fried version of potato stuffing.
We rounded our food journey at Madan Lal Halwai with Moong Dal ka Halwa, Patisa, Gulabjamun and Lassi. All of the sweets were excellent. The square shaped pieces of burfi were big in size, quite uncommon at other sweet shops.
The 50 must eats in Delhi series is taking us at different food places. It is the journey to explore our food heritage and recognize the efforts of people who make this food more special.  If you have any recommendations to be included in the list, please write to us at delhifoodwalks@gmail.com and follow the #50musteatsindelhi journey on www.facebook.com/delhifoodwalks  and www.instagram.com/delhifoodwalks