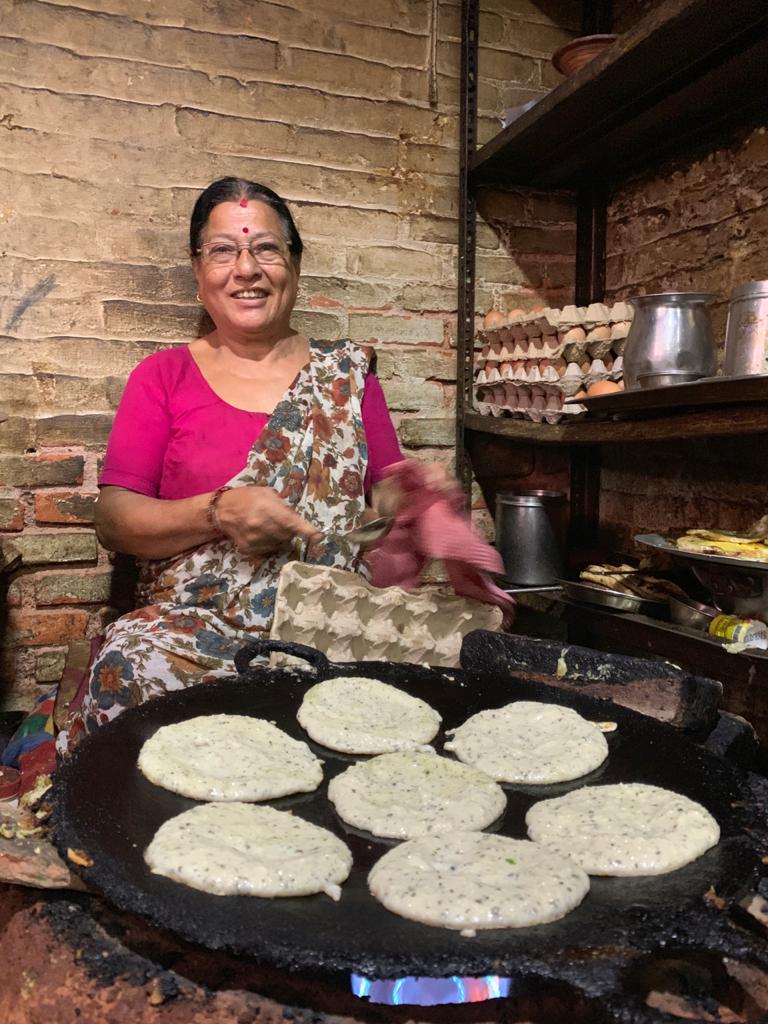 As a part of our ongoing Nepal Food Series, we are at Bhaktapur or the City of Devotees to explore its unique food traditions. It is named so as it has three major squares full of towering pagoda style temples that boasts of some of the finest religious architecture in the country. The remarkable structures- with exquisite wood carvings and metal craft- pervading the cityscape, transported us to ancient times. Moreover the car free city centre here is a happening spot teeming with tourists and locals. As you stroll down the lanes, you discover how art and craft occupies a significant place in the culture of Bhaktapur. The alleyways with varied shops and workshops are a testimony to its vibrant cultural heritage that is still very dynamic. Once you reach here you will find yourselves amidst friendly natives.
In our gastronomic exploration at this sleepy city we are joined by our foodie host Kamal Bhatta who is keenly familiar with the traditions of this place. The menu out here, on the streets is mostly Newari food. Come let's see what all did we tried in this tour.
Before starting for Bhaktapur at morning, we relished some popular street side breakfast items at the main marketplace in Kathmandu. For this we first bought some Gwaramari(round, fried all purpose flour based sweet bread), Malpua, Sel Roti(ring-shaped, sweet rice bread), Jerry(similar to Jalebi) and Swaari(thin, soft puri) from different places and then settled down to have it with a glass of milky tea, just how the locals do. The most notable snack among these was the Sel Roti that was a ring shaped, deep fried sweet bread made with rice flour. Again Swaari and Jerry together made an interesting combination. The most delightful thing about the eating experience was witnessing them being prepared fresh. The dishes were simple, familiar but yummy and filling.
On reaching Bhaktapur, we embarked on a pleasant stroll down the alleys of this heritage city in search some quintessential food. Our first stop was a local sweet shop where we tried the Balbara and Gudpak. The first one is a sweet, crisp, deep fried, sugar glazed flatbread while the second one is a traditional fudge like sweet made with khoya, gond, ghee, nuts, etc. Its rich and dense texture reminded us of our very own Dodha Burfi.
Next we arrived at another sleepy lane where locals-kids, young and old-were relaxing or socialising on the raised verandah of the native buildings. We were here to have fresh and hot aloo chop or potato fritters. We loved the mildly spiced fritters served with a spicy chutney. From there we went to the simple looking Choila Specialist at Kamalvinayak, whose Choila, Thon and Aloo Tama are quite popular with the locals. The Choila here, which is a meat based appetizer was lip smacking and hence the name of the place stands quite justifiable. It is just small pieces of tender, perfectly grilled meat that is mixed with raw ginger garlic paste, chilli paste, salt, green garlic and dressed with heated mustard oil. The flavourful Choila effortlessly complimented the traditional rice based alcoholic drink Thon or Chyang. Another traditional Newari dish the Aloo Tama, a delicious curry made with potatoes, bamboo shoots, black eyed peas etc. was delicious too.
After those robust tastes we went to try the iconic Juju Dhau or 'King Curd' that is one of the must try delicacy in the region. We were bowled over by the thick, luscious, velvety and creamy texture of this buffalo milk based curd. Do notice the hint of earthiness that comes from the earthenware used to set it.
Next were the turn another Newari dish Barra and Wo which are essentially savoury black lentil pancakes. Just as we entered the place we were greeted by a smiling old lady sitting behind a busy griddle full of round Barras. These delicious lentil pancakes can be customised into different forms. So you can have the plain ones, ones with just meat or just eggs and then the ones with both meat and eggs. They serve it with a spicy and tangy channa curry or dry potato sabzi. The lentils lend it a nice, soft and fluffy body while the cooked minced meat and and eggs adds to the flavours. Interacting with Ama, the genial lady running the Barra counter with such an effortless ease was a memorable experience. More than the irresistible aromas suffusing the place, the warmth exuding from Ama gave us homely vibes.
Our last food destination was Bhetghat restaurant in Kathmandu which serves a very special meat dish from the Chitwan region called Taas. It is an amazing dish consisting of crisp and tender shallow fried meat pieces served with puffed rice and radish pickles. The flavoursome taste of meat, basic spices and most importantly mustard oil conjured up nostalgia of this dish that he had tried at his birthplace Muzzafarpur, Bihar. Do come and bond over a plate of Taas. With our tummy and heart both contended, we wrapped up the tour.
Heartfelt thanks to Kamal for taking us to such gem of places. Till next time keep walking and keep exploring.