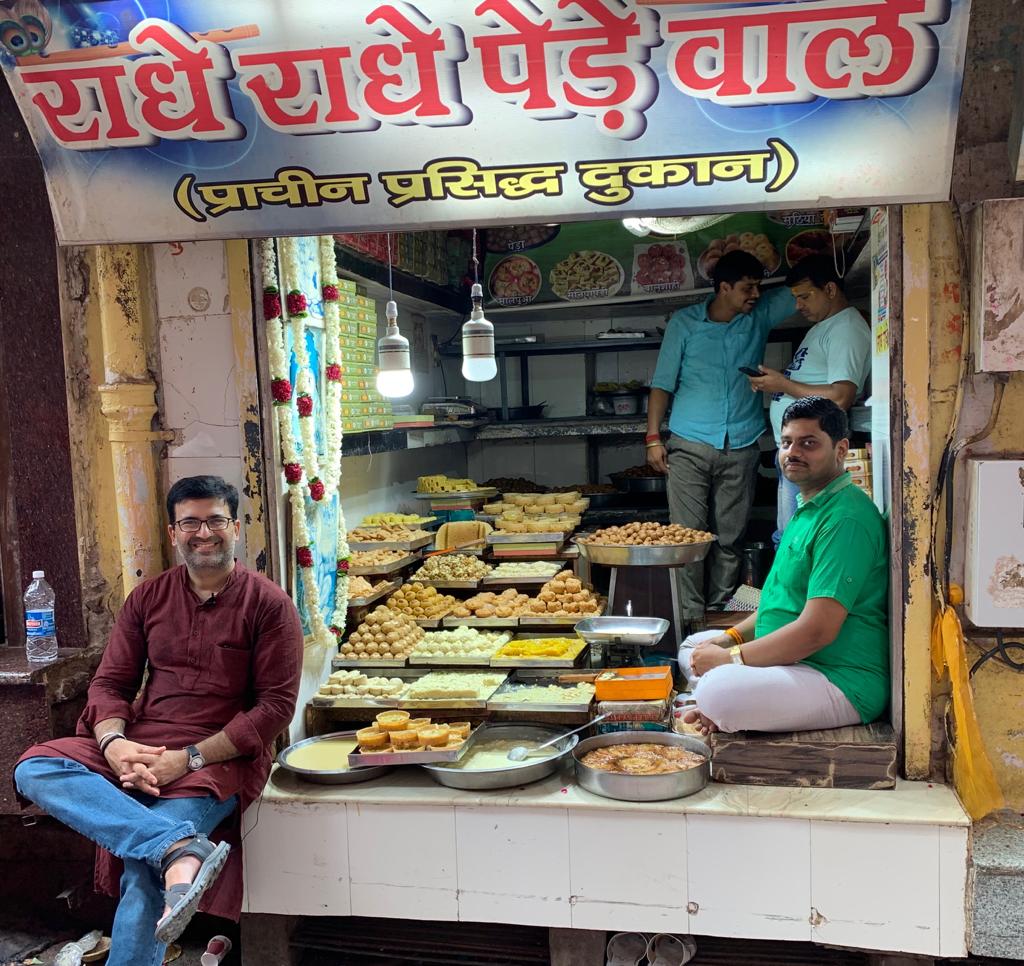 Located just 15 kilometres (9.3 miles) from Mathura, Vrindavan is a sacred town full of innumerable temples with intricate architecture and carvings. As per the Hindu mythology, this was where Lord Krishna spent his childhood years and also showcased his divine love for Radha. Numerous devotees from all across the country and beyond come here to seek divine blessings. Despite the hustle and bustle all around, you can't escape the peace and sanctity of this heritage place.
Apart from the religious association, Vrindavan also boasts of a quintessential food culture, dominated by milk based delicacies, that has been moulded by the spiritual connection. The traditional fare on the streets and at household are mostly Sattvik food. The street food scene prevalent here is still shielded away from the impact of the growing fast food culture.  In this blog we bring you a soulful street food escapades from Vrindavan that was mostly centered around the bustling lanes of Sri Banke Bihari Mandir.
Just like the locals, we started our food trail with a traditional breakfast at Agarwal Mithai Bhandar. After having the Gujrati dhokla from the counter outside the shop we quickly moved inside to relish delightful spread of Urad Dal Kachoris, potato and pumpkin sabzis and fresh curd. This humble spread was all prepared in pure desi ghee and had no onion and garlic in it. There is something very enriching about such food that makes us feel more wholesome, calm and joyous. One interesting thing about this eatery is that, if you like the food then you can ring the bell placed outside the shop to announce it.
After the cheerful start our second stop was Radhe Radhe Pede Wala, a very old establishment in the city whose sweets are a craze with all sweet lovers. We couldn't help prevent us from drooling over the eclectic spread of sweets over here. According to the owner who was a genial fellow, the shop still stocks some very traditional sweets that are very popular with the locals and visitors. One of them is the Peda. Though it appears to be a humble sweet but the process of making it is quite tedious. Milk is simmered for a long time till the moisture evaporates and the residue attains a dough like consistency. It is then mixed with sugar and cardamom powder and tiny balls are rolled out of it. These fellows have mastered the art. We also loved their Khurchan Malai which is a well cooked sweetened Malai or cream. Scooping it out of the tiny and adorable earthen pots was so much fun. We highly recommend this toothsome dessert. Their Moong Dal Burfi was soft, pleasant, greasy and delicious.
While visiting the city be very careful about the impish monkeys whose menace is simply unpredictable. They are notorious for snatching away your belongings. So be very careful about your wallets, spectacles, mobile phones etc. The astonishing thing is they mostly return your things in lieu of any food especially mango drink. But it does cause damage to your belongings and you as well. 
After those irresistible sweets we arrived at Manish Cheela Shop for their Kanji Vadas and Cheela. We were tempted to try them both as they appeared super appetising. The former was a light and refreshing snacks comprising of small deep fried moong dal dumplings soaked in mustard powdered flavoured fermented water. A delicacy essentially from Rajasthan and Gujarat, the Kanji vada is preferred for its excellent digestive and detoxifying qualities. The latter one was a zesty Cheela or stuffed moong dal crepes. Cheela is a popular snack from UP and this one from Manish's shop was filling and flavourful.
For lunch we went to Jaipuria Bhojanalay to try their unlimited Satvik thali that is very popular with the visitors. It was an eclectic spread of roti, rice, dal, bottle gourd curry, kadhi, chutney. Everything was prepared on the woodfire oven sans onion and garlic. It was light, wholesome and tasty. Even though it is an unlimited thali but there is one catch, that is you can't share it with anyone else. Check out this place for a proper lunch or dinner option.
Like all other parts of UP, Vrindavan too is also famous for some amazing chats. And so we couldn't resist ourselves from trying a serving of Aloo tikki chat. It was truly satisfying. The melange of flavours and textures made it endearing.
Next was the turn of paan from Ashoke Paan, a local favourite. Being a Paan aficionado we can easily vouch for the brilliance of the simple betel quid that Ashoke ji modestly handed to us.
With our palette cleansed and our appetite restored we stopped by a random cart selling something very interesting. It was the Rabri Chuski, an innovative take on Rabri. This would remind you of gola or crushed ice pops. Essentially it was a yummy rabri served on a bed of crushed ice. 
While ambling down the street full of enthusiastic visitors, we spotted a young boy selling Golgappas with differently flavoured water. The flavoured water with different condiments like hing, harad etc was lip smacking. Do make an effort to trace him down and binge on his zesty golgappas. 
Our final stop in this gratifying food exploration in the holy backdrop of Banke Bihari Mandir and its adjoining areas was Brij bihari lassi shop. The kesar gulab lassi was served in an earthen glass as delicious and refreshing as it could be.