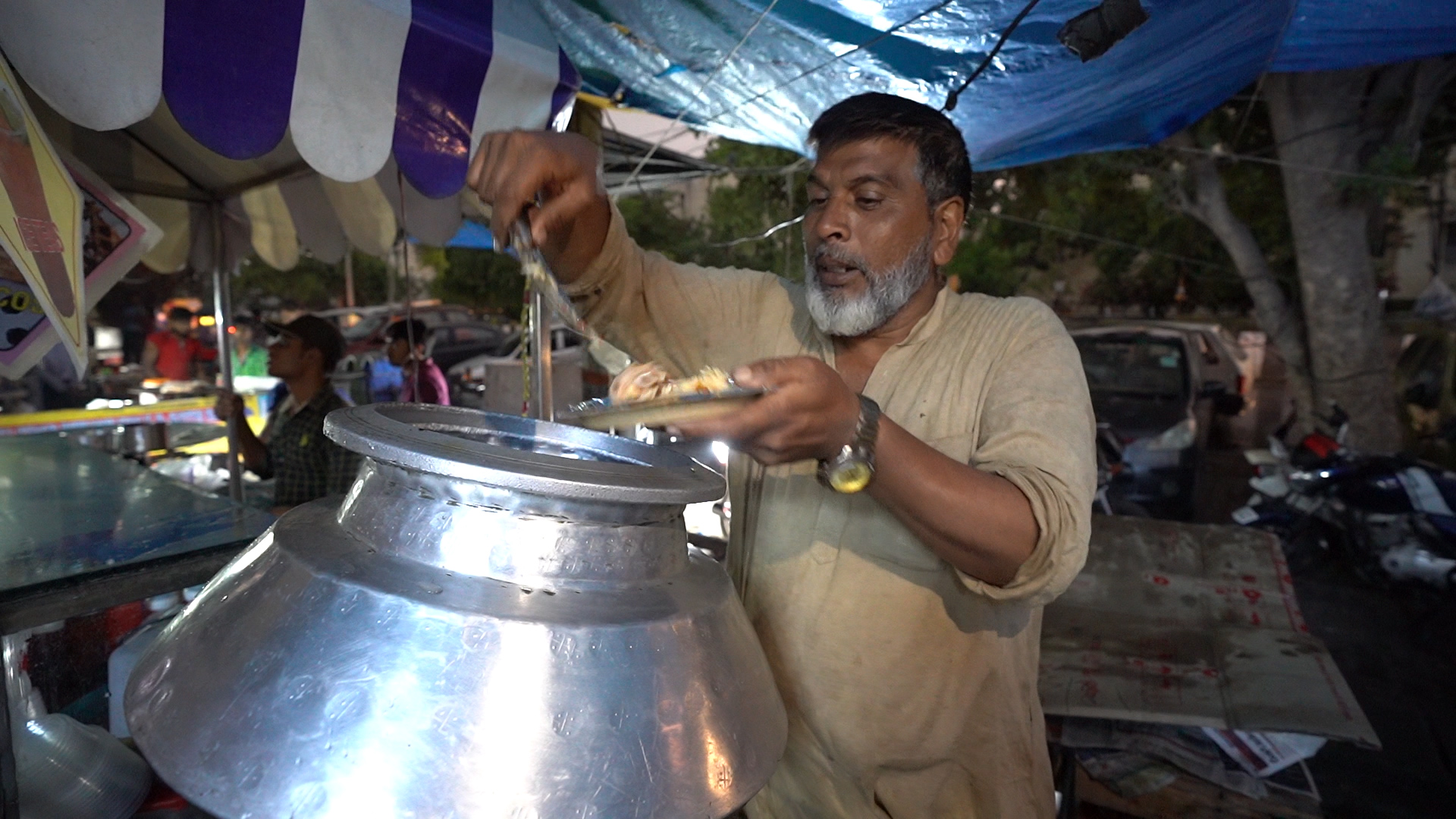 The Brahmaputra Market is one of the oldest markets in Noida. Situated in sector 29, it is a popular shopping and food destination for the locals. After sundown this shopping hub transforms into a gastronomic paradise pervaded with food items varying from Kathi rolls and Momos to Chaats and Chicken Biryani. Name any popular pan Indian street food, you would find a stall here to cater to your cravings. So in blog we bring you our street food explorations from this bustling marketplace. In our sojourn to sample some of the lip-smacking street food fare, we were joined by our gracious host Sanyukta Nath who is a gourmet and a local. The unfortunate part of this tour was a sudden change of weather due to which we were bound to curtail the scope of our plans.
Our first stop was an old South Indian joint named Lakshmi Coffee House. It is a quaint restaurant serving popular and authentic South Indian fare. We ordered the Paper Dosa along with filter coffee for two specific reasons. One, we intended to have a light meal so that we have enough room for other delicacies that were in the offing. Secondly, we believe that the seemingly simplest dish offered by any eatery can be a test of one's amazing culinary skills prowess. True to its name, the dosa was paper thin, pleasantly crisp and hearty and so were the coconut chutney and sambar that accompanied it.
The second stop was the popular Evergreen Chaat shop. On arriving there we were greeted by their huge, neatly done Chaat assembling area. The sight of the ingredients on the other side of the transparent facade makes you salivate. We tried one of their bestselling Chaats i.e the Papdi Chaat. This zesty thing qualified all the criteria(components, tastes and textures) of a good Chaat. However it was this unique touch of a topping of spiced peanuts that gave it an extra edge.
Then we headed to Bombay Bhel Puri for that tempting plate of Dahi Puri that Sankyukta had been eulogizing about all through. The super pretty crisp hollow puris loaded with a delightful sweet, savoury and tangy mixture reminded us of the adage that one first eats with his eyes and then with his mouth. Just as they crack apart in your mouth, you know how sensational they are. If you are a chaat lover, then definitely give this place a try. 
While moving towards our next destination, we chanced upon this stall named Lucknowi Zaika. So it was the sight and aroma of the flat kebabs stacked one upon another on the huge griddle, that attracted us to this place. To our wonder, here we had one of the most delicious Veg Kebab, that was quite similar to a well done Galauti kebab, all in taste, texture and flavour. This humble delicacy made with lentils, soya nuggets mince and raw banana was indeed a revelation for us both. 
In no time the weather turned bad and it began to rain. The market place was just being set up. But neither did it dampen the spirit of the vendors nor ours. Thankfully in sometime the rain stopped and the evening food market began to emerge hurriedly. We were glad that the tour didn't get aborted. As the cool and pleasant weather whetted our appetite and we began to lookout for our next destination.
So as the activity at the food zone resumed, we were tempted to try a plate of piping hot Chicken Biryani from one of the vendors. The biryani was served with a spoonful of Chicken korma and some Chaat masala. It had a fun taste with the chicken being moist and tender.
Finally we arrived at Al Kaif Shawarma stall to have the Chicken Shawarma Roll as recommended by our host Sanyukta. It was a no fuss Lebanese style wrap that was tightly stuffed with a juicy, tender and optimally spicy, finely chopped grilled chicken. We enjoyed this soft and filling combo. 
Next was the turn of an Afghani style Chicken Shawarma roll at a cart with the same name. The wrap comprising of a soft, thick and fluffy bread stuffed with charcoal grilled shredded chicken, vegetable juliennes, seasonings and dollops of mayonnaise was simply irresistible. We highly recommend this place to all Shawarma addicts.
Our penultimate stop was Amar Momos. Their Chicken Tandoori Momos were smoky and spicy, buttery, creamy and very flavoursome. You can sense the Tandoori and the momo flavour coming together quite nicely. The chutneys were brilliant as well. The filling was quite moist and the outer case was so aptly thin that the overall deliciousness was not marred by any doughy taste.
It was time to wrap up the food tour and so we decided to call it off with a paan. For this we went to try a meetha paan from the very popular Nitesh Paan shop in the market. 
Inspite of the weather playing spoilsport, this culinary trail across the Brahmaputra market in Noida was truly fun and gratifying. No wonder as Sanyukta had rightly convinced us, the marketplace is a street food haven that has some delectable gems whose brilliance you can't escape. We are truly grateful to her for her assistance.