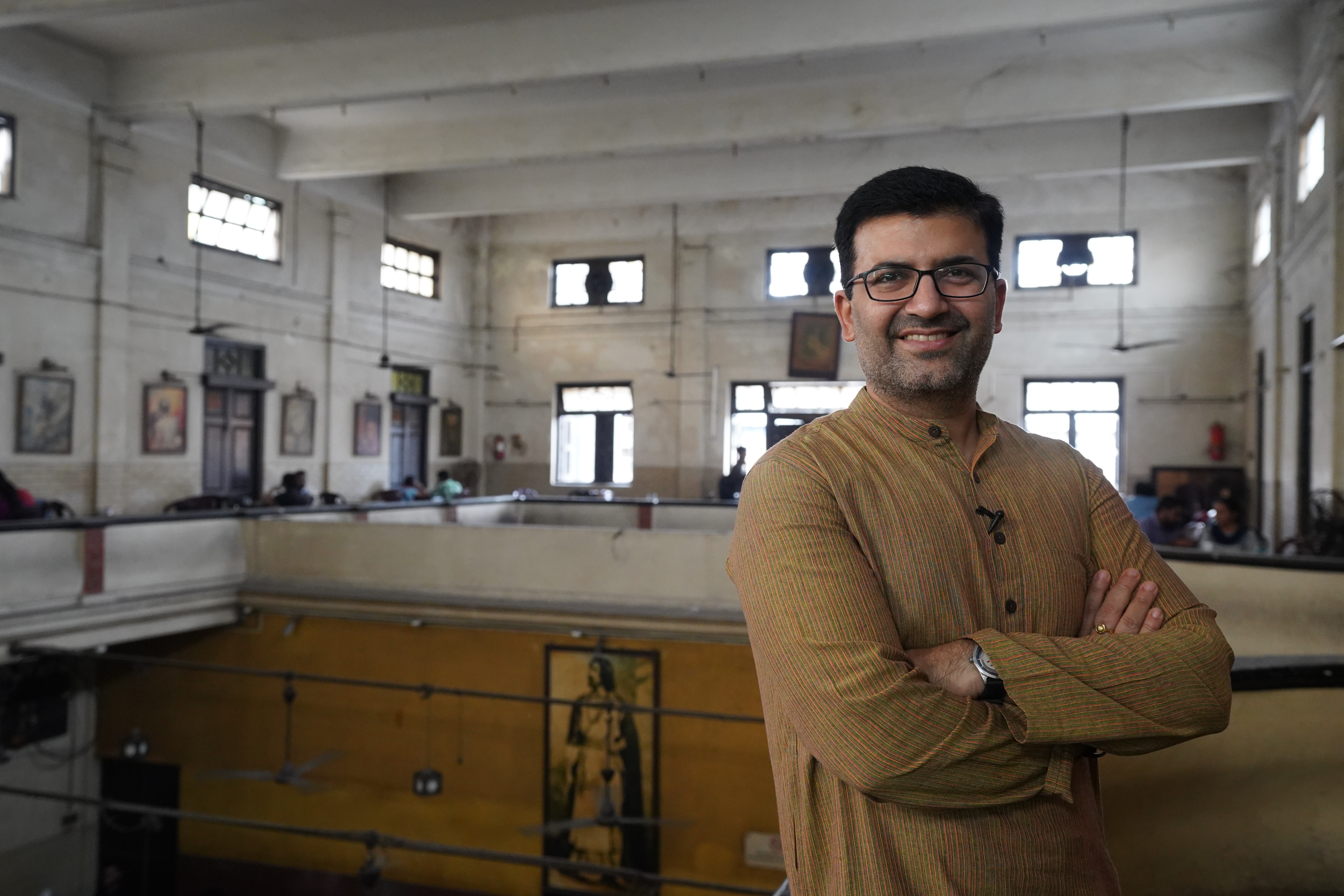 The worldwide glory of Kolkata rests not just on its rich history and heritage, diverse cultural and deep intellectual canvas but also on its irresistible food scenario that is a convergence of subtle and robust flavours. So today we are exploring the go to food items that thrives in the historic, vibrant and nostalgic lanes of North Kolkata along with our gracious host Pamela Das.
Before heading to College street or Boi Para as it is locally known as, we had to commence our food tour in the city with the ubiquitous Bengali sweet Rosogolla that is one of the soul foods of this historical city. And for this Pamela took us to Chittaranjan Mistanna Bhandar who Rosogollas are deemed as the best in this part of the city. True to its reputation, each of the syrupy white balls transported us to a state where there was complete bliss. It was fascinating to learn about the evolution of sweets especially the Rosogolla from Pamella.
Every nook and corner of North Kolkata is replete with history, a significant chunk of which relates to the Colonial rule. We visited the Shobabazar Rajbari which is among one of the oldest royal houses of Kolkata aristocracy. This important heritage site is famous for its annual Durga Puja celebrations in the month of October-November.
From there we reached the 300 plus year old potter's colony called Kumartuli, that is the largest workshop for clay idols, sculptures and earthenware. Watching the artisans in action was a fascinating sight to behold. From there we covered a distance of nearly 3 kms to reach our next destination, College street. It is a huge area lined with books shops. College street is the learning center as it also harbours some of the oldest schools, colleges and universities.
We started our food trail with Radhaballabhi, Cholar Dal, Aloo Dum and Misti Doi from Putiram, a century old iconic sweet shop in the area whose sweets and breakfast snack are a craze with students, professors, teachers and locals. The food was subtle yet delicious. And the ambience especially the stone tables and the wooden furniture spoke of its glorious heritage.
Then we headed to another heritage shop named Paramount that has been serving an eclectic range of refreshing flavoured drinks since 1918. We opted for tender coconut and tamarind sherbet. As the drinks were being prepared, Pamela informed us how the place used to be a center of nationalists activities during the freedom struggle. Both the drinks were totally contrasting in taste yet amazing.
Our next destination was Indian Coffee House. Situated in the academic hub of Kolkata, the College Street, it is a favourite destination for hangouts not only for the students of nearby schools and colleges (Presidency college, Vidyasagar College etc.) but also the office goers and intellectuals of Kolkata. And all this glory is due to the colonial nostalgia that it boasts of. We tried their black coffee called Infusion and learnt about its history from our host. The food here is decent the ambience is magnetic.
Our penultimate stop was Dilkhusa Cabin, a 102 year old eatery that mostly serves cutlets and croquettes among other popular Indian dishes. We tried there Bhetki Kabiraji that was super greasy but delectable. These cabins used to serve as private eating spaces for the womenfolks of the aristocrat families who came to try European snacks. And the word Kabiraji is a distortion of the word coverage that refers to the egg and flour coating over the fish fillet. The final stop in this leg of our trail was Favourite cabin. This humble eatery that now serves basic snacks like tea, toast, cakes etc to the masses who loves adda or group talks was once the favourite hangout zone for eminent freedom fighters, leaders, poets and intellectuals like Netaji, Kavi Nazrul etc.