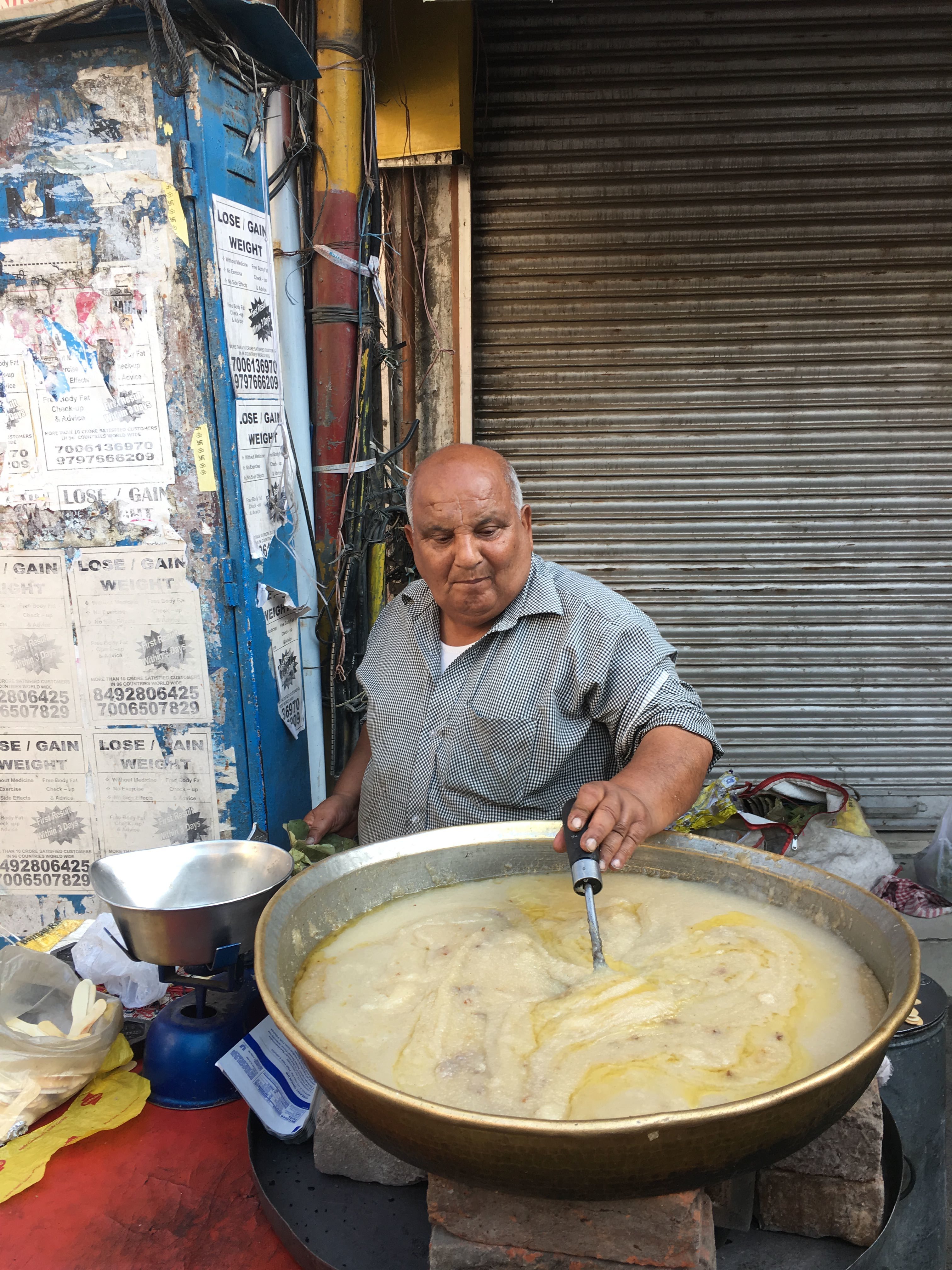 Jammu Street Food Tour
Situated on the bank of Tawi river, Jammu is the largest city in the Jammu division. Also known as city of temples, Jammu is the focal point for the pilgrims going to Vaisho Devi and Kashmir valley. All my early visits were just to pay my obeisance to Vaishno Devi. However, this time the objective was to explore the local street food. I tied up with Nikhil, a student and a local food enthusiast for the food journey in Jammu. After almost a long drive of 8 hours, stopping at Ludhiana briefly for dinner at the famous chawla's chicken for cream chicken, we reached Jammu.
The food journey in Jammu started on a sweet note with Jugal Kishore Sharma halwa stall at City Chowk. Priced at Rs 20 per plate, the stall is set up briefly for 3 hours in the morning and people line up just for a plate of sweet suji halwa. The halwa is cooked in pure ghee. The bottom burnt part of the halwa known as Karara is enjoyed by the locals. I loved it too. The charming personality of Jugal Kishore, a big fan of Bollywood films and songs adds another flavour to the halwa. Ask him about any old song, he will tell you the lyricist, musician and singer at once.
Next, we walked to Raghunath Bazar to have the typical North Indian breakfast chole poori at Chhaju di hatti. Aloo Chole sabzi is topped with dahi, onion and pickles to be served with poori.
Mool Ram Tea stall in Raghunath bazar is one of the shops known for bread toast and tea. The warm and crispy charcoal toasted small sized bread is slathered with a thick layer of butter. The charcoal adds a smoky flavour to it. Enjoyed with a hot cup of milk tea, it was a complete breakfast for us.
After
having our breakfast and tea in Raghunath bazar, we reached Kacchi Chawani for Kachalu (colocasia) at Girdhari Kachalu wale. Established in 1956, Girdhari's shop reminded me of Amritsar's Lubhaya ram aam papad wale. We tried a little bit of all dishes, a mixture of sweet and tangy! We tried kachalu, imly and anardana. Boiled kachalu is sliced and seasoned with tamarind sauce, kalonji, black salt and spices. There are two variants – spicy with red chillies and non-spicy without red chillies. Both imly and anardana are simply served with black salt.
We stopped briefly for banta- lemon drink at Fattu Choughan, Dhani ji di hatti. The walls of the shop are adorned by the who's who of Jammu and Kashmir.
The highlight of the food exploration for me was Katlama, phenni, sund at a 125 years old establishment – Jalliya di hatti in Jain Bazar. In Delhi's Nizamuddin area, the katlamas are usually big size paranthas served with halwa. However, in Jammu, Katlama are mostly eaten around Karwa Chauth festival when women fast for their husband.  It is simply made of dough of refined flour (maida) deep fried in clarified butter (ghee). There are two variants of the same- sweet and plain. The plain ones are relished with tea and the sweet ones, usually with milk. Another dish known as sund is similar to panjeeri – a mix of dry fruits and whole wheat flour. Additionally, their chocolate burfi was the best I ever had.
One dish that defines Jammu street food is Kalari Kulcha. Kalari is a dense matured cheese made from buffalo milk. The solid part is packed and sun dried so that it looses the moisture. It tastes similar to mozzarella cheese. I still wonder why it never
became popular outside Jammu region. The round shaped kalari is sautéed in its own fat and served with sweet and spicy chutney with bun. We tried kalari kulcha at three different places in Jammu- Pehalwan's, Sardar di hatti and Ramesh Kachalu. My personal favourite was Ramesh Kachalu in Pacca Danga. At Ramesh kachalu shop, the chutney onion are served separately. One can get the real taste of kalari in it.
For Lunch, we went to 120 years old Nave Shehar wale da dhaba near Lakshmi Narayan Mandir, Pacca Danga. The shop is owned by a humble and kind man, Shri Darshan lal ji. We tried Rajma, dal, matar paneer, anar dane ki chutney, rice, and tandoori roti. The food is all cooked on a wooden fire in traditional utensils like deshka and sagla. Deshka and Sagla are made up of 7 metals, the food cooked in them adds a different flavour all together.
The other place where we tried Rajma was at Banwari's shop in Raghunath Bazar. Here, I tried quite a unique combination with rajma – that was kulcha or bun. To my surprise it tasted delicious. The small bite size pieces of bun are soaked in the thick gravy of rajma. The bun absorbs the juices and gravy of rajma which makes it delectable. They are topped with onion and anar dana chutney. Although, Banwaril has rice in the menu but the locals prefer kulcha and rajma. One can also ask for fried paneer in the same.
The best sweet shop in Jammu is Pehalwan's. Established in 1934, the roots of the shop can be traced back to 1920's when Anant Ram Abrol used to work in a sweet shop owned by his mentor Mani Ram Pahalwan in Machhi Hatta, Lahore. Anant Ram learned the art of making sweets from Pehalwan and opened up his first sweet shop in Jammu in 1934. All the sweets we tried here- dry fruit laddo, anjeer burfi were exceptional.
On the second day, Nikhil invited us to his home for lunch. We had matar paneer, khameera (bread made with yeast), babroo (fried khameera), ambal (pumpkin cooked with tamarind in m
ustard oil) chana dal (lentils) and aloo paneer (potatoes with cottage cheese).
The food tour in Jammu ended on a meaty note at Residency road. I was joined by my old friends Nisar and Iqbal, the meat lovers, for some barbeque meat, locally known as tujj. The meat pieces are cooked with fat and served with chutney. The most famous shop is Billu da dhaba where one can try kebabs, and tawa fried dishes.
The only disappointment was that we couldn't try khatta meat at parsuram shop because it was closed for two consecutive days and missed the meat and kulthi di dal.
But it will be a good excuse to visit Jammu soon, craving for more!