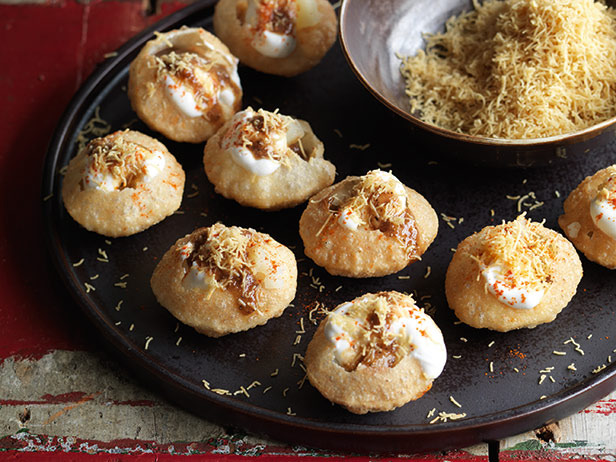 It's Durga Puja Season, and no better way to start this auspicious journey than with PUCHKA. Us Dilliwalas, are obsessed with chaat; the sweet, savoury, spicy and tangy flavours that just burst in your mouth. Puchka, the Bengali cousin of Gol-gappe or Pani Puri, is a must-have whether it is festive season or not.
So, we made our way to C. R. Park for the authentic Puchka experience and found ourselves at a little stall called Raju Puchkawala. The 20 year old shop serves some of the tastiest chaat in the area. The Puchkas are made of wheat unlike gol-gappas that are usually made of suji. It is filled with a mixture of mashed potatoes, various spices, coriander and chickpeas, and then you can choose between khatta paani or meetha paani. Even the "paani" for puchkas has a tamarind base contrary to Jal Jeera which has a mint base. This may sound like any other pani puri to you, but wait till you taste it. The flavour combinations are so on point, that there is no way that you wouldn't go back for at least one more plate. These Puchkas are like flavour bombs, just one puchka packs quite a punch.
Now, if you think Puchka is all this place has to offer, you are highly mistaken. Another crowd favourite is Churmur. As the name suggests, churmur is a mixture of a few tid-bits that are mixed together to make this Amazing dish. They add boiled potatoes, chickpeas, a combination of spices and some puchka water, along with some crushed Papri- All this is mixed together and voila, your churmur is ready. The Aloo Kabli served here is truly unique. Instead of frying the potatoes and drowning them in spices and green chilli chutney like the usual Aloo Chaat, here they use boiled potatoes that are topped with onions, green chillies, spices, chickpeas and tamarind water; this combination has a surprisingly refreshing taste that is quite different to the super spicy Aloo Chaat that we Dilliwalas are used to. 
Experience bengali culture in the streets of Delhi. And if you can't make it to C.R. Park for this lovely chaat just mark the dates 20th and 21st October'18 for the NBT Flavors Fest at Baba Kharak Singh Marg, and discover street delicacies from all over India or you can just chow down on these mouth-watering (literally) Puchkas, and call it a day!