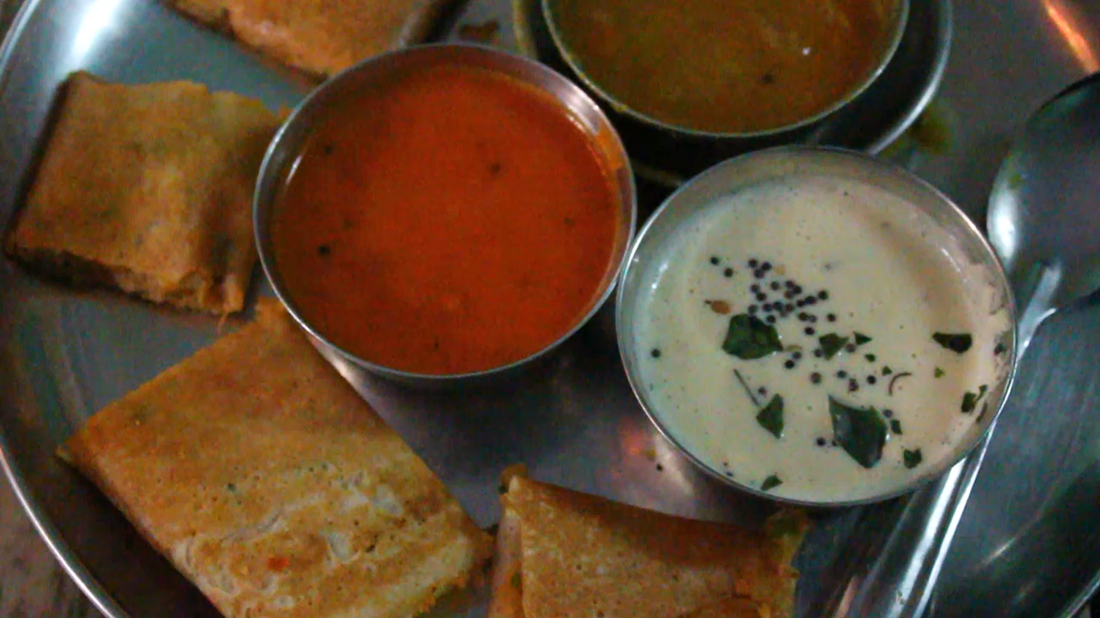 When you have a craving for something "good" yet do not wish to overindulge, South Indian is the cuisine to go for. The crispy golden-brown dosas paired with sambar, and delicious nariyal chutney on the side make for a yummy and healthy meal. Dosa, originally from South India, has made a place for itself in the hearts of Delhiites.  One can find multiple outlets, from well established, dine in restaurants like Sagar Ratna, Udupi, Saravana Bhawan, to their cheaper counterparts, street vendors, all around Delhi.
Mysore Cafe, located in the serene and beautiful South Avenue area, is a pure vegetarian cafe which serves South Indian dishes. This cafe, a popular breakfast spot among cyclists, offers a range of dosas stuffed with fillings like potatoes, onions, which are served with the staple sambar and chutney and can be paired with tea or the famous filter coffee which is served in a steel glass. Their speciality is the fusion, Bombay dosa which is stuffed with cheese and pav bhaji masala to add that touch of Bombay and is paired with equally delicious nariyal and tomato chutney.
This quaint little cafe, located close to India Gate, has a wonderful ambience and is much loved by the locals for its authenticity and taste. They also sell uthappam, vada, idli, etc, all at a reasonable cost and have generous servings. The cafe has been in business for the last 46 years and is currently owned by RJ Deepak, a friendly and humble guy. It is easy to locate and can be reached by metro, the closest metro station being Udyog Bhawan.
This year, Mysore Cafe, in order to not limit themselves to South Avenue area has participated in the NBT Flavour Fest- Street Fusion Food Court taking place at Baba Kharak Singh Marg on the 14th and 15th of October. If you consider yourself a foodie, you cannot give this a miss. The festival is curated by Delhi Food Walks and aims to bring to the forefront the talented minds behind the various fusion food items.
Address- South Avenue Market, Near Sena Bhawan, India Gate, New Delhi
Contact info.- +919312646611