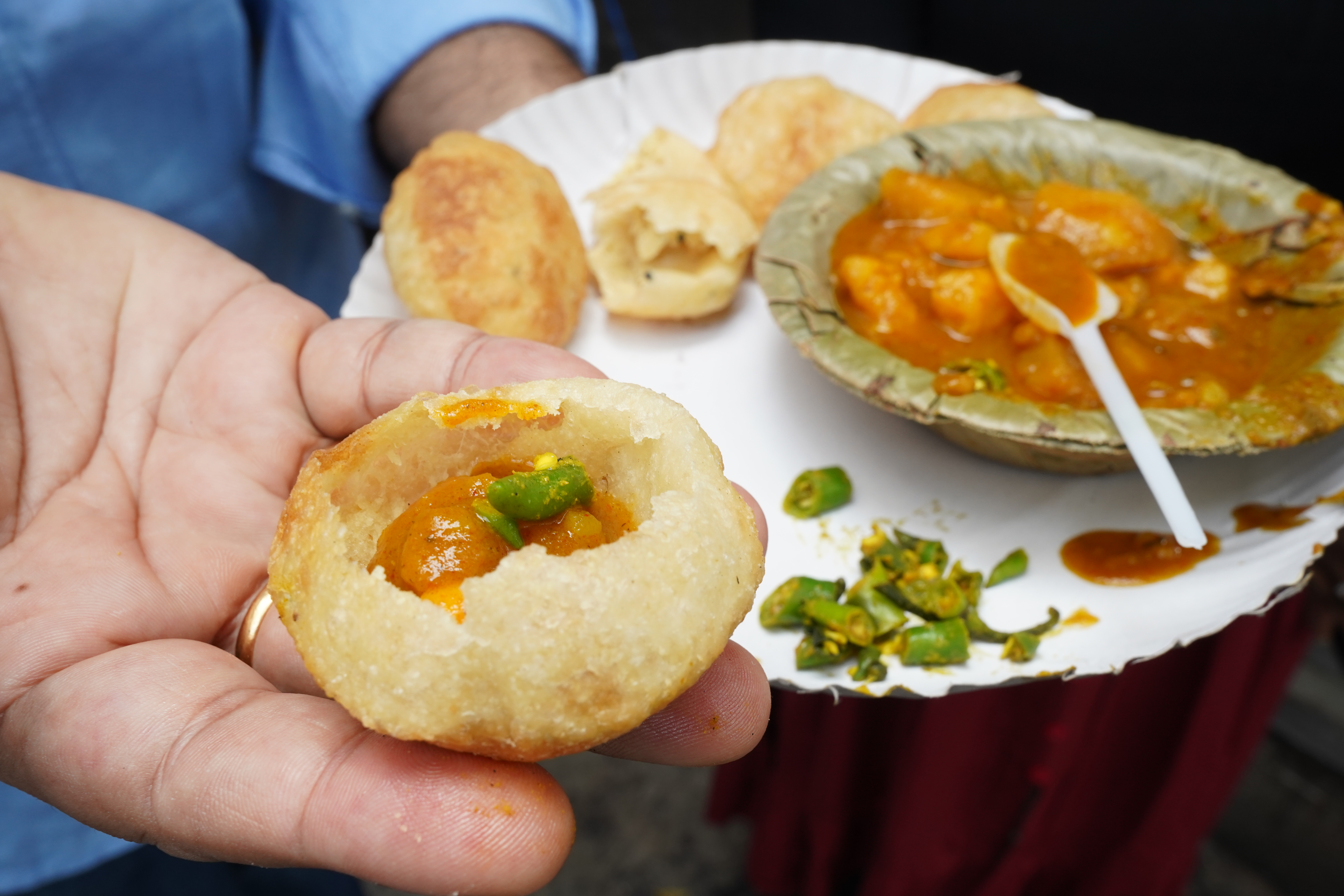 The central part of Kolkata is a wide stretch that includes office areas, shopping destinations and educational hub. The office zone includes the stretch of BBD Bag. Lined with numerous government and private office buildings and shops, the area is also home to one of the most popular street food zones in the city. Hence it is thronged by a crowd that mostly composed of office goers and loyal food enthusiasts. So if you are on a food trail in the city of joy, then you shouldn't miss out the delightful treats available here. Along with our gracious host Pamela Das, we strolled down these vibrant lanes exploring the wide range of street food and the heritage. After exploring the street food scenario across the commercial and administrative hub in Central Kolkata, we went across to the shopping hub in this zone to explore some of the popular eateries across JLNehru Road, Dharamtala and Camac street. These places attract a motley crowd from the city and beyond. Below is the list of eateries that we visited in this tour.
ARUN TEA STALL: Since there were a lot of iconic places to be explored in the area, we started our food tour quite early in the morning with a refreshing cup of tea along with some club kachori and sabzi. The saffron flavoured tea, a specialty of this place, was by far the best tea that we had in Kolkata. People who love spicy flavours would love the combination of club kachori and potato sabzi. It was great speaking to the genial Arun bhai about the origin and evolution of the place.
CHITTO BABUR DOKAN: From there we took a taxi ride to Dacres Lane, an iconic spot that is locally known as Office Para. Dated back to the time of the British Rule, it is one of the oldest surviving street food centers in the city. On reaching there we were greeted by a lane full of eateries some of which were quite old. We made our way through the staggering variety of food all over to reach the iconic Chitto Babur Dokan, a shop whose name is synonymous with the locality itself. The eatery focuses on light and hearty veg and non veg dishes that caters to the hunger of the office goers coming to this area. We tried their two bestselling offerings. First was light and hearty chicken stew and toasted bread and second was a humble khichuri platter. The mild flavours of the European stew and the Bengali khichuri have rendered them a hit with the customers who look for some light stuff for lunch.
KONA DUKAN: From there we walked towards BBD, Dalhousie and reached the busy area near the Calcutta Stock Exchange. This area is best known for great tea, sandwiches, toasts etc. No wonder during lunch break or any possible break, people come together to discuss the day with each other. There isn't a more rewarding sight than watching people bond over food in a zone where it's all about business and commerce. Here we tried a luscious malai toast from the ever busy Kona Dukan. Those who have tried the combination will know it's enchanting taste. And the best part of the experience was we discovered that a little sprinkle of salt and pepper just elevated it to the next level.
BHOLA SANDWICH: Next we tried a comforting cheese corn toast from Bhola Sandwich. Fresh white bread slices joined by a creamy stuffing and then grilled to perfection made for a quick and happy snack.
KULFIWALA: The Kulfi Wala in front of the stock exchange sells a luscious range of natural fruit kulfis. Our pick was the orange kulfi that was quite refreshing. It comprised of a whole scooped out orange stuffed with real orange pulp and reduced milk mixture.
ANADI CABIN: Next destination was Anadi Cabin, a 02 year old eatery on JL Nehru road whose Mughlai Porota is a hot selling snack. The busy interior and the fascinating account of the owner was a clear testimony of its towering reputation when it comes to this particular snack. Mughlai Porota is a thick, crisp,flaky and truly hearty mince and veggie stuffed shallow fried parantha.
NIZAM'S: From there we crossed a sea of shops selling a wide range of things starting from electronics to clothes to reach New Market. Established in 1874 this place houses one of the oldest market buildings. Another very interesting thing here is the multitude of street vendors dotting this stretch. Our destination here was the iconic Nizam's restaurant whose Kathi Rolls are nearly 118 years strong. You have to taste them once to realise it's deliciousness that is the result of the combination of a well cooked paratha, yummy kebab, onions and lime juice.
TAJ MAHAL PAAN SHOP: After polishing off that legendary thing we grabbed a sweet paan from Tajmahal Paan shop to cleanse our palate and prepare our tummy for more treats.
NAHOUMS: Then we checked into Hoggs Market. Among the numerous shops selling clothes, toys etc stands tall one very famous cake shop named Nahoum's. This 118 year old Jewish bakery is an emotion for many. Their cakes, tarts, brownies, cookies attract patrons from the city and beyond. We decided to try their Christmas time favourite plum cake. A bite of the fresh, warm, dense and dry fruit rich slice of this plum cake was so blissful.
VICTORIA VADA: From there we headed to Camac street to have crisp and light Moong Dal fritters from Victoria Vada. The owner told us about his 35 year old journey of selling these mouthwatering vadas. Since he started his business from Victoria Memorial, he retained this name after shifting to Camac Street so that people will identify him as their favourite one.
MASALA BREAD WALA: Next was the turn of an innovative masala bread that was a party of flavours and texture. White bread slices topped with sweet, savoury and tangy mixture of boiled potatoes and other fun stuff was phenomenal. And more so was the love with which the person arranged it for us was so heartening.
CHANA JOR GARAM SELLERS: The last thing we tried on this food tour was a traditional snack called Channa Jor Garam. It's a dry mix of dried flattened channa, onions, spices etc. It is a light munchie thing that keeps you happy on the go. It was fun to interact with the two guys who were dressed up traditionally and were gleefully selling their fare in a traditional basket. We truly respect their enduring spirit for standing for such a long time with such a heavy basket isn't an easy task.