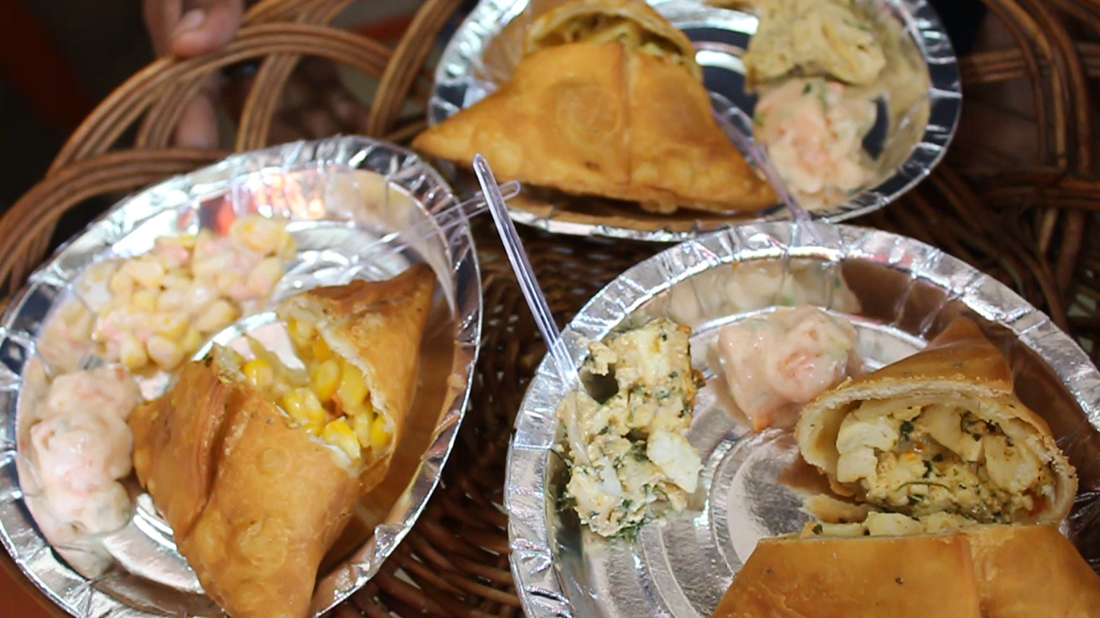 Be it a rainy day or just a craving for something "good", aloo samosa with dhaniya and imli chutney is the go-to snack for almost every Indian. Just when you think everything that could have possibly been done to and modified about a samosa, has been done for, you couldn't be more wrong. Samosa's Authentic Indian Food, located in the bustling lanes of South Delhi, is here to revolutionise the basic aloo samosa.
Situated in the J block of the Amar Colony area of Lajpat Nagar 4, amidst the honking cars and the crowded lanes, Samosa's Authentic Indian Food may seem like a regular shop on the outside, however, you'll be assured of its uniqueness once you take a look at its menu. This samosa outlet has broken away from convention in just a period of 4-5 months. Samosa's Authentic Indian Food offers upto 38 varieties of vegetarian and non-vegetarian samosas having fillings of paneer tikka, chicken keema, malai mushroom, creamy corn, and even a newly introduced samosa desert or 'samoert', stuffed with khoya and Dairy Milk Silk. One also has the option of two different types of samosa base, either aata or maida.
Rajiv, the owner of the outlet has collaborated with Swiggy and Ubereats to provide a swift and efficient home delivery experience to his customers and even has a website dedicated to the same. The different samosa stuffings are prepared every morning but no samosa is cooked beforehand. They are freshly prepared, using little marking of food colouring for differentiation, as per the orders received, in a small kitchen at the back of the shop. The samosas are served with the staple dhaniya and imli chutney. These golden brown crispy samosas start at rupees 10, going high up only till rupees 60. The outlet opens up at 11 in the morning but receives huge crowds only in the evening around 4-4:30.
This year, Samosa's Authentic Indian Food is trying to expand its reach and "make samosa's great again" by being a part of the NBT Flavour Fest- Street Fusion Food Court taking place at Baba Kharak Singh Marg on the 14th and 15th of October. The festival is curated by Delhi Food Walks and aims to bring to the forefront the talented minds behind the various fusion food items.      
Location- J-9, Shop No 2, Amar Colony, Lajpat Nagar 4
Contact info.- +919650673039