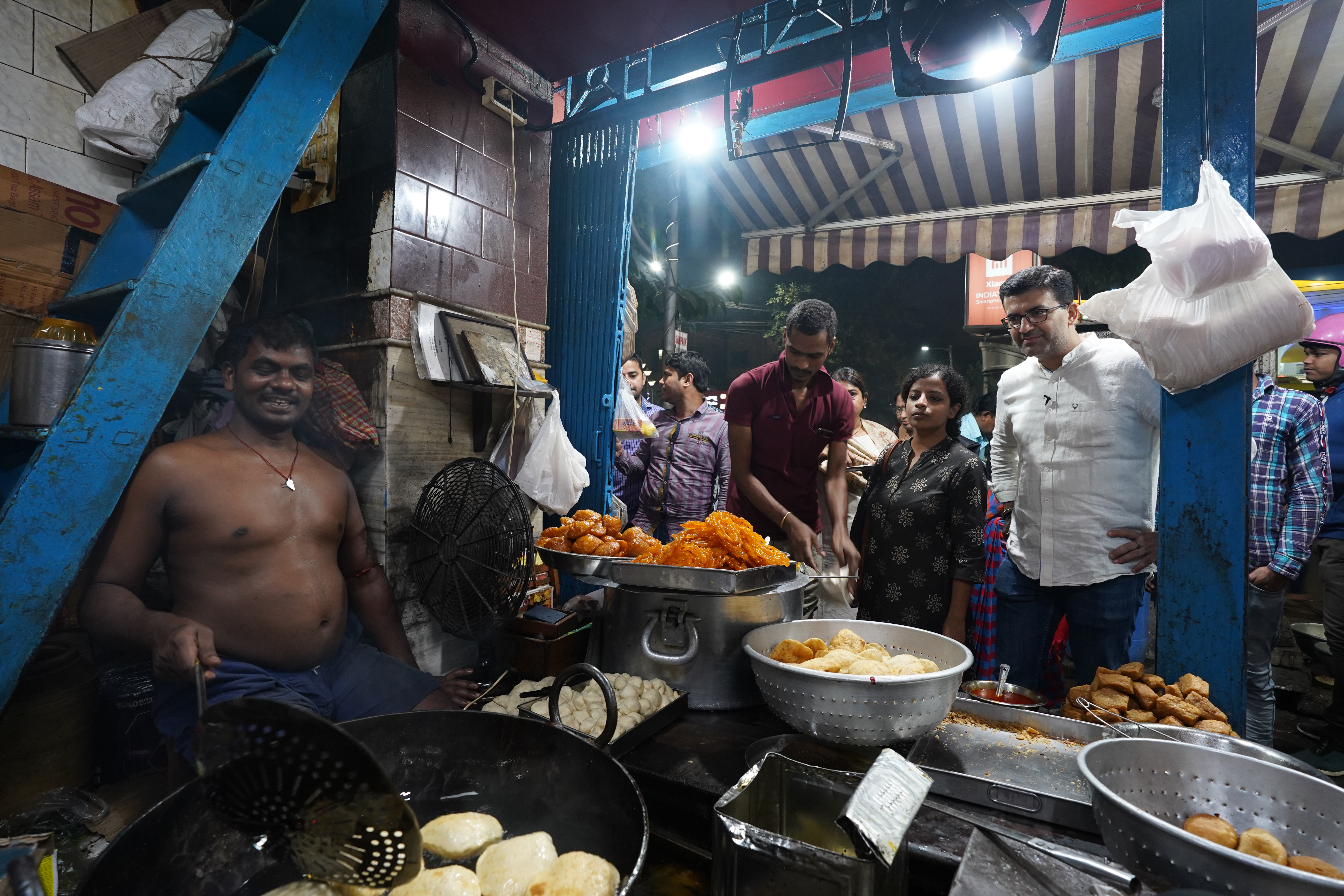 During our third day in Kolkata, we were all ready to explore the popular street foods available across the lanes of South Kolkata that is an aggregation of a residential section, a famous shopping destination and a melting pot of cultures from across the country. Hence this food exploration is an eclectic combination of South Indian, Punjabi and Bengali bestsellers that the foodies-both locals and visitors, love to gorge on. To guide us with this trail we have with us our genial host for the day, Sachika Ghosh herself is a loyal visitor at many of these eateries. Having grown up eating in this area she is best aware of most of the go to dishes that are affordable and hugely popular with the crowd dotting this area.
Our food journey started from the busy Lake Market area of South Kolkata that has a substantial population from the Southern States of India. And so by default our first stop was Rao's Udipi Home, one of the most famous South Indian restaurant in the locality that has been visited by our late President APJ Abdul Kalam. Something that started as a lodging place is now a hub for authentic Udipi cuisine that is delicious, homely and affordable. We were excited to try their most selling fare which included soft idlis, crisp deep fried vadas and an equally great Masala Dosa. Everything that we tried had a homely vibe.
After a brief stroll surveying the marketplace dominated by shops selling South Indian essentials, we took a taxi ride to reach Balwant Singh Eating House in Bhowanipore. A favourite joint for morning walkers, office goers, shoppers and general visitors, their chai is highly famed. We were here to try two of their iconic beverages-Doodh Cola and steamed tea. The first one is a refreshing concoction of milk and cola. It's had a very unique zingy and refreshing taste. The second one was a smooth, invigorating cup of milky tea that had been prepared in a novel manner. It is one of the favourite tea destinations in the city that caters to an eclectic crowd comprising of morning walkers to students.
Soon it was lunch time and hunger was making us restless. Sachika suggested that we should try some favourite Punjabi fare for lunch whose taste have endeared the Bengalis too. So we headed to Jai Hind Dhaba and ordered two interesting dishes that were quite different from the Punjabi classics dominating the menu. First one was the Egg Tadka, a Punjabi variation of the Bengali Egg Torka. We loved it's comforting notes that emanated from the whole moong dal, scrambled eggs and aromatic warming spices. The second dish was Chicken Bharta. It was creamy and flavourful. The fun part about these two dishes were the clear Bengali touch bought in by the use of some quintessential Bengali ingredients.
We then walked towards Gariahat and Deshapriya Park. The area being a famous shopping destination in the city, it attracts a lot of crowds. And where there are people there is food that is delicious, affordable and that provides a quick relief from the hunger pangs. Undoubtedly the place has a plethora of snacking options. And as usual we are in search of some of the most popular eateries over here that have been delighting the foodies for a long time. We are glad to have Sachika with us who would be walking us through the lanes and thoroughfares introducing us to eclectic street food fares in the locality.
Our first stop over here was Balaram Mullick which is one of the city's most reputed sweet shops. The huge variety of sweets over here was a testimony to the Bengali's never ending love for sweets. The mind blowing variety just blew our mind and taking the owners recommendations into account we settled for baked rasogolla, baked mihidana, patishapta, gurer kanchgolla, gurer rasogolla and monohara. The sweets available in Bengal during the winter months are deemed special and are much coveted. It's because most of them are made with the winter special date palm jaggery that is prized for its uniquely pleasant taste and aroma. All the sweets mentioned above were made with this nolen gur and their taste was just phenomenal. After that sweet overdose it was time for some savoury snacks. For this we arrived at one of the two immensely popular snack shops named Maharaj and Maharani. Situated close to each other they had started out as one shop, but are now operating separately. Their menus were almost the same but according to the public each specialised in different dishes. Maharaj excelled in Hinger Kochuri and Aloor Tarkari while Maharani's best selling dish was Shinghara.
Fish being a staple of the Bengali cuisine, it is also savoured in the form of this irresistible snack called the fish finger. Our destination for the same was Shankar's fry. Their yummy Bhetki fritter with its crisp, grainy exterior and the soft fleshy interior was such a piece of sheer joy. The smell, the taste and the contended crowd testified why it is considered as the King of Fish Fry.
Finally it was time to end the food tour with another ubiquitous snack best loving treat called puchka. Sachika took us to her favourite vendor in this part of the city. It's Bengali version of Pani Puri. The stuffing and the water is quite distinct from the North Indian counterpart. The puchkas were simply addictive while the churmur was such a fun treat. With this we wrapped up another gratifying eating spree in the city of joy. See you soon with many other surprises. Till then keep walking and keep exploring.