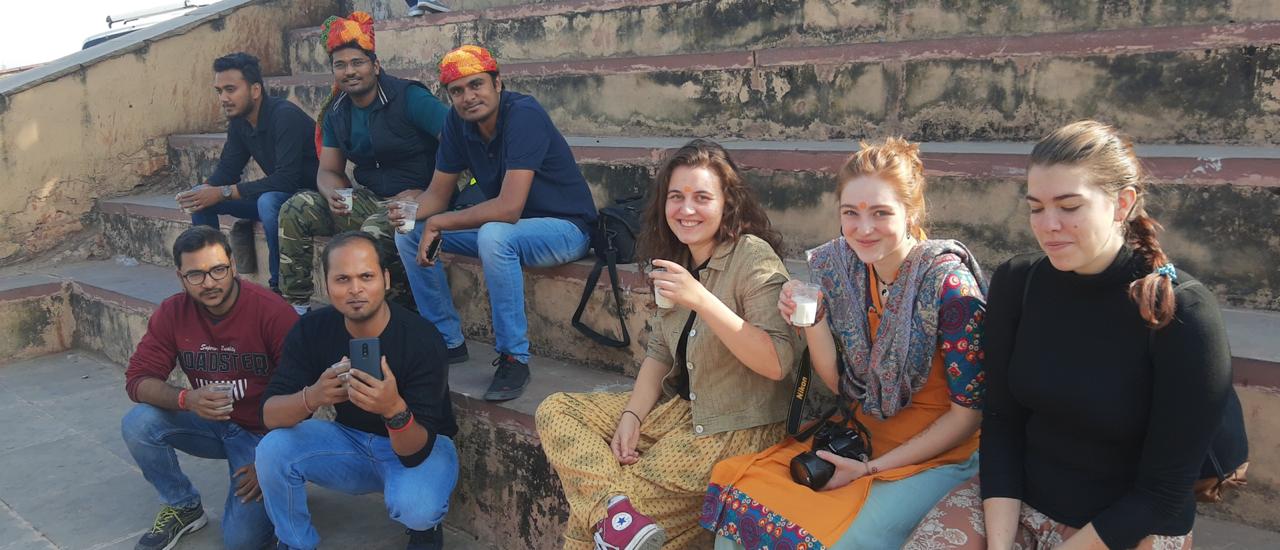 Amber or rather Amer is an ancient city that was constructed in 12th century AD. Eventually, after 500 years, to accommodate the ever-increasing population, a new city by the name Jaipur was formed in 1727. The city also holds the pride to also be the first planned city of India. As Jaipur prospered, the city of Amer began to lose its charm and is known for having the majestic 12th-century fort that is open for tourists today. However, just like the beauty is in the eyes of the observer, it looked in the right way beyond the fort, you can feel the energies of centuries-old history that the city has to offer.
Food walks, in general, is a very incredible way to explore an area and see a city through the lens of food. When it becomes an exploration food walks, it becomes a cherry on the top. There is excitement around what special dish we might end up eating, then the fun of going inside the lanes and sub lanes of never seen before areas and getting mesmerised by the beauty this city has to offer. 
With these thoughts along with being of a mission to know about street food all over the city, we decided to go on a food walk to explore the ancient city with food as the medium.
The food walk took place on Sunday, 8th of December with eight of enthusiastic lovers of food community from Jaipur who assembled near the haathis(elephants) standing outside the Amer fort. In total, we explored the city for three hours and covered five food stops along with an additional stop at the oldest temple of Jaipur. Here is our list of food we tried along with our comments on it.
Jain kachori Centre stall (located opposite to SBI bank, Amer): We would have never really given it a chance had it not been because of a piece of advice given by the shopkeeper. The stall is run by an old age couple. Small-sized Kachori and Samosa are the two items in their menu. Both the items are always made fresh considering the fact that it gets over as soon as it comes out of the frying pan due to heavy demand from the people who eat there on a daily basis. The X-factor of them is the spice of hing(asafoetida) that they add in high quantity. This stall was also personally my favourite food place as well.
Bam Bam Shop(Sagar Road, Amer): Located in the inner lane, the shop was located under a hut a little cozy environment. We tried Kadi Rice there which taste rather pretty simple like we are used to eating at home.
Paratha with aloo sabji, garlic chutney, curd chutney and chaach(Car parking, Amer fort): For me, this was the most unusual spot for which we actually trekked for 30 mins to reach.  A lady sitting on one side near to the exit of parking sells one of the most amazing thali. Apparently, all the drivers that come to Amer fort tend to eat their lunch at this place only.
Jagdamba paratha house(Opposite to Haathi stand, Amber): Apparently the only shop I had heard about in the past(although never tried it before), is a place where you can have to eat too many types of stuff Parathas cooked over pan kept over wood fire. We tried their Paneer Paratha, Mooli(radish) Paratha, Gobi(cauliflower) Paratha and Aloo pyaaz(onion potato) Paratha.
We are planning to run it as a series of food exploration walks that we will keep on doing on every alternate Sunday under HungryHitchhiker with the mentorship of Delhi Food Walks. To know more about these tours or become a part of it, you can email us at hungryhitchhiker@gmail.com or check our website www.hungryhitchhiker.com.