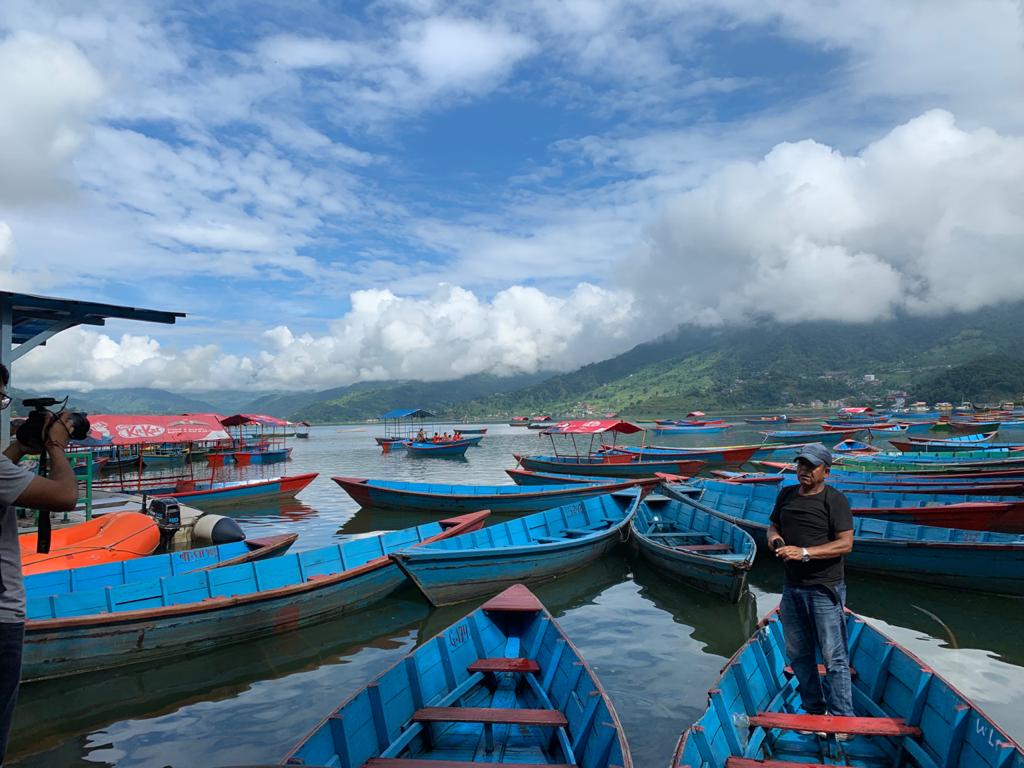 With all its scenic beauty, Pokhara is one of the most enchanting valleys in Nepal. The green hills, lakes, forests, rivers, waterfalls, terraced fields etc are like a balm for the weary soul. Popularly known as "City of Tourism", it city is quite free from any kind of pollution. Tourists flock here to enjoy its natural beauty and also to take part in adventure sports that this place is famous for too. So during our Nepal Food Tour, we were here to explore the culinary side of this postcard perfect place. And in this exploration we were joined by our host Kamal Bhatta who has explored this place well. Our gastronomic journey started with a pleasant stroll around the cobbled and beatified pathways around the Phewa lake. Here you will find quite a few hawkers selling fresh food items mostly breads , pastries etc in wicker baskets. We bought a cinnamon roll and croissant from an old lady and a young man respectively. They were quite decent in taste and fresh as well.
From there we went to visit the Gupteswar Mahadev Temple and Davi's Fall. This famous cave has many shrines, the most important of which is the temple of Lord shiva. Within 2-3 km of Davi's Fall there are many eateries, few of which are very popular. So we went to Mt. Kailash Tibetan Restaurant for some yummy and authentic Tibetan style momo and shabaley. Everything that we tried at this small eatery was quite impressive. Next we went to another Tibetan restaurant run by a Nepali lady who has lived in Punjab. There we ordered some Bhaklep(Tibetan bread), curry and Po Cha(salty butter tea). The naan like, griddle baked flat bread along with a simple curry made of potatoes, ridge gourd and chicken was quite a hearty combination.
We then went to the Lakeside part of Phewa lake that is known for swanky restaurants and hangout spots. The Duna Tapari restaurant here specializes in an awesome fish based menu. Fish lovers from far and near come here for traditional fish based delicacies made from the fresh catch sourced from the lake. We ordered Bitte tareko, Hans Choila, Paphar ko roti, polecko machha, machha jhol, machha surawa and few other things. Fresh ingredients and right use of condiments and masalas everything tasted brilliant. After some recreational activities nearby, as evening approached we got hungry and went to have the Traditional Thenkthuk from Sherpa Kitchen. This pretty restaurant is run by a Sherpa family. We saw how the simple yet comforting soup was prepared using common ingredients. But it was the seasoning of the very versatile local pepper called Timmur that enhanced its flavours.
Our last stop for the day was a popular restaurant named Fewa Thakali Bhanchha. As the name suggests it was all about Thakali cuisine. We ordered the Cheli set. The term refers to aunt so it is a platter dedicated to the lovely ladies in our life. There were nearly 12 things in the platter including starter, main course and beverage. The most impressive components of this set were steamed Jetha Budho rice, Mustang simi beans dal, Aloo tareko, Aloo dhameko, Fish fry, Mutton fry and chutneys. It was indeed a super gratifying meal. Everything was balanced and flavourful especially the Jetha Budo rice which is like the Basmati Rice of Nepal.
We are grateful to Kamal for this interesting food tour set amidst the natural grandeur of this place. Till next time keep walking and keep exploring. And for all the food related details check the video linked above.