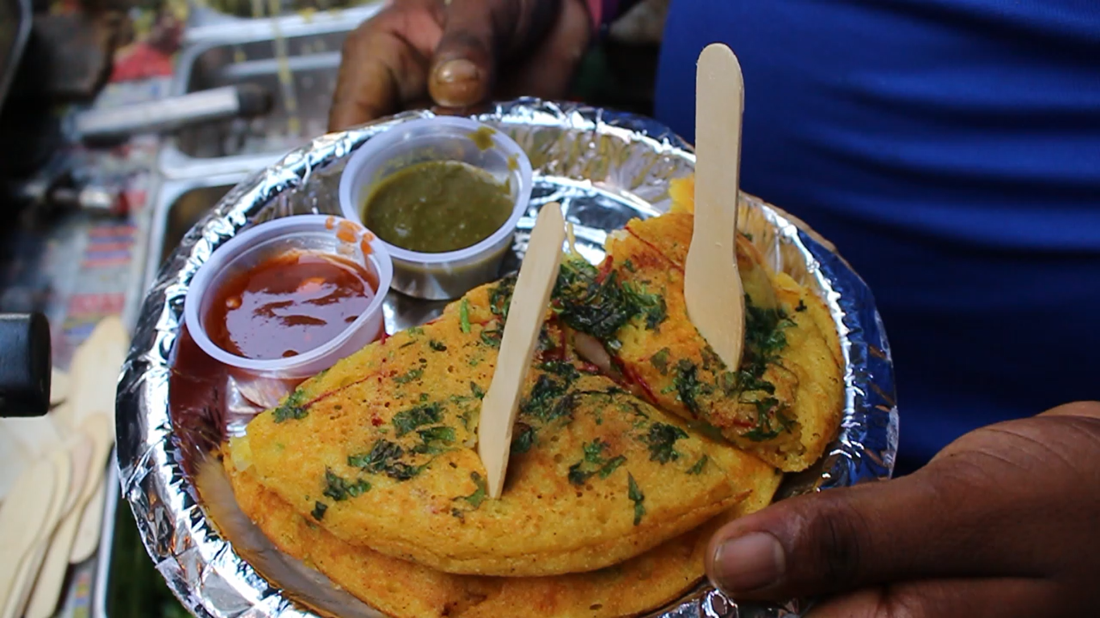 Some call it the "Vegetarian Omelette" or the Indianised Pancake, but it is popularly known as the 'moonglet'. Moong dal and Omelette, two food items that seem to not fit well together have been combined by the vendors of Karol Bagh to give us the super delicious 'moonglet'. In simple terms, 'moonglet' is a moong dal cheela, but at the same time, it is so much more than that.
K.B. Chaat, located in Karol Bagh, is known in the neighbourhood for its scrumptious butter soaked 'moonglets'. One can find multiple vendors selling this delicacy in this area, but it is for K.B. Chaat's 'moonglets' that people line up and wait patiently. Located opposite the Stellato's showroom, the stall is set up at 3 pm and keeps serving its various chaat items till 10 at night. Apart from the 'moonglet', they also sell other basic chaat items like Gol Gappe, Aloo Tikki, Chole Kulche, among others. KB Chaat first came into service in 1970 and was initiated by the father of the present owner. The owner, Dinesh Kumar, introduced the 'moonglet' in the stall's menu about 6 years back. Since then, this dish has become popular across Delhi and has become synonymous with the stall's name.

The cheela moonglet is prepared live and the process is a visual treat. It is made from moong daal, stuffed with onion, capsicum, sweet corn, etc and is cooked solely in layers and layers of butter, later topped with beetroot and coriander. Watching the moonglet being prepared is truly mouthwatering and makes it taste a lot more delicious. One can enjoy the cheela with 3 different types of chutneys, imli, mint, and a special one made out of khajoor. The price of the cheela varies from rupees 50-70, depending on the quantity of butter.
K.B. Chaat is easy to reach, the nearest metro station being Karol Bagh on the Blue line. The 'moonglet' is entirely made from vegetarian ingredients, yet it still manages to imitate the texture of an omelette. It makes for a perfect and relatively healthy evening snack.
This year, K.B. Chaat is trying to expand its reach by being a part of the NBT Flavour Fest- Street Fusion Food Court taking place at Baba Kharak Singh Marg on the 14th and 15th of October. The festival is curated by Delhi Food Walks and aims to bring to the forefront the talented minds behind the various fusion food items.

Address- K.B. Chaat, Opp. Stellato's, Karol Bagh
Contact info.- +919873469437