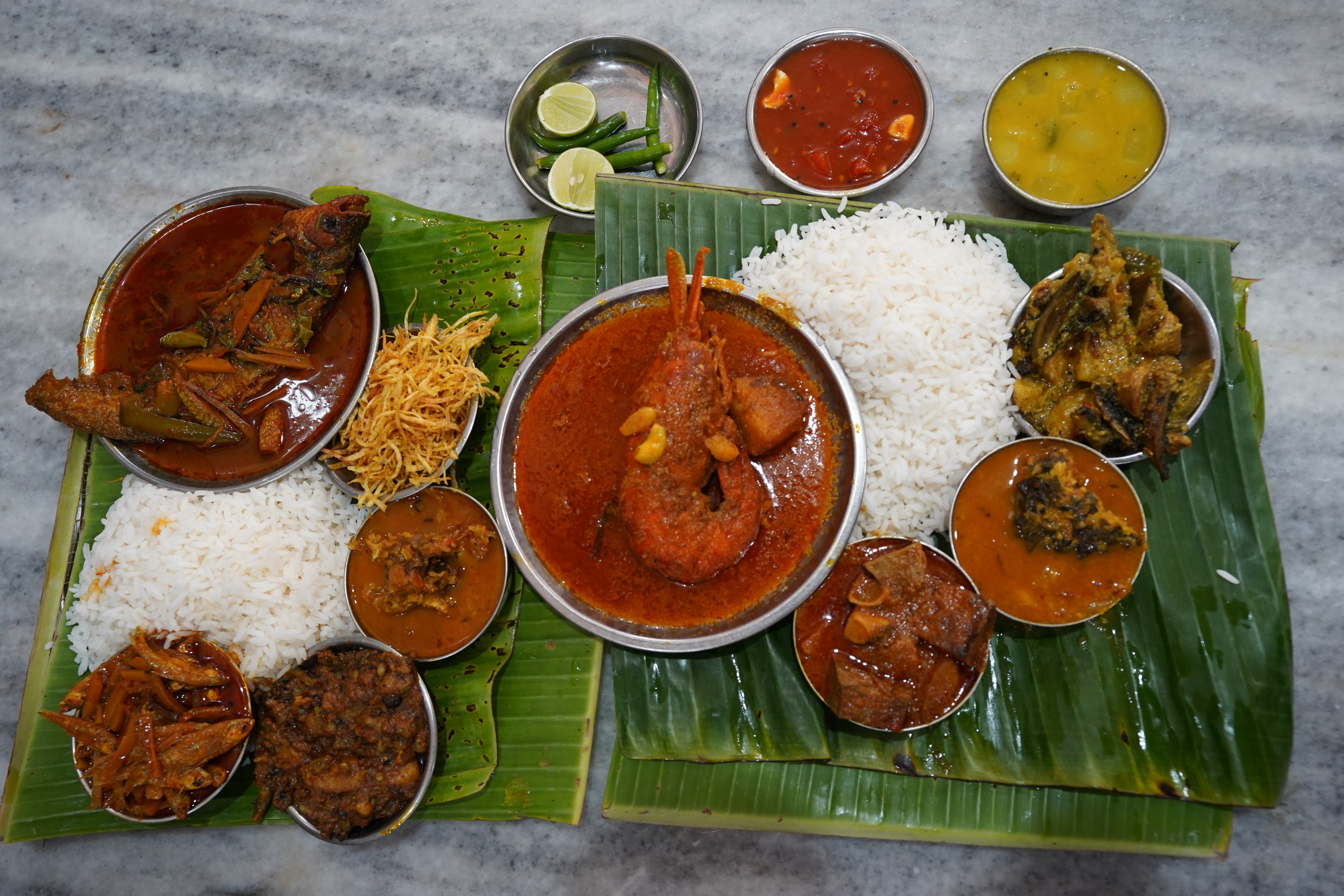 This post is brings you a medley of popular traditional Bengali delicacies from some of the renowned and legendary eateries across the city of Kolkata. In this expedition, we were accompanied by our young and gracious host Pamela Das who guided us with useful insights and snippets regarding the same.
We started the food tour from a very special place called Suruchi self help restaurant. It's the city's oldest Bengali restaurant and is completely owned and operated by women. These women are a league of brave hearts who have battled grave adversities and have emerged strong and resilient. They are the inmates of shelters run by All Bengal Women's Union, an NGO that works with disadvantaged women and girls. Due to their diligence and skill, Suruchi has earned a name among the masses with its easy on the pocket, home style food. Here we tried a basic combination of steamed rice with dimer jhol (egg curry) followed by a couple of pithe (rice flour based desserts) with payesh (rice and milk pudding). Though the egg curry was thin, light on palette yet it was extremely delicious. Among the desserts we loved the cardamom flavoured patishapthas.
Meeting the resilient womenfolk in the kitchen and hearing about their stories of struggle and success was a inspiring experience. From there we went on to try a massive Bengali spread at the iconic pice hotels named Swadhin Bharat Hindu Hotel whose origin dates back to the British rule. Situated near the College street, this place was frequented by legends and stalwarts from different fields. Pice hotels are humble eateries that serve traditional Bengali cuisine at affordable rates. They have a pretty extensive lineup of traditional fish based Bengali dishes. We ordered 11 items including rice, dal, fish curries and chutneys. The food was fresh and delicious. We loved eating it from the banana leaves. The service was prompt and satisfactory. The crowd over here included traders, office goers and shoppers.
After that heavy scrumptious meal we headed to have some classic sweets from the legendary Bhim Chandra Nag which is believed to be the birthplace of the popular Bengali sweet called Ladikeni. It is a syrup laden deep fried sweet made of chenna or native cottage cheese. As per the legends this sweets was created as a tribute to the  lovely and charming Lady Canning who was the wife of Lord Canning. Along with the ladikeni we also tried sitabhog and misti doi. Sitabhog is like a sweetened rice flour based vermicelli while misti doi is sweetened curd. Everything, especially the ledikeni, was outstanding.
After that sweet rush we went to Princep Ghat, which is one of the oldest recreational spots in the city. Watching the magnificent structures like the Vidyasagar Setu and the palladium porch at Princep Ghat over a cup of invigorating lebu cha (lemon tea) and ghoti gorom (savoury snacks) was a comforting experience. We spent some time on the banks of river Hooghly admiring it's majesty.
After that leisurely break we reached our final destination for the day i.e Golbari in Shyambazar. It is one Kolkata's legendary eateries that has been around for over a century. We were there to try their iconic mutton kosha with porota. The dark brown, slow cooked rich mutton gravy with oil floating on the top was heavenly. It lived up to its reputation though the amount of oil might scare away the health freaks. This journey was a special one for we got to try some of the real flavours of Kolkata.