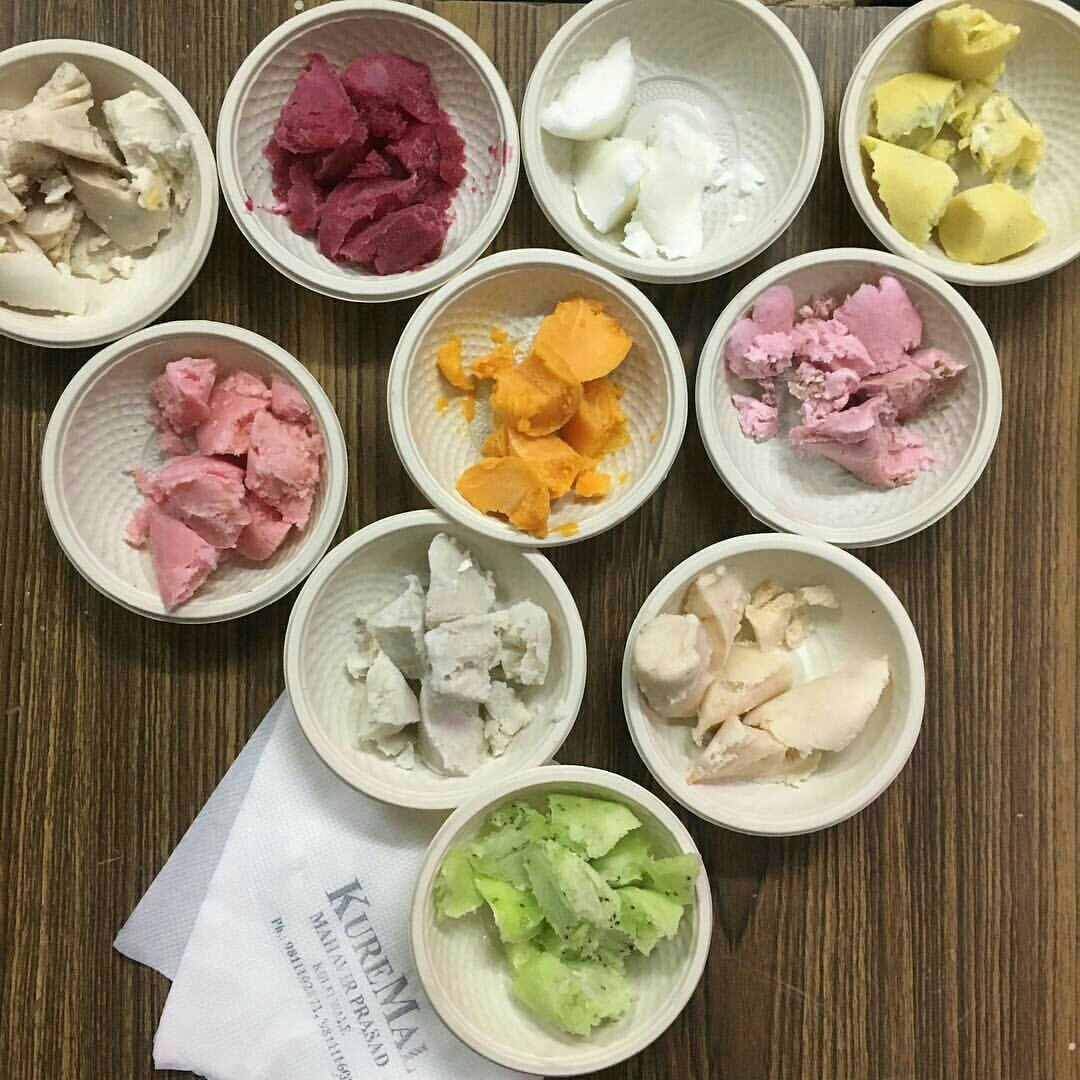 Kulfi, a typical Indian frozen dessert which needs no occasion to be relished. Me and my friends were wandering in old delhi in search of the best kulfi and had to stop by Kuremal Mohanlal Kulfiwale in Chawri Bazar.
The iconic Kulfi shop prepares delicious kulfis inside whole fruits. Is it fruit or kulfi? That's one question that keeps everyone wondering as they indulge in this lovely concoction at this shop in Old Delhi.
Kuremal Family have been serving quality Kulfi, since 1908. It was founded by Pandit Kuremal, he learned the art of making Kulfi from a Old Delhi's Halwai at the age of 14. He started his business on the cart with two basic flavours i.e. Mango and Plain Rabri Kulfi and expanded his business gradually with time.
Today their family owns two shops with name of Kuremal Mahavir Prasad Kulfi Wale, and Kuremal Mohan Prasad Kulfi Wale in the same street of Kucha Pati Ram. The outlet might be a basic one, but the preparations are mouth-watering. They have a variety of kulfis on their menu including milk based and juice based kulfis.
When we asked for their specialty, we were served a nicely-cut plate of stuffed-mango kulfi . Stuffed Mango Kulfi is one of their best sellers and the way of serving the kulfi is quite interesting. They use Alphonso mangoes for this delicious treat. The process is not simple as it is made by deseeding a whole mango which is then filled with Rabri and Plain kulfi. After the frozen process over, its skin is peeled away and served to the customers waiting in the queue.
This place serves more than 30 varieties of kulfis, which are broadly divided among Rabri Kulfi cream, Kulfi Julpeps, Tila Kulfi, Stuffed Kulfi, and some other specialties. These kulfis are not just loved by Delhiites but are a nation-wide rage.
The sweet delicacy is a must have in Delhi's scorching summer. So what are you waiting for? head to this amazing shop today!
Location : Shop No. 1165- 66 Chawri Bazar, Sitaram Bazar Road, Kucha Pati Ram, Old Delhi, New Delhi, Delhi 110006
Cost for two : Rs 200 (Approx)