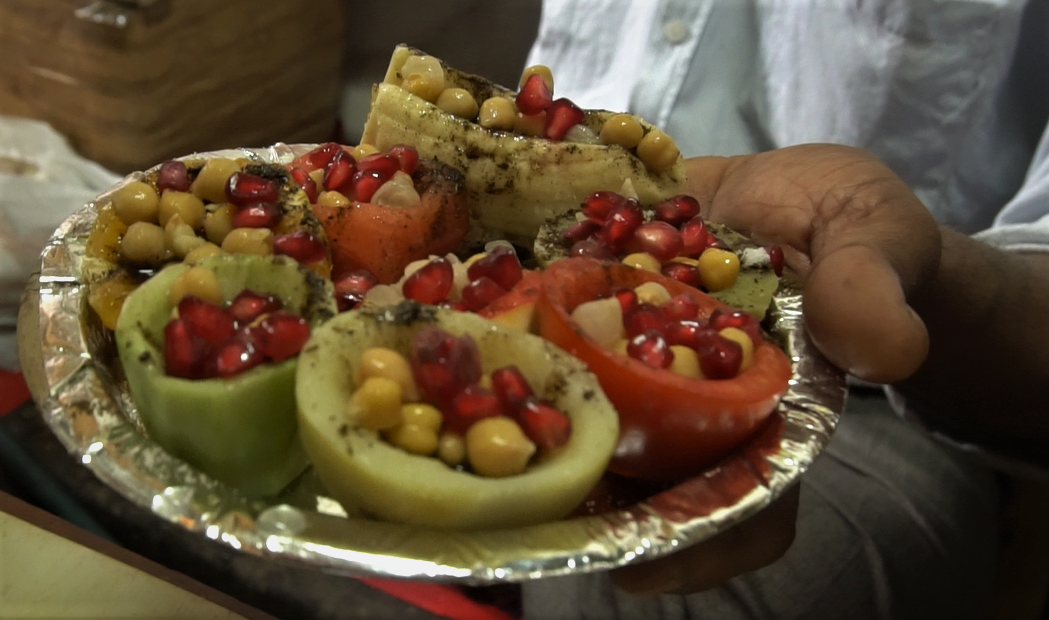 From past 100 years, this little joint is serving variety of delicacies.  This place claims to invent a chaat. Surprisingly its neither deep fried nor oily. It is rather refreshing and healthy, as it's all fruit. Don't confuse this with any normal fruit chaat, Kulliya Chaat is no ordinary chaat.
Asking about the idea of kulliya chaat, the owner said, One day I was experimenting by hollowing out the potato and filling it with spices and lemon juice, it tasted nice and I started selling it along with our other items.
The word Kulliya is suppose to have been named after the "Kullhad". Kuliya or Kulle is fruit and vegetable cups that are scooped out of its flesh and then filled with flavored stuffing. The Kulliya Chaat is a quintessential street food sold in Old Delhi.
This wonderful edition of Fruit Chaat is great in taste and has an impeccable flavor. The fruits induces freshness, while tangy Chaat Masala gives it a marvelous flavor.
Not to forget, the lemon juice balances the overall sweetness and makes it more delicious. They add boiled Chickepeas and fresh Pomegranate seeds. The crunchiness of Pomegranate contrasts with the softness of fruit cups and gives it a zesty tang.  As more and more customers appreciated this Kulliya Chaat, they experimented it further and added a whole new range of fruits and other ingredients to make the Chaat more flavorful.
Today, boiled potato can be substituted with sweet-potato, watermelon, apple, orange, banana or cucumber. The Chaat can be customized further and can be made extra spicy, tangy or a bit sour.
They serve various items which include pav bhaji, aloo chaat which is yet another popular item in their menu. Cube shaped potatos are fried twice for the crunchy texture and wonderful taste. Also they serve, burger but there's a catch the tikki's are made with sabudana which increases the health element as well as the taste.
So when are you going to chawri bazar, for the lip smacking and healthy kulliya chaat?
Location : 3636, Gali Lohe Wali, Chawri Bazar, New Delhi
Cost for two – Rs 100 (Approx)